While Cross Court Tennis 2's game play is certainly geared towards realism (e.g. advanced controls allowing for slice and topspin, plus the hitting of volleys, lobs and dropshots), it is also possible to play with just the basics (serve, forehand, and back hand). An in-game tutorial makes it easy for beginners to get started, while a three level skill system (beginner, intermediate, advanced) means even the seasoned gamer will be challenged.
A further example of this welcome dual nature is found in the game's two playing modes. A "quick play" option drops you straight into a game, while a "career mode" offers a longer term option, with the possibility to customise the look and style of your playing character as you attempt to reach the number one ranking by playing through 15 different tournaments.
Career mode is unlocked via an in app purchase, a good example of how the freemium model should be used - long-term real value delivered after giving you a taster to check things out.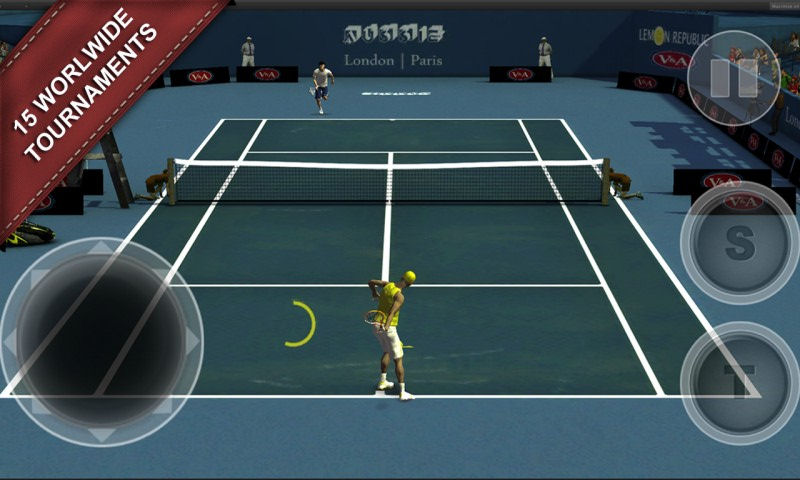 Cross Court Tennis 2 is powered by the Unity Engine. It was initially released for Android in September, for iOS in October, and now, in December, for Windows Phone. This provides some context for the relative priority and porting for such games between the three leading platforms platforms (i.e. a month or so per additional platform, with Windows Phone a tertiary priority behind Android and iOS).
Windows Phone Store description:
The most realistic tennis simulation on the mobile platform! New and improved, Cross Court Tennis 2 ranks #1 in the world! Real ball physics and pro level ball speed make you feel like a real tennis pro.

UNMATCHED GAMEPLAY Real ball physics and pro level speeds make gameplay realistic. High quality animations show off your slice, topspin, volleys, lobs, and dropshots. Jump in and win with Beginner, Intermediate, and Advanced levels of play.

• UNLEASH YOUR CAREER POTENTIAL
• Create a player by choosing skin, hair, and clothing colors.
• Perfect your skills with your own customized training program.
• Compete in 15 worldwide tournaments with 45 distinct opponents and reach #1 in the world!
• Adapt your gameplay to clay, grass, and hard courts.

Cross Court Tennis 2 is a free download from the Windows Phone Store. The basic set of game play is free, but an in app purchase (£1.49 / $1.99) allows you to unlock career and removes the banner ads from the game.