The app might also be useful for those that like to use different signatures when replying to different types of email, or any other task that requires repetitive data entry.
To use the app you first need to set up the frequently used phrases. Once these have been entered tapping on a phrase will copy it to the clipboard. When entering a phrase there is also an option to specify a voice tag, which is used with the application's voice command functionality. This voice command functionality is accessed using the standard long press on the Windows key and with the command "Copy phrase", where phrase is the specified voice tag for the phrase you want to copy to the clipboard.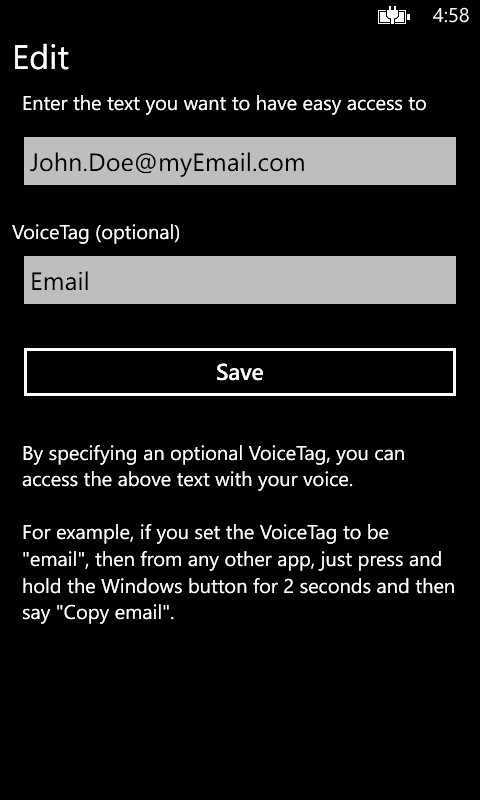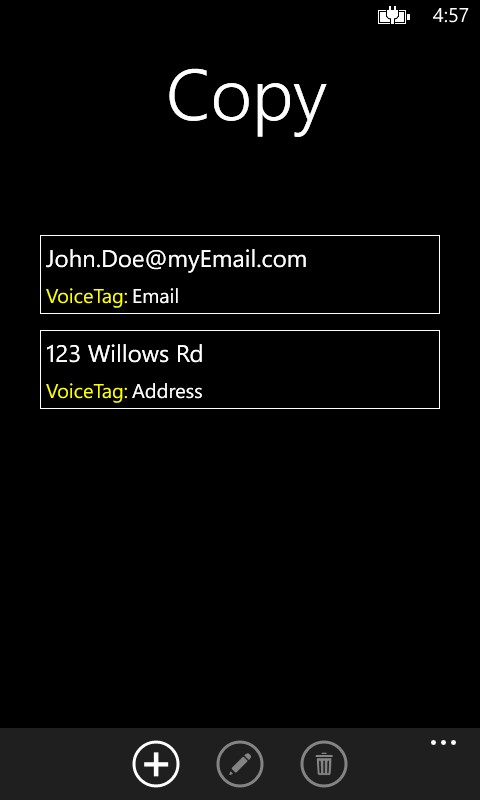 In order to use the Copy's voice command functionality the speech language of your device must be set to "English (United States)". This is because the necessary voice command phrase is only available for this language set. This language set issue is a fairly common problem with third party apps that use voice commands. We would strongly encourage developers to think outside their own markets in this regard. While adding foreign language support may be impractical, ensuring non-US English language markets are supported should be relatively straight forward.
Windows Phone Store description:
Having to type the same text over and over is a pain! For example, you may find yourself having to re-enter your email address, home address, etc. across different apps or websites on your phone.

After entering the text once, you can later re-launch this app and just touch the text entry that you wish to copy to the clipboard.

But to make things even easier, this app is also voice enabled. So, for example, if you were on a website asking for your email address, you could press and hold the Windows key on your phone and simply say "Copy email". Your email address will now be in your clipboard, and you can paste it in the website.

Copy is a free download from the Windows Phone Store.