After a few shaky starts in 2013, the rise of the wearables is surely going to be one of the biggest talking points in consumer electronics during 2014. Many of the current toys need a bluetooth connection to a smartphone, and this usually restricts them to iOS and Android owners. This includes the darling of the wearables movement, Pebble.
With a small team based in Palo Alto, Pebble have provided a base level of functionality in their iOS and Android apps, and provided a full SDK for everyone else to hack together specific tools. That's where Banta's apps have come from, and until we get an official client, Pebble Watch Pro is going to be the starting point.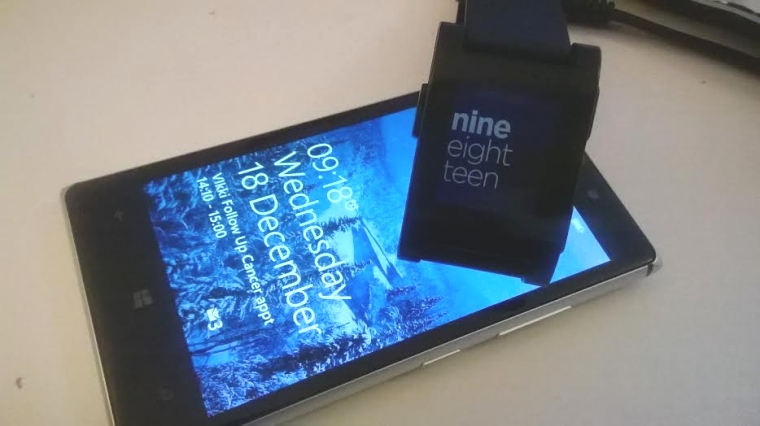 Pebble Watch Lite allows you to test the connectivity function and control your music player, while the Pro version of the app offers the following:
You can choose 5, 10, 15 and 30 minute reminders before you appointments.
You can get Tweets from your Home Timeline and Twitter Direct Messages.
You can get alerts when your phone battery drops below 50, 40, 30, 20 and 10
percent.
You can get alerts when you lose or regain access to the data network including Wi-Fi, 3G or 4G.
You can control music on your Windows Phone right from the Pebble.
It's not as fully functional as some of the third-party notifier apps on Android, but it's a start. Naturally you'll need to source the Pebble smartwatch app yourself.
Due to Windows Phone support of background applications (or lack thereof), these apps will need to be in the foreground to maintain the connection to your Pebble watch, although you do have the option to keep the program running under the lock screen. The update to Windows Phone 8.1 should take care of the background issue, but until now you'll be on the cutting edge with this app... but then anyone with a Pebble at the moment probably has a habit of staying at the leading edge of tech.

Pebble Watch Pro and Pebble Watch Pro can be found in the AAWP app directory right now.