According to the Microsoft the 14 markets where Windows Phone is currently the number two mobile OS are: India, Mexico, Italy, Chile, Thailand, Vietnam, Malaysia, Poland, South Africa, Ukraine, Hungary, Finland, Czech Republic, and Greece.
The 24 markets where Windows Phone devices are shipped in greater numbers that the iPhone are Chile, Columbia, Czech Republic, Egypt, Ecuador, Finland, Greece, Hungary, India, Italy, Kenya, Kuwait, Malaysia, Mexico, Nigeria, Pakistan, Peru, Poland, Saudi Arabia, South Africa, Thailand, Ukraine, United Arab Emirates, and Vietnam.
Combing the two data sets together let us generate the map chart below, offering an at-glance-view of the markets in which Windows Phones strongest in terms of relative shipment numbers with competing platforms. It is notable that many of these countries might be classified as emerging markets, which ties in with Windows Phone's relative strength in lower cost devices.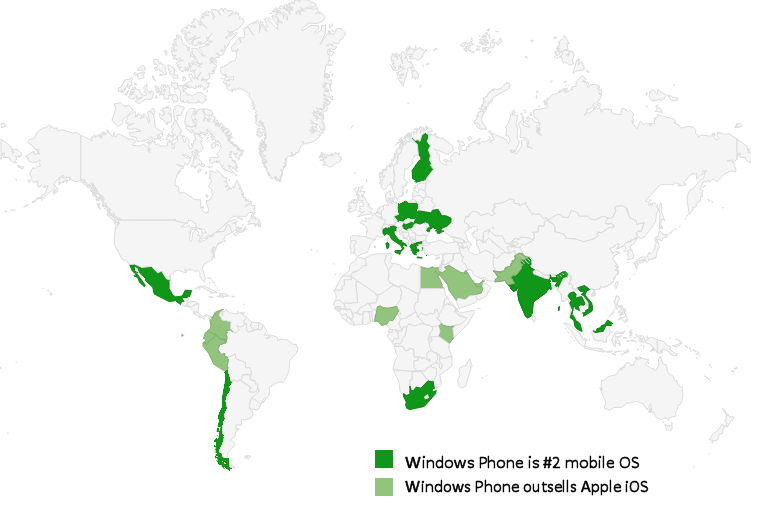 These data points do paint an encouraging picture for Windows Phone, but a casual perusal can be somewhat misleading. The most obvious point is that Windows Phone has only reached second place / outsold the iPhone in a handful of markets, most of which are relatively small. The platform's position in the two biggest smartphone markets (US and China) is considerably weaker. It absolutely true to say that Windows Phone device shipments have doubled year on year, but it must be noted that they have done so from a relatively small base (e.g. global market share from 3% to 6%).
Moreover, the data point, which are based on IDC's Q3 2013 smartphone shipment report, do not include shipment numbers of share percentages. That means it is not possible to assess the full context of the market position. Windows Phone is the number two mobile OS in a number of markets, but in most of these it is in second position by a long way (e.g. Italy 16% Windows Phone versus 72% Android).
In a similar vein, the comparison between iPhone shipments and Windows Phone shipments, while a useful marker, should be understood in the context that it is a comparison between a narrow portfolio of high-end device (iPhone) and a broader portfolio of devices stretching from the low end to the high end (Windows Phone). All other things being equal Windows Phone should be outselling iPhone because it has a wider addressable market.
Nonetheless the figures do underline the progress Windows Phone has made in the last year and offer an early flag for what we expect to be a recurring story in the next few years: iOS versus Windows Phone shipment numbers.
From the Microsoft statement:
We've seen record sales of Windows Phone this holiday worldwide, nearly doubling phone sales during Christmas week (YOY). In the third quarter this year, according to IDC, Windows Phone reinforced its position as a top three smartphone operating system and was the fastest-growing platform among the leading operating systems with 156% year-over-year gain. Windows Phone is the #2 smartphone operating system in 14 markets, and shipped more units than iPhone in 24 markets in Q3. Our portfolio continues to expand: from award-winning flagship devices like the Nokia Lumia 928/1020/1520, to affordable new innovations like the Lumia 520/625/1320 and Huawei W1/W2.