The two aims of the new extension to the Qi specification are:
to allow more efficient, less RF noisy charging and over slightly higher distances
to allow for multiple devices to charge at the same time on one Qi pad
From the press release:
New backward-compatible Qi extension will allow extended device placement freedom, multi- device charging and high efficiency

Las Vegas – January 6, 2014 – The Wireless Power Consortium (WPC) today announced it will demonstrate the next evolution of Qi wireless charging at the 2014 International Consumer Electronics Show: industry-leading magnetic resonance.

The WPC is developing a resonance extension to the Qi spec that will maintain backward compatibility with the installed base of 40+ million devices and products worldwide, including the 60 models of Qi-compatible phones, tablets, and chargers sold today. The first examples of the extension's capabilities will be unveiled by WPC members ConvenientPower and PowerbyProxi at the WPC booth, SL-2 in the South Hall 3 lobby, located on the upper level.

The Qi resonant extension will allow charging with higher efficiency and lower radio frequency interference than typical resonant solutions. In addition, the extension allows for multiple device charging and charging at longer distances, all while maintaining backward compatibility.

For consumers, this means it will be possible to charge without worrying about the exact position of their devices so they can charge anywhere, safely and quickly.

For companies, this means greater flexibility in designing products when integrating Qi in cars, furniture, chargers, and accessories.
At CES 2014, the WPC is demonstrating examples of advanced magnetic resonance technology from ConvenientPower and PowerbyProxi along with the newest Qi-compatible wireless charging products and prototypes from Devant, Haier, Leggett & Platt, Nokia, Samsung, Texas Instruments, and others.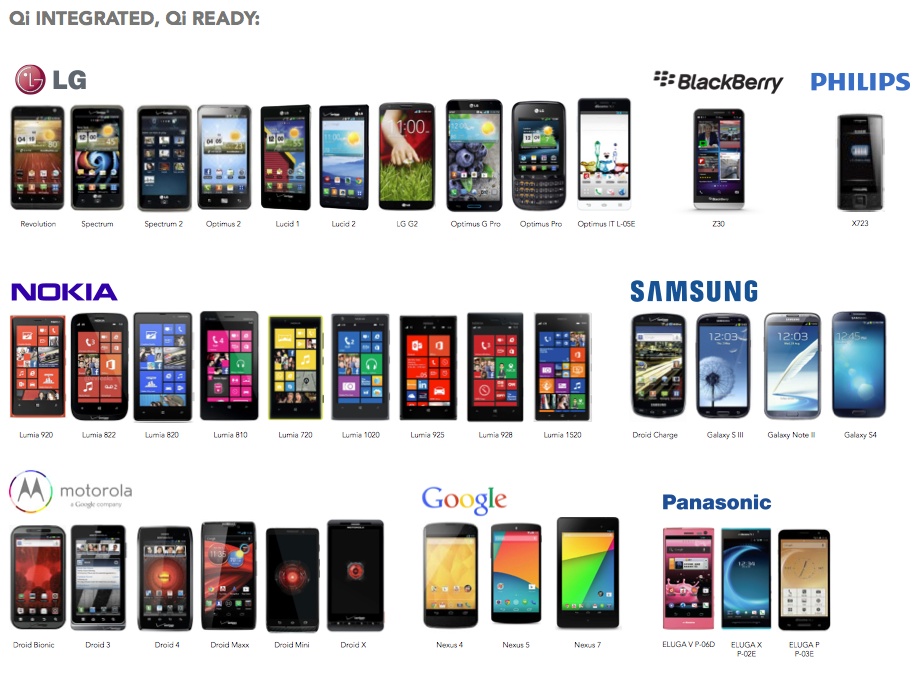 On display will be a wide array of Qi-enabled devices including:
Latest Qi-enabled smartphones and tablets

Automotive Qi cradles and chargers

The industry's first wireless avionics charger

Hospitality-venue chargers and services

Gaming accessories

Accessories for iPhone 5s, Galaxy S4, and other leading smartphones
There's more at the WPC home page and the CES Virtual Press Office.
Qi charging is currently around 70% efficient, when compared to traditional wireless charging, and works with up to 5mm between the pad and device Qi coils. Under the Qi extension, we could see larger pads (for multiple devices), with larger coils (so positioning has to be less precise), working over larger distances (allowing for all case designs and, again, mis-positioning) and greater efficiency, up to around 80%.
The wireless charging world is often presented as divided (between Qi and PowerMat standards) but, looking at the array of phones above, it's fairly clear to us at least that Qi is the runaway winner.