With the Nokia Android tag line the leaks are inevitably generating considerable media and technology enthusiast interest, far more than is typical for what, assuming it is released, is likely to be a relatively low end device.
One render tweeted by @evleaks last week shows the device in a number of usage scenarios: lockscreen, phone call, and Skype app. The render also suggest that the Normandy will be available in a dual SIM variant, suggesting the device is targeted at the Asian market.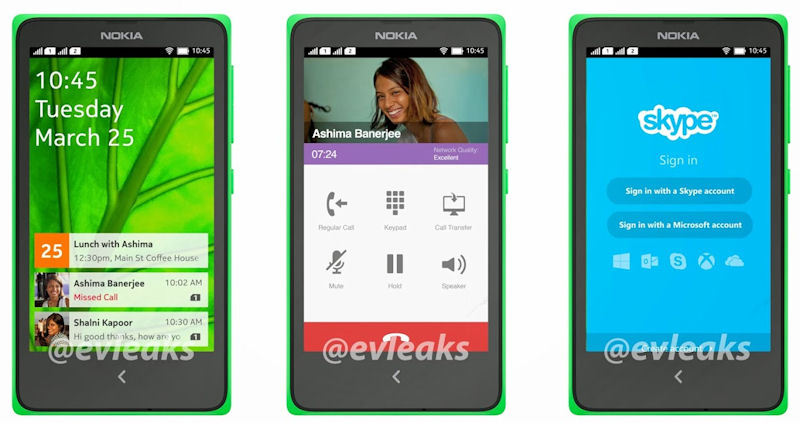 A second tweet from @evleaks shows two screenshots, labelled as being "two ways to interact with Normandy". The first screenshot shows an app launcher user interface that looks like a tweaked version of the current Asha OS, perhaps with some Modern UI influence and colour influences from Nokia's Windows Phone products. A number of third party apps, including BBM, Vine, Facebook, Viber, WeChat, and Opera, are also shown in the screenshots.
The second screenshot is clear recreation / implementation of the existing Asha Fast Lane homescreen functionality, with recent activity and notifications arranged by time. The likelihood is that a simple left-right swipe will swap between the two different interaction screens.
What's interesting about the leaked renders and screenshots that have emerged so far show little to suggest that the device is based on Android. Assuming the device is running Android, this would suggest the Normandy is running a highly customised user interface, going even further down the customisation route than Amazon's Android-based Kindle tablets. The screenshots also indicate the Normandy will be running Nokia services, such as HERE Maps, MixRadio, and Nokia Store.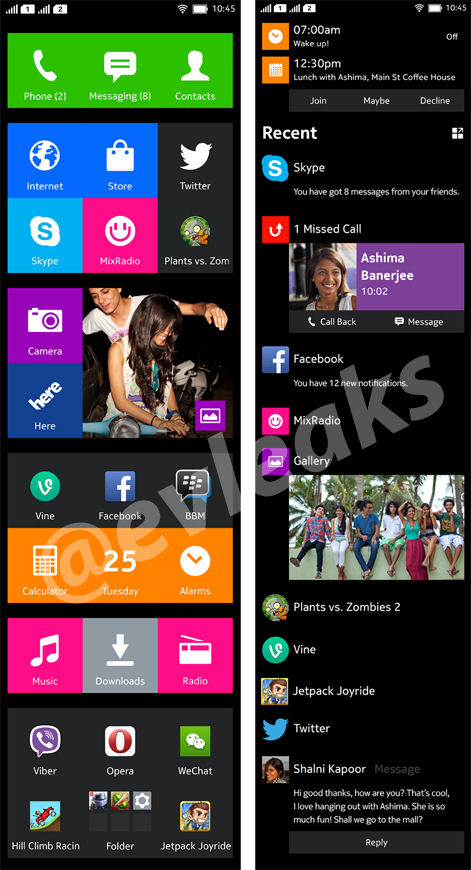 The alleged AnTuTu benchmarking information is harder to assess. The screenshots of the benchmark show a device model number of Nokia A110 running on the Android 4.4.1 release, with a Qualcomm Snapdragon processor, a 854 x 480 resolution screen and a 5.0 megapixel camera. That would be in line with the expected specification for a lower end Android device (sub £100), but the screenshots and associated information would not be difficult to fake.
Nonetheless it now seems certain that Nokia has undertaken to develop a device code named Normandy. Furthermore, multiple sources agree that it is based on a heavily forked version of Android. As we noted in our previous story:
Seeing a heavily customised Android, stripped down to its essentials and running a custom Nokia UI (e.g. Fastlane homescreen) as the replacement for Meltemi is not as far fetched as it might sound (i.e. a Nokdroid platform, with the same Asha UI as current devices, but running on top of Android, rather than Series 40).

However, while devices running a Nokdroid platform would be Android devices from a technical point of view, it is unlikely that they would be recognised as such by the consumers buying the device. It would be a Nokia Android device, but not in the way that most people would assume when hearing that phrase.
The renders being posted by @evleaks are typical of the promotional materials that are created by Nokia ahead of a device launch and are almost certainly genuine. The fact that they have been created does provide some evidence to support the idea that the Normandy is now on a launch path, with the upcoming Mobile Congress in Barcelona at the end of February being the most likely announcement venue.
We have been unable to get any confirmation about a potential launch from our own sources and the possibility remains that the device and wider program could be cancelled at short notice, especially in the context of the completion of Microsoft's acquisition of Nokia Devices & Services division.