The new look of the Office Web Apps includes changes to the styling and layout of the Ribbon menu that runs across the top of all the apps in the suite. In addition the service switcher, first seen in Outlook.com, is now available across all the Office Web Apps, allowing you to easily switch to other Microsoft services (Outlook, People, Calendar, SkyDrive).

Here's how Microsoft describe the Tell Me feature:
We all have that Word moment when we know what we want to do, but don't quite remember how to do it. 'How do I apply double spacing?' 'How do I make this page horizontal?' Do these questions seem familiar? Nothing to be embarrassed about. We've all been there and wished for an easier way to accomplish something in our document.

Presenting the easier, faster and more convenient way of doing things in Word – Tell Me. Tell Me understands what you're trying to accomplish and helps you do it faster. So if I'm trying to make my document horizontal, Tell Me knows it's the orientation feature I'm looking for. It brings everything I need to my fingertips.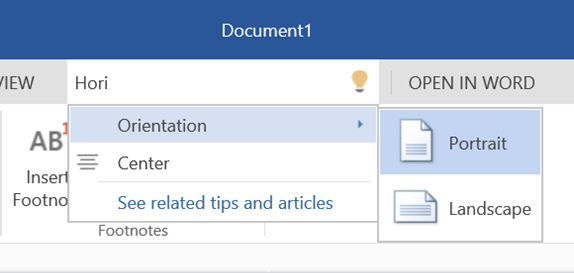 The footnote and endnote support in Word Web app has been implemented in a similar fashion to full Office Word application. The functionality can be accessed from the "Insert" section of the apps' Ribbon menu, but it's also possible to gain access to footnotes and endnotes on the app's canvas (i.e. editing area).

Office Web Apps may not have a direct impact on Windows Phone, but they are both part of the total value proposition of seamless productivity across mobile, web, and desktop that Microsoft sees as an important way to differentiate its products. This can be seen as part of a wider trend that sees an increasing portion of the value of a smartphone lying outside the confines of the device itself as the definition of the smartphone ecosystem expands.
For many, the way in which they integrate and interact with other devices and services will be the key factor in deciding which smartphone to buy. In this context improvements to Office Web Apps and associated service components is important for the success of Windows Phone and for strengthening the Microsoft ecosystem offering as a whole.
Microsoft Office Web Apps can be accessed through SkyDrive.com or Office 365.