CycleStreets has three different routing modes, designed to suit a range of cyclists from beginner to regular commuter. The default mode ("balanced") should be suitable for most cyclists, but you can opt to switch to the "fastest" or "quietest" routes should you wish to do so.
You can plan a route either by specifying the start point, end points, and optionally, a number of way points (via). This can be done using your current location (start point), by tapping a location on a map, or by using the built in search tool (name or postcode) to find a specific location. Once you have specified all the points for the journey tapping on the "find a route" button will send a query to the server, which will return route information.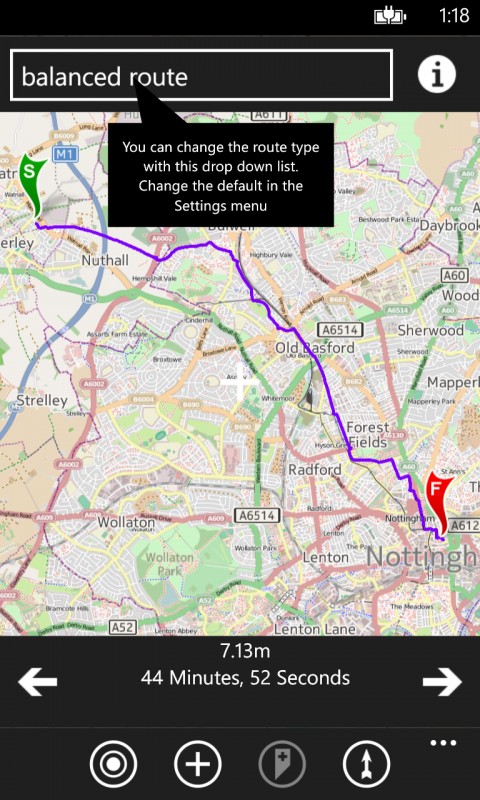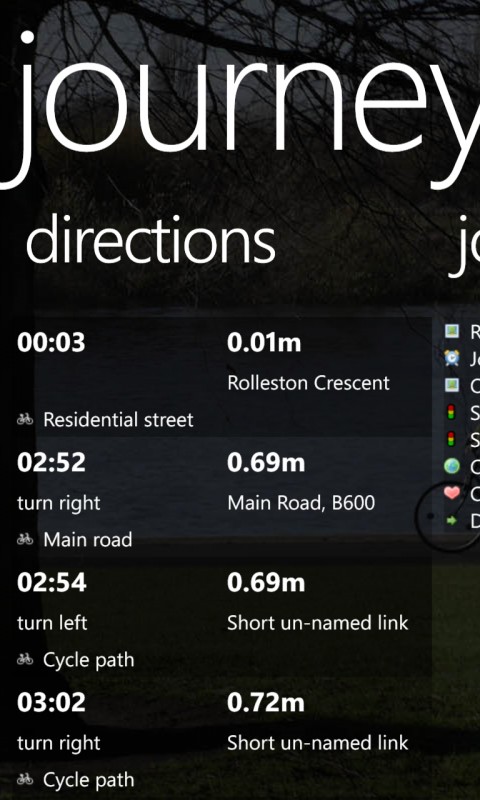 The returned route information is displayed in an overview format on the map, along with estimated time and distance information. Tapping on the arrows (directions) at the bottom of the screen will drop you into navigation mode (zoomed in view of the map for a specific section of the journey). A detailed itinerary view is also available, making it easy to see the exact details of each stage of the journey.
The Windows Phone app was recently updated to version 1.3, with GPS accuracy improvements, a tweaked route plotting experience, and numerous bug fixes.

Windows Phone Store description:
UK-wide cycle journey planner CycleStreets on your mobile device! Cycle journey planner for cyclists, by cyclists.

Plan routes from A to B anywhere in the UK, with a choice of three routing modes to suit a range of cyclists from beginner to regular commuter.

What's New:

- Fixed OpenCycleMap overlays displaying OpenStreetMap instead
- Improved the accuracy of the GPS
- Draw location accuracy around my location dot
- Fix for missing submit button in feedback form on some devices
- Reworked the route plotting and added "tap to add waypoint"
- Navigation and UI improvements on navigation page

CycleStreets can be download from the Windows Phone Store. A free trial is available, with the full app costing £0.99,