While there are various storyline missions on offer, they are not compulsory, although completing them does unlock additional content. There are also optional side missions which can be used to boost your characters attributes or provide income (everything from taxi fares to putting out fires).
Of course you can opt to simply go on the rampage and cause chaos (i.e. going round assaulting and or killing people). Doing so will potentially attract attention from the authorities, with a response proportional to the misdemeanor. The police will be on call for minor criminal acts, but things can quickly escalate to SWAT, FBI, and even military involvement.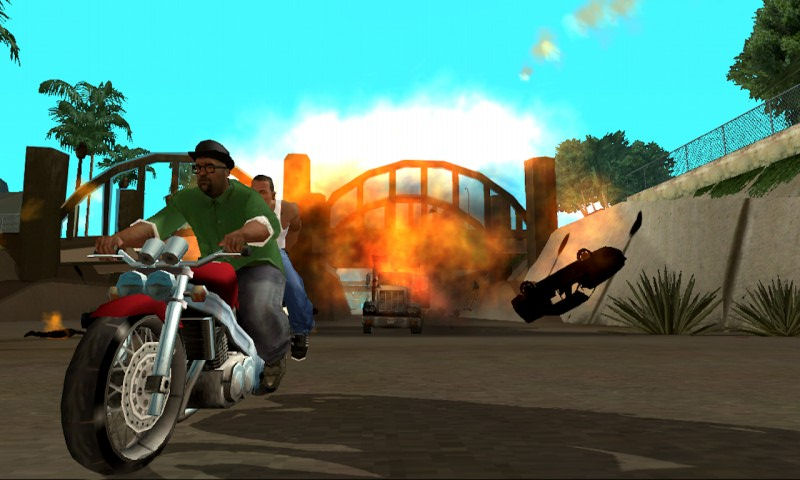 Key features of the game, as described in the game's official description, include remastered high resolution graphics (which the developers says are built specifically for mobile), dual analog stick controls (on-screen, controlling character and camera movements), three different control schemes (customisable and contextual - displaying only when you need them), and adjustable graphics settings that let you adjust your visual experience.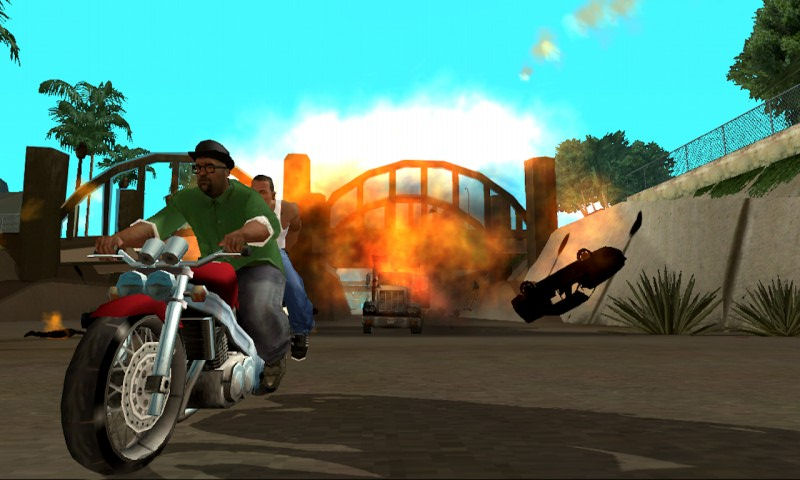 Windows Phone Store description:
Five years ago, Carl Johnson escaped from the pressures of life in Los Santos, San Andreas, a city tearing itself apart with gang trouble, drugs and corruption. Where filmstars and millionaires do their best to avoid the dealers and gangbangers.

Now, it's the early 90's. Carl's got to go home. His mother has been murdered, his family has fallen apart and his childhood friends are all heading towards disaster.

On his return to the neighborhood, a couple of corrupt cops frame him for homicide. CJ is forced on a journey that takes him across the entire state of San Andreas, to save his family and to take control of the streets.

GTA: San Andreas can be downloaded from the Windows Phone Store. The game costs £5.49 / $6.99 / €6.49. No trial is available. In addition to 20MB download size of the game, a further in-game download of 2.5GB is required. The game is only offifically supported on the Nokia Lumia 1520, 1320, 822, 820, 810, and HTC 8XT, but appears to work on any device with 1GB or more of RAM .