According to Radionomy, the benefit of the this people-first ethos is that many of the stations have more character that play-list based services, such as Spotify and Pandora. Whether that's born out in reality is a matter of opinions, but it's fair to the say the service may have more appeal for those with eclectic tastes.
The Windows Phone app gives easy access to any of the stations available through the service via a search tool, but the cream of the crop is served up through the opening pivot's "Browse" and "Top 25" pages. The first of these is a genre based listing of the top stations, while the second lists the most popular stations (by number of listeners). There's also a "Favourites" page for you to keep track of your preferred stations.
Each station gets its own pivot, with an "Information" page (playback controls, description, genre categorisation), "Tracks" page (listing of recently played / upcoming tracks), "Artists" page (recently featured artists), and a "Similar" page (list of related stations).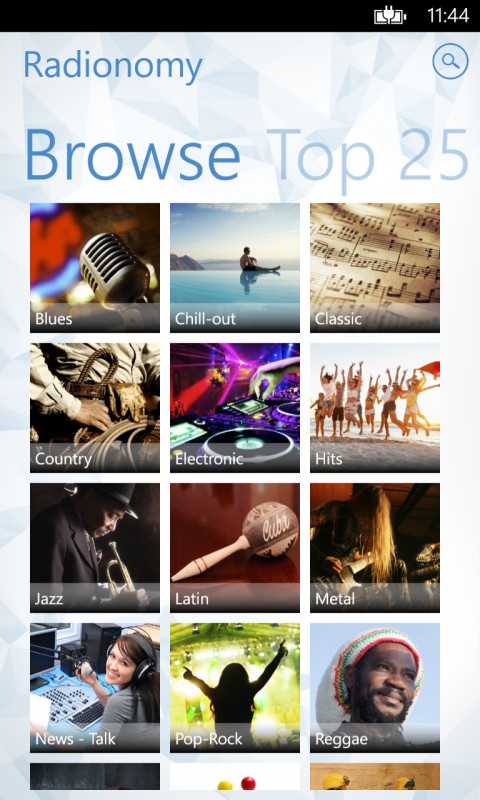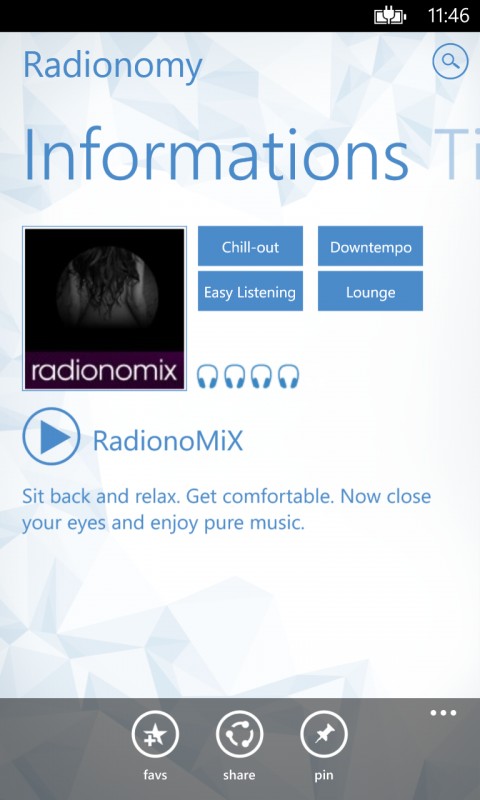 There are many sources of music available on Windows Phone, with new music services seemingly arriving on the platform on a weekly basis. Radionomy's crowd-curated station approach is an interesting one, but it may lack the profile to stand out from the crowd. However, if you're looking for something a bit different it's worth checking out.
Radionomy has been in the news recently after it agreed to acquire Winamp, one of the most popular music playing (MP3) app from the late 90's, from AOL, along with the Shoutcast Internet radio broadcasting service. Winamp isn't directly linked to release of the Radionomy app for Windows Phone in any way, but nonetheless it's an intriguing connection (and Radionomy has already said it is planning to release Winamp branded apps for iOS and Android later this year).
Windows Phone Store description:
Radionomy is a ground-breaking platform that is changing the way people from around the world discover, listen to and create online radio stations. Radionomy is not simply a directory of playlists. It features a wide variety of stations, produced and run by real, passionate people: music fans, artists, DJs, comedians, story tellers, and more.

Radionomy is a free download from the Windows Phone Store.