The new site uses a responsive design allowing the site to be viewed on a wide range of devices, including smartphones and tablets. As in previous incarnations the site provides a one-stop-shop for developers looking for resources relating to the platforms used by Nokia devices (Windows Phone and Asha/Series 40).
The site is divided into four broad areas: Platforms (general information of Lumia and Asha platforms), Resources (SDKs, documentations, code samples, and marketing information), Community (discussion boards, Nokia Champions, and wiki), and Blogs (blog posts from Nokia Developer staff and third party developers).
One of the more notable side effect of the new site design is the removal of older content relating to the Symbian, MeeGo, Maemo, and Series 40 platforms. This includes the removal of download links for Symbian and Qt related SDKs. The removal of older content is not a surprise, reflecting Nokia's current focus and activity on the Asha and Windows Phone platforms, but may irritate developers still working to support the older platforms.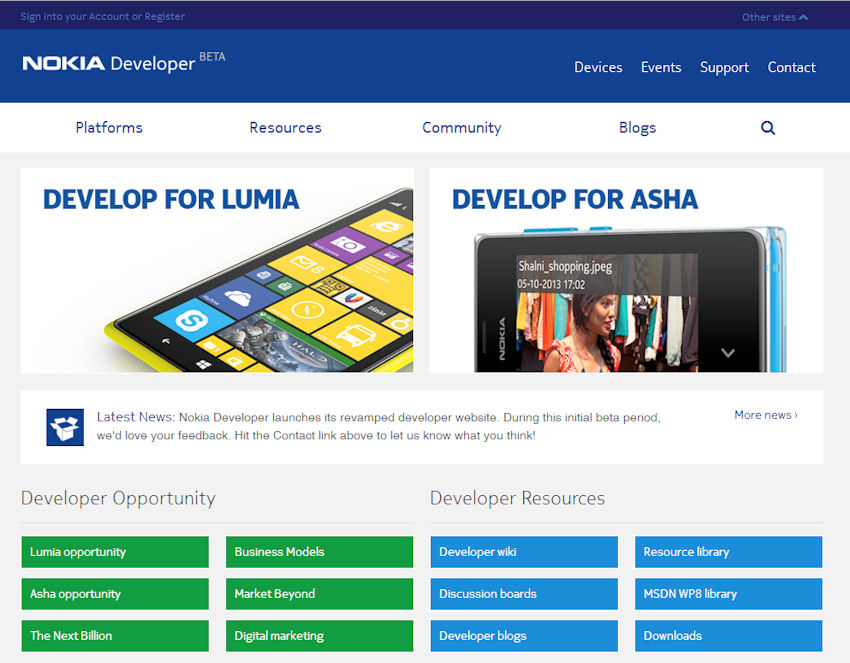 It isn't yet clear how Nokia Developer will be integrated into Microsoft's developer activities. For legal reasons, the formal planning process to merge with Microsoft's Windows Phone developer operations can not begin until the acquisition of Nokia Devices & Services division by Microsoft is completed.
However, the likelihood is that in the short term Nokia Developer will continue to operate as before. In the longer term it is likely that Nokia Developer's website, evangelist and outreach activities will be integrated, to at least some extent, into MSDN.
A feedback thread is available in the Nokia Developer Discussion Boards for those wishing to leave feedback on the revamped website.