From the Nokia trials page (200 packs of three smartphones are available to qualifying businesses):
Thousands of businesses are moving to the planet's best smartphone

If you qualify, you'll receive a Nokia Lumia 520, 625 & 925. Each phone seamlessly integrates with Microsoft including SharePoint, Lync, SkyDrive, Outlook & Office. You also have essential business apps at your fingertips.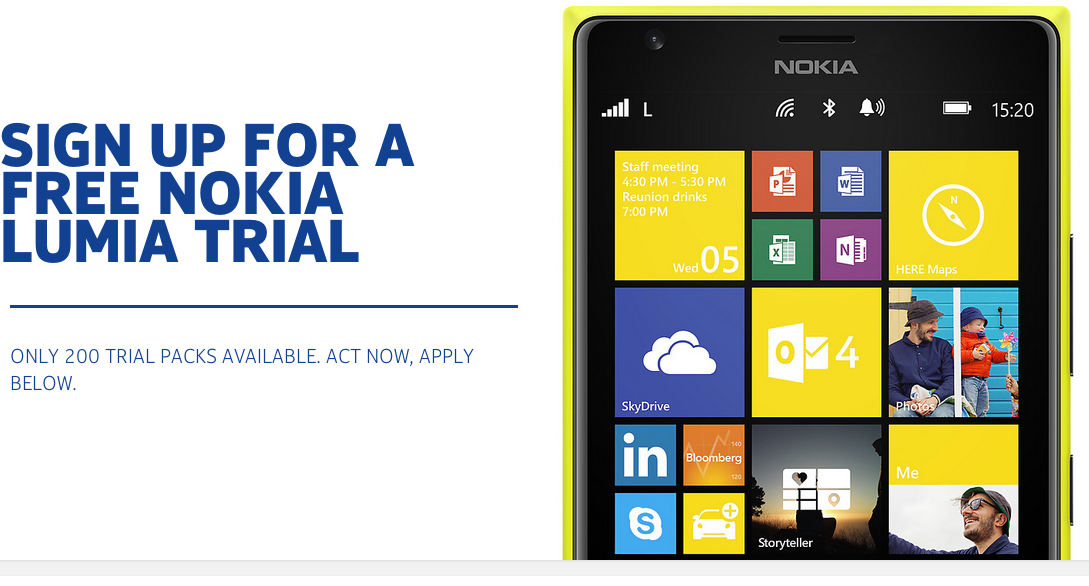 Via Windows Phone Central, which commented on the device selections:
This programme is perfect for businesses looking at new options for smartphones. We're used to seeing the usual BYOD (Bring Your Own Device) allowance established by enterprise, but the Nokia trial enables companies to kit out employees with a variety of Windows Phones, covering multiple price points. Some highlighted features in Windows Phone for business include SharePoint, Lync, SkyDrive, Outlook and Microsoft Office. Today's announcement also covers Nokia's increased B2B market share (12 percent, up from 5 percent) and how the company is looking to further invest in channel partners and programmes.

It's interesting to see which handsets Nokia has selected for this programme. The Lumia 520 is the most affordable option available today, while the Lumia 625 opens up 4G capabilities and a larger display. The Lumia 925, a premium high-end Windows Phone, tops the list with its impressive camera, wireless charging and unique Lumia design.

Should you be looking at smartphone options and are working in a Microsoft environment, it wouldn't hurt to contact Nokia, grab a personalised service pack and trial the Lumia Windows Phones for free. For more information on the #LumiaBizTrial, head on over to the Nokia UK website.
Indeed. Although the 1520 and 1020 are considered the flagships of the Windows Phone world, they're probably too specialist (too big, too niche) for generic business deployment, so these three make a lot of sense. The only surprise is that each 30 day trial pack only includes one of each, given that the idea is to trial them in an enterprise environment. Or perhaps the intention is not to force reclamation of the devices after the trial, in which case the manufacturer wouldn't want to be too out of pocket?
Apparently, "A 'highly personalised service pack' will also accompany the devices to illustrate the benefits of using Lumia Windows Phones for business." So a little hand-holding, probably a good idea. If I were to advise Nokia, I'd suggest larger trial packs, along with a day's availability of a Windows Phone enterprise expert on-site, to make sure things get set up smoothly....
PS. Photo of the pack from NokNok: