Microsoft has released its Bing apps in two batches. The latest set of update ensures that the original apps (News, Sports, Finance, Weather) now have the same shared core functionality as the later set of apps (Travel, Health, Food). The most important of these updates is the addition of app data sync via integration with the Microsoft account system. In order to use this functionality it is necessary to sign into your Microsoft account from each of the apps individually (available from the apps' main menu of settings pivot).
This sees personalisation data from the apps (e.g. topics in news, places in weather) synced into the Microsoft cloud from where it can be synced by other instances of the apps on both Windows (tablets and PCS) and Windows Phone devices. It's most useful for those that are using the Bing apps on another device (e.g. Microsoft Surface or Lumia 2520), but also acts as a handy app data back up when moving to a new device (e.g. when upgrading a Windows Phone device).
For the apps with integrated content feeds (News, Sport, Finance) sharing functionality has also been added, accessed via the standard toolbar, and allowing sharing to messaging, email, and social media.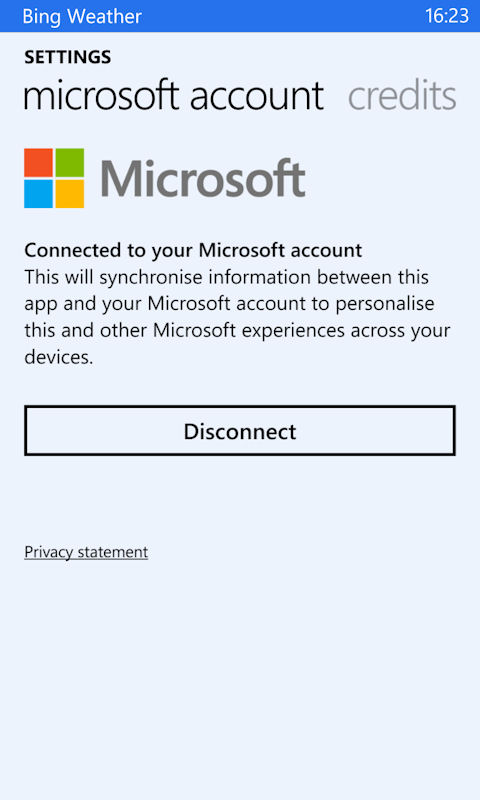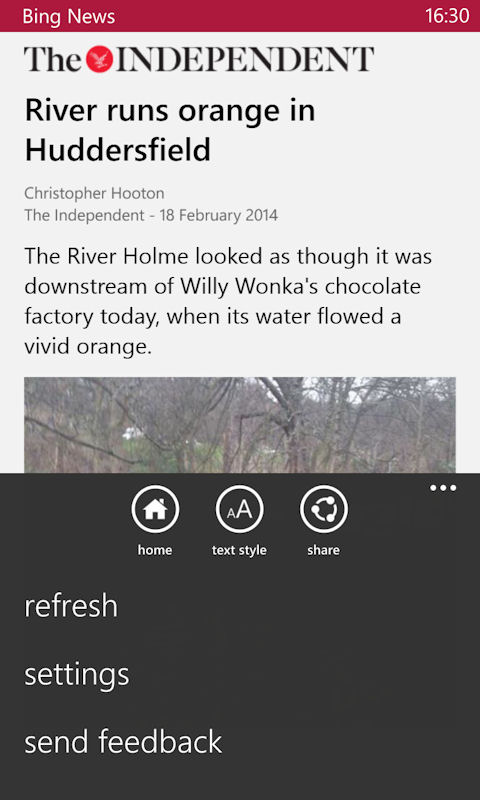 Similarly, the older apps inherent the new text style settings from the newer apps. This allows a greater degree of customisation for the way the text content of articles is displayed than was previous possible (i.e. text style and spacing, in addition to text size).
Some of the individual apps also get minor feature and/or user interface updates. For example, in the Bing News app the topics section is now automatically pre-populated with content within the main pivot for the keywords you specify. Previously, only a list of these topics were shown.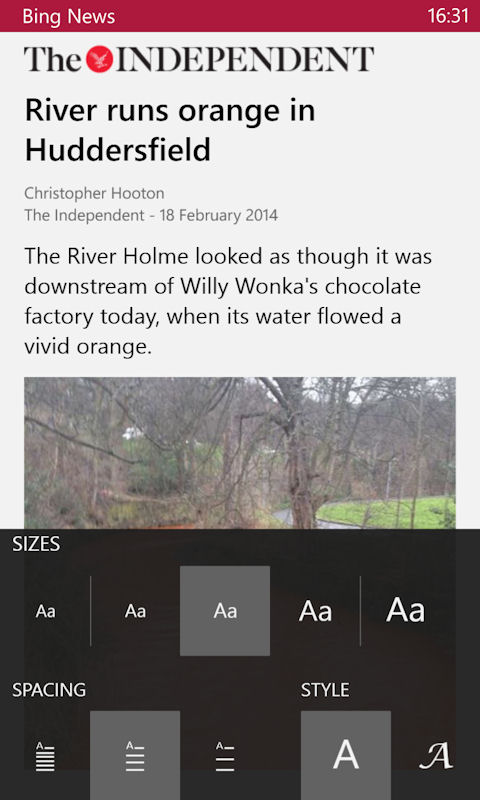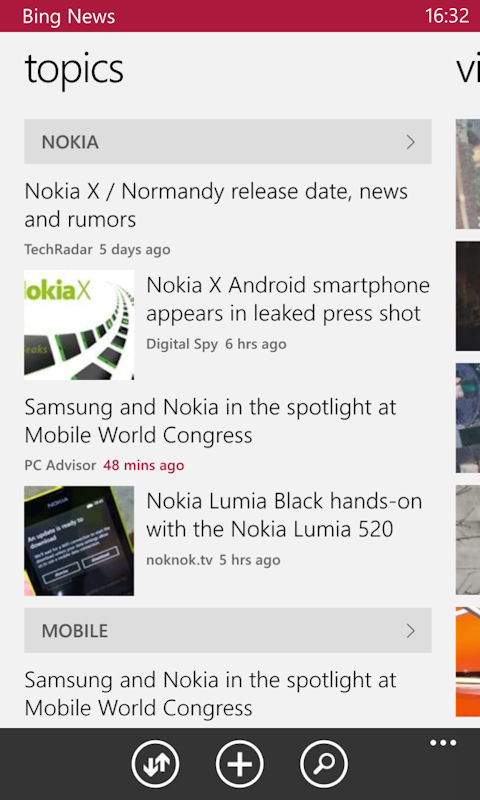 Another example of these user interface tweaks can be found in the Bing Weather app. It's now easier to pin locations to the Start screen, thanks to the presence of a pin button on the main toolbar (previously available via menu), and to send feedback to the apps developers. In addition, pages for ski and favourites (places) have been added to the main pivot view, again making it easier to access the respective content (and making the presence of ski content more obvious).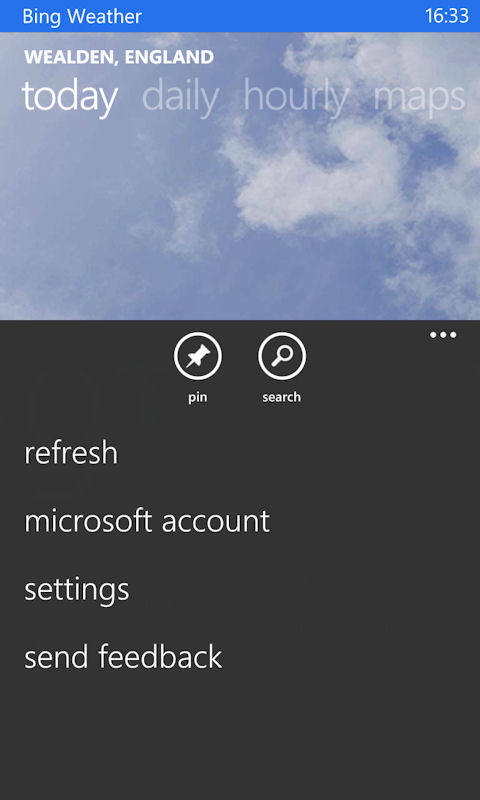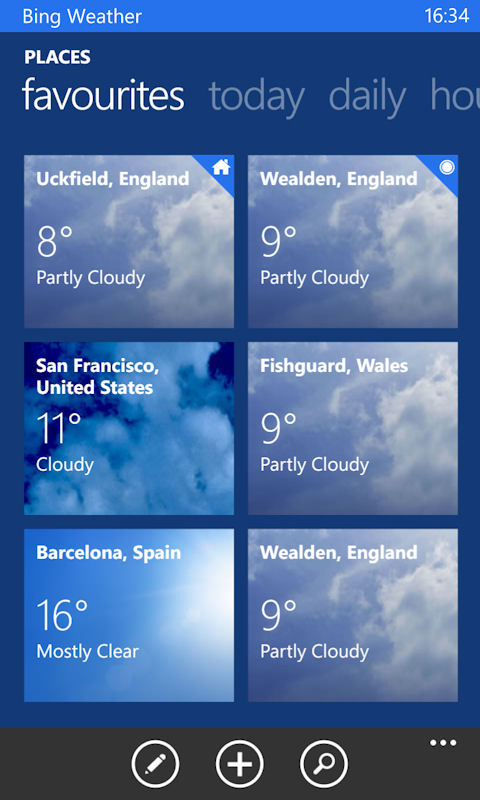 The changes in Bing Food & Drink, Bing Travel, and Bing Health & Fitness apps are minor, relating primarily to bug fixes, but the apps now get their first formal release, dropping the beta label in both name and status in the Windows Phone Store.
Bing News Windows Phone Store description:
The beautiful, photo-rich Bing News app makes it easy to stay up to date on the news that matters most to you. Designed for Windows Phone, the News app lets you easily choose your favourite news sources. Swipe through for a quick read of the headlines. Go deeper with personalised coverage of the topics you're passionate about. Or search the day's stories from your choice of trusted sources from around the world.
Bing Sport Windows Phone Store description:
The Bing Sports app makes it easy for you to keep up with all the sports and teams you care about. Designed for Windows Phone, the Sports app puts your favourite teams at your fingertips. Swipe through the app to get an overview of the top headlines, scores, schedules, standings, statistics, and much more across all major sports. Personalize the experience so you can track all the leagues and teams that interest you the most.
Bing Weather Windows Phone Store description:
The Bing Weather app helps you prepare for the latest conditions with hourly, daily and 10-day forecasts. Designed for Windows Phone, the Weather App features beautiful weather images and maps, easily customized to track conditions for the places you care about. Catch the forecast on your Live Tile, check radar maps and view historical details so you're always aware of weather on the way. Note: Some features may not be available in all markets.

Bing Finance Windows Phone Store description:
The Bing Finance app helps you stay on top of fast-changing market conditions so you can make the most informed financial decisions. Designed for Windows Phone, the Finance app puts your portfolio at your fingertips. Swipe through colorful charts for a quick read on the day's events. Personalize your watch list to track your portfolio.

Bing Food & Drink Windows Phone Store description:
The Bing Food & Drink app makes it easy to explore recipes, choose wine and cocktails and learn how to make your next meal a taste bud-tempting success. You'll enjoy beautiful photos, easy-to-follow instructions and helpful tools such as a shopping list and collections. Keep your shopping list synchronised across your devices. Share your recipes, shopping list or collections with family and friends. An indispensable companion, the Food and Drink app will have your kitchen sizzling.

Bing Travel Windows Phone Store description:
The Travel app, powered by Bing, provides you with destination guides, user travel photos, expert reviews, daily trip ideas, hotel listings and much more, all from the convenience of your phone. Check the status of airport arrivals/departures and pin a flight you are tracking to your start screen. Make last minute flight bookings after comparing the best prices from multiple providers. Find nearby hotels, read user reviews and browse hotel photos before making a booking directly from your phone.

Bing Health & Fitness Windows Phone Store description:
The Bing Health & Fitness app helps you stay on top of health and fitness trends and provides the tools you need to support a healthy lifestyle. Designed for Windows Phone, the Health & Fitness app brings together great fitness, nutrition and health content, along with trackers, tools and other features. Set your daily calorie goal, record what you eat and get nutritional information for over 300,000 foods. Choose from hundreds of workouts and exercises with step-by-step instructions, photos and video.

Bing Sport, Bing Weather, Bing News, Bing Finance, Bing Food & Drink, Bing Travel, and Bing Health & Fitness can all be downloaded from the Windows Phone Store for free.