That's great news for both developers and consumers alike. Developers, with the new workflow in place, can expect to see significantly faster turn around times on their app submissions, making it easier to plan and deliver marketing and communication plans associated with new app releases and updates. Potentially, it may also encourage developers to submit updates more frequently, which should benefit both consumers (quicker access to bug fixes and new features) and developers themselves (reduce support costs).
It may seem like a relatively small change, but with completing platforms offering similar fast turn around times, anything that adds to the time it takes to get an app into the Windows Phone Store should be minimised (where possible). It's certainly the case that in our conversations with developers the time absorbed by waiting for app certification has been a frequent complaint, as has the lack of transparency in some testing areas.
In addition to the new workflow on the backend, Microsoft is also making improvements to the way it deliver app certifications results:
In place of the standard PDF attachment, developers will now receive an email notification indicating testing is complete with App Review results available on their Dev Center Dashboard - keeping all important app information in one easy to access location.
The new workflow and processes are still rolling out, a process that is expected to be completed in the next few weeks.

Improved app download reports in Dev Center
Earlier this month Microsoft also rolled out a number of new reports filters to give developers greater insight into download and in-app purchase statistics. In the Dev Center it is now possible to filter the app download report by language, allowing developers to more easily see trends related to language (e.g. impact of new localisation).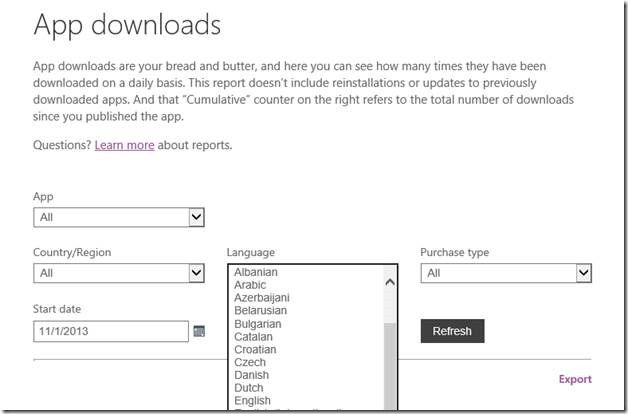 Furthermore, the offline version (downloaded Excel file) of the app download and in-app purchase reports now also include additional information (app version, language, age group, gender, phone manufacturer, and mobile operator), potentially giving developers a leg-up in identifying trends that may help them further optimise their apps.