From the Store description:
Welcome to downhill racing on Piggy Island! Feel the rush as you fling those freewheeling birds and piggies down the track at breakneck speed – with plenty of twists and turns in a thrilling race to the finish line!

What's new in version 1.1.0:
TRY OUT YOUR TELEPODS! Find our great line-up of collectible Angry Birds Go! TELEPODS toys in select stores – then teleport your favorite characters into the app for an exclusive first look!
TELEPODS? They're plastic toys/collectables (e.g. sold online here), with a small plastic optical stand. The idea is that you place each character on the stand, over the camera, when prompted in the game, and the character is then 'teleported' into the race. It's a cool idea, though heavily slanted towards making more money, just as is the game itself.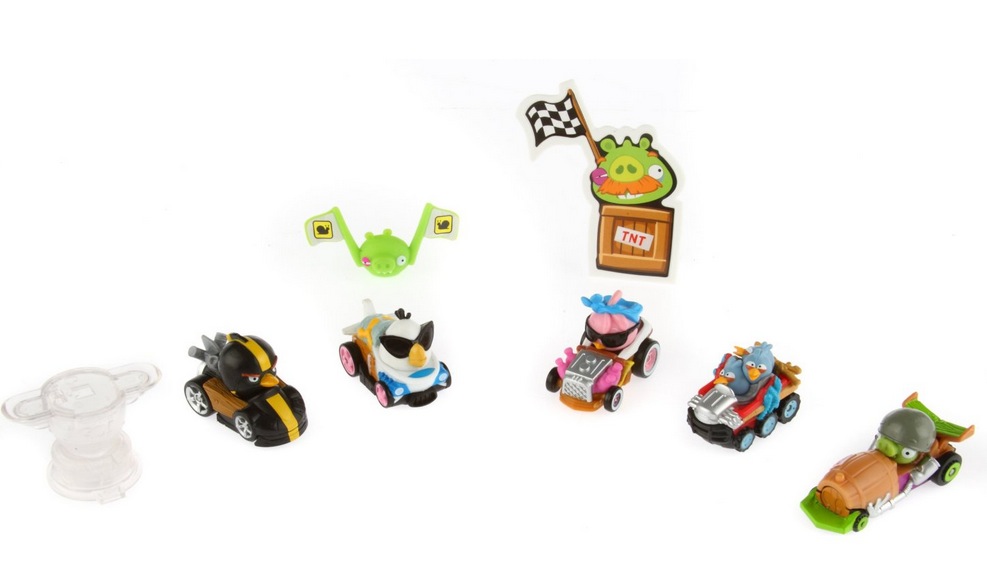 Typical user reviews for the system talk about teleporting the characters in once and then never needing the toys ever again, making them rather expensive little hunks of plastic for what could just as easily have been yet another in-game purchase.
From our review of the game itself:
So Angry Birds Go has a poor rewards system, polluted with IAP. It has a limited number of tracks for you to race on, and you'll need to repeat racing on them so often to get coins to upgrade your cart that you'll grow tired of the continued grind far faster than you should in a game of this genre. With poor collision detection, a lack of control over your acceleration (not even a brake pedal to help get round some corners), and tired circuit design, Angry Birds Go might look the part graphically, but it's a gaming experience that is not fun to play, that is cynical, and after building up huge levels of respect in the mobile gaming community, does real damage to the Rovio brand name.

Angry Birds Go is more than a disappointment, it's a game where its very existence damages the parent company. There are far better games, there are far fairer IAP experiences, and there's no way I'm recommending this.
If you're something of a masochist - or an Angry Birds completist, you can download Angry Birds Go! here in the Windows Phone Store. Comments welcome if you spot a tweak to the rather greedy freemium implementation - have Rovio relented at all here?