Facebook, in a press release announcing the planned acquisition, says WhatsApp will supports it missions of delivering Internet services efficiently and affordably:
The acquisition supports Facebook and WhatsApp's shared mission to bring more connectivity and utility to the world by delivering core internet services efficiently and affordably. The combination will help accelerate growth and user engagement across both companies.

"WhatsApp is on a path to connect 1 billion people. The services that reach that milestone are all incredibly valuable," said Mark Zuckerberg, Facebook founder and CEO. "I've known Jan for a long time and I'm excited to partner with him and his team to make the world more open and connected."

More specifically, the acquisition can be seen as a way of helping Facebook thrive in the transition to mobile, especially in European, Asian, and emerging markets. $19 billion is a huge amount of money, especially for a five year old company, but if it helps Facebook maintain growth and its spot at the top of the social networking tree then it will generally be regarded as worthwhile.
Furthermore, social messaging could become a significant part of future mobile discovery and user acquisition, complementing the existing app stores, social networks, and search engines for app, service, and content discovery and distribution. WhatsApp, as the leading social messaging company, is well placed to take advantage of this emerging trend.
In a blog post Jan Koum, WhatsApp's founder and CEO, said that nothing will change for users, with the service retaining its ad-free and "no ads, no games, no gimmicks" approach:
WhatsApp will remain autonomous and operate independently. You can continue to enjoy the service for a nominal fee. You can continue to use WhatsApp no matter where in the world you are, or what smartphone you're using. And you can still count on absolutely no ads interrupting your communication. There would have been no partnership between our two companies if we had to compromise on the core principles that will always define our company, our vision and our product.
WhatsApp has been an acquisition target for a number of companies thanks to its stellar growth and hugely impressive user numbers. More than 450 million people are active on the service at least once a month, with 70% active each day, something that has been achieved with a team of around 50 people (32 engineers). The messaging volume passing through WhatsApp each day - around 50 billion transactions - is close to or exceeds the total global volume for SMS.
WhatsApp's Windows Phone app is regularly updated and the company has a deliberate policy of delivering feature parity, where possible, across all of its mobile clients. For Windows Phone users the acquisition by Facebook can be considered a positive outcome, given that Android's Google was another potential purchaser. WhatsApp's platform agnostic nature has been part of its success and is something that is almost certain to be maintained in the future.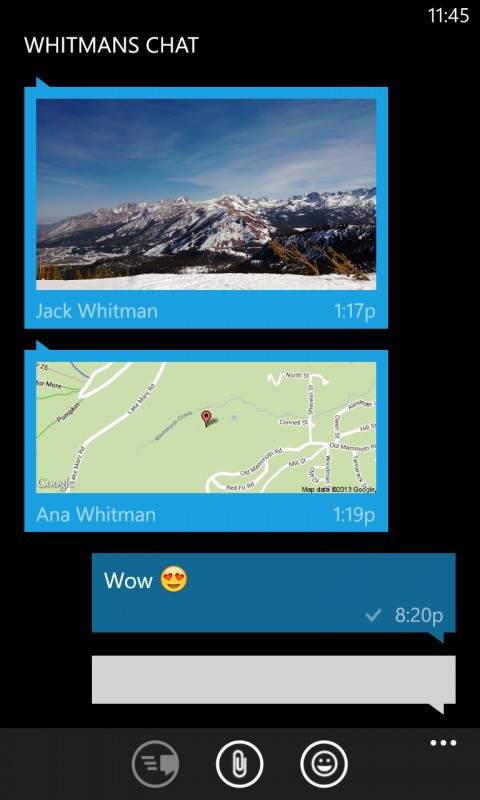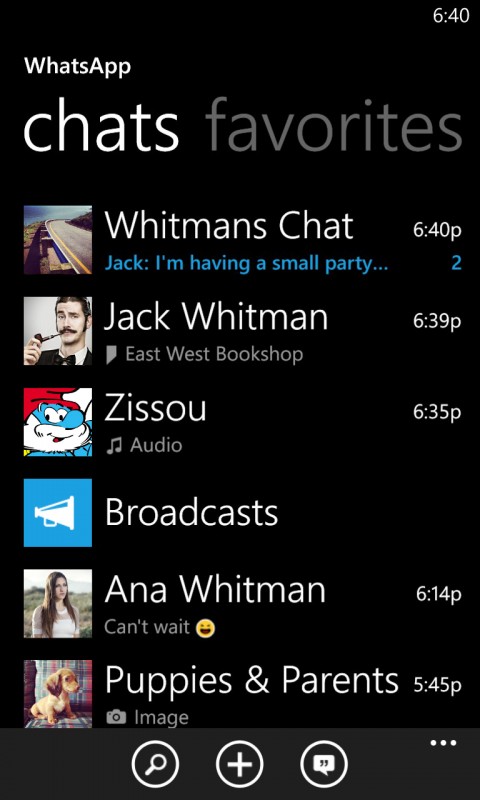 Windows Phone Store description:
WhatsApp Messenger is a smartphone messenger available for Windows Phone, Android, BlackBerry, iPhone, and Nokia phones. WhatsApp uses your 3G or WiFi (when available) to message with friends and family. Switch from SMS to WhatsApp to send and receive messages, pictures, audio notes, and video messages. First year FREE! ($0.99/year after)

WhatsApp is a free download from the Windows Phone Store.