The two apps are ideal companion for those attending MWC, but may also be of interest to those who want to find out more about the event or follow the news and views that emerge next week.
Official GSMA
The Official GSMA app is designed for use at a range of GSMA events. In order to use it for MWC you'll need to download the data specific to MWC. This is a simple process, with a step-by-step guide included within the app. Once the data download has been completed you'll see that the app includes all schedule, speakers, exhibitors, mapping, and venue information that you would expect from this type of app, but what really stands out are the smart services that aim to take some of the pain out of attending a big trade show.
In the food section of the app a list of all the cafes, snack bars, and restaurants within the venue is provided, together with information about waiting times and whether queues are increasing or decreasing, but it's also possible to order and pay for food through the app, with order collection via selected fast lanes at select locations.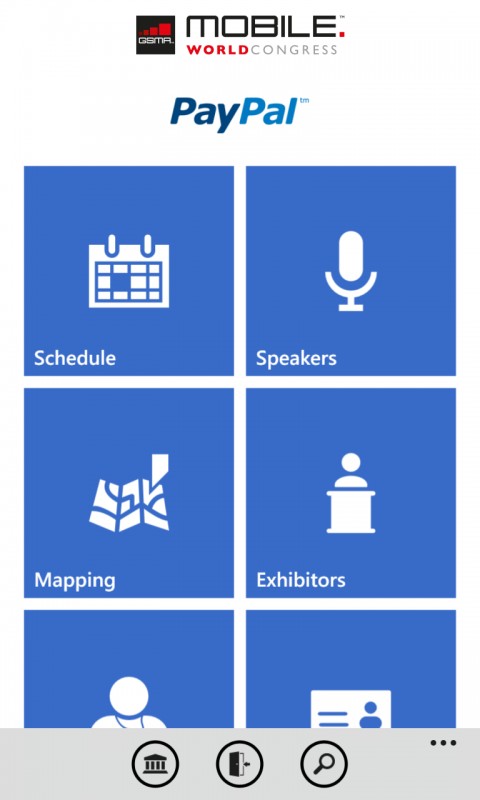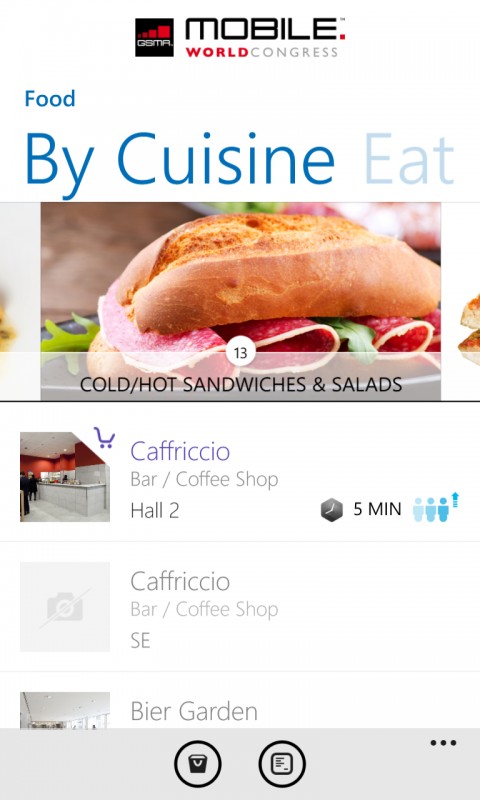 There's also similar information for transport away from the venue, something that is a perennial problem at the event because 75,000+ people what to leave the same place in a relatively short space of time. The transport section lists both the types of transport available and how long you are likely to have to wait to get them.
The app also contains an NFC Badge section that lets you use your phone as a way of getting into the venue. While you are advised to carry your printed bade with you at all times, the advantage of using the NFC badge is that you'll get into the event faster (dedicated lanes) and will not have to show a form of photo ID each time.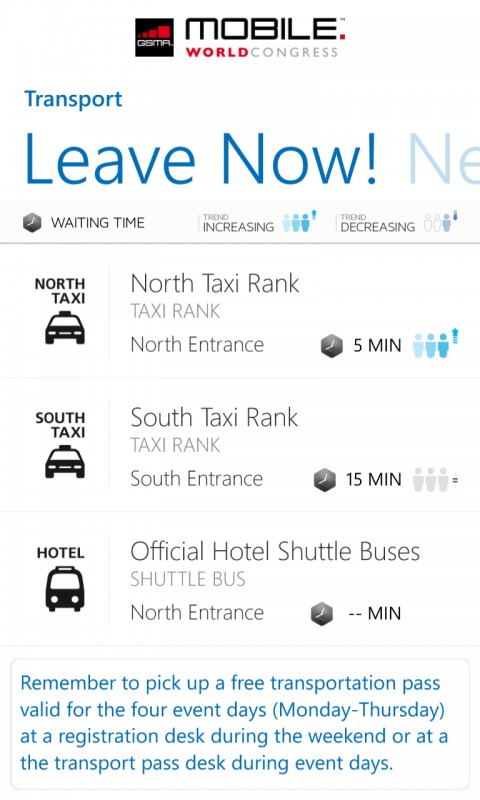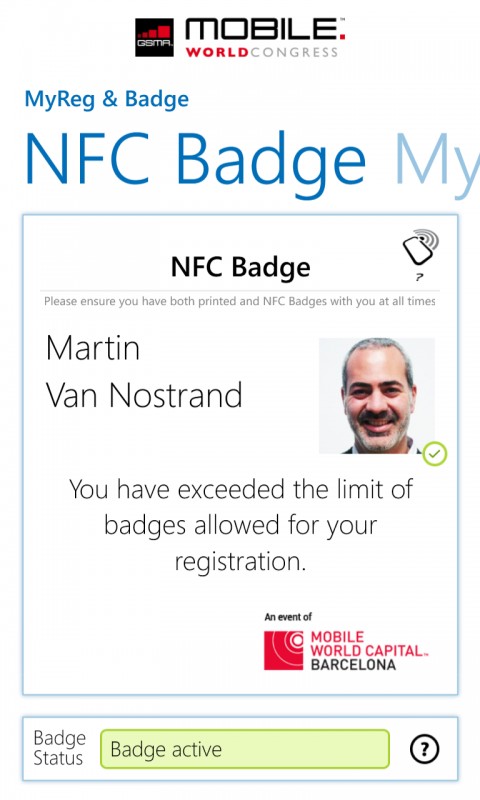 GSMA app Windows Phone Store description:
This is the official app for GSMA, including Mobile World Live, Mobile World Congress and Mobile Asia Expo.

Mobile World Live is the online communications hub for the global mobile industry. The content includes daily news coverage of the industry's biggest stories, as well as regular analysis and blog features from GSMA's experienced team of tech reporters. This content is complemented by weekly video features offering exclusive interview access to the highest-profile C-Level executives in mobile business, as well as special features that analyse the industry's most topical issues.

The GSMA app is a free download from the Windows Phone Store

Nokia MWC 2014 app
Nokia's own MWC app also provides venue, agenda, and speaker information. A handy favourites system makes it easy to keep track of which sessions and stands you want to attend. There's also a useful built in note taking utility, links to HERE Transit to help you find the best public transport route to the venue, and a tool for sharing your contact information with other attendees via NFC.
The venue maps and exhibitor listings provided in the Nokia app work better than those in the GSMA app, loading more quickly, and providing more detail on which stand belongs to which company, although it's worth noting that there's less information on ancillary services.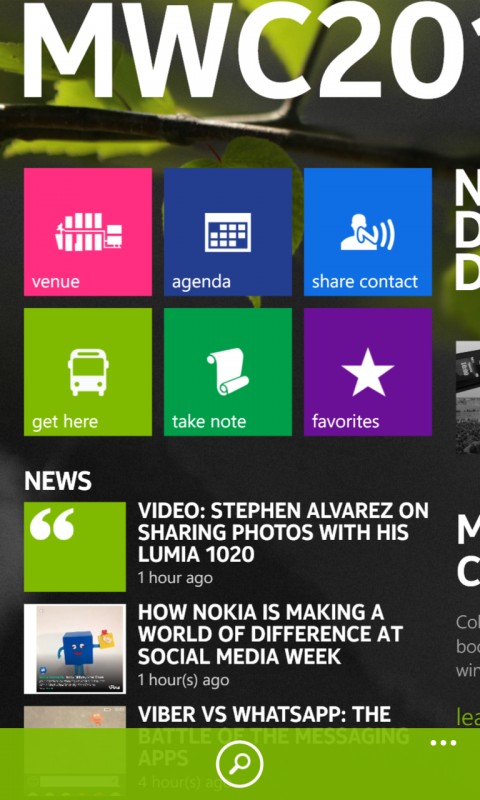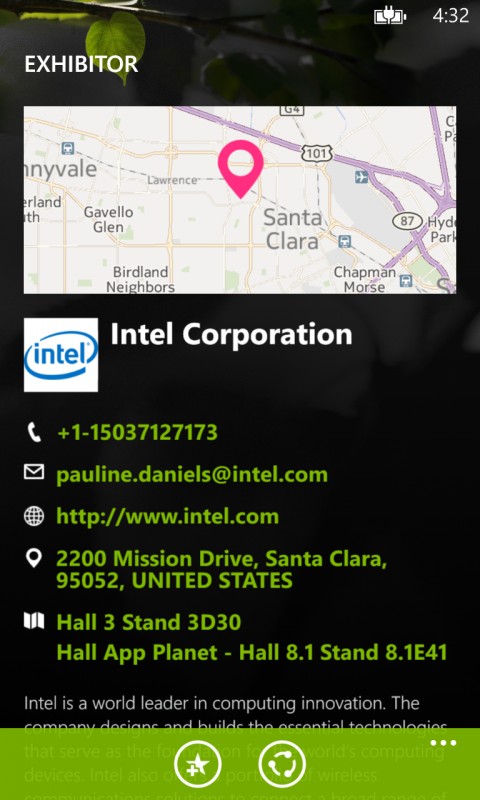 Nokia's MWC app also include information on Barcelona itself, including an augmented reality section that helps you explore and find the best that the city has to offer, with the benefits of Nokia's ownership of the HERE mapping data clearly evident.
Those want to dip into the local culture can listen to several specially created Spanish mixes in Nokia MixRadio linked to from within the app and to help connect with the locals there's a useful a list of handy Spanish phrases (text and audio), although we couldn't spot one for "are Nokia announcing an Android device?".
Content from Nokia Conversations (blog) and MEC related social media channels (Twitter, Facebook, Instagram) is also integrated into the app, helping you keep track of announcements from the event.
For those who are planning to visit the Nokia stand there's also an opportunity to take part in an MWC challenge, which involves tapping various NFC tags around the stand in order to collect points, with the potential to win a prize each day.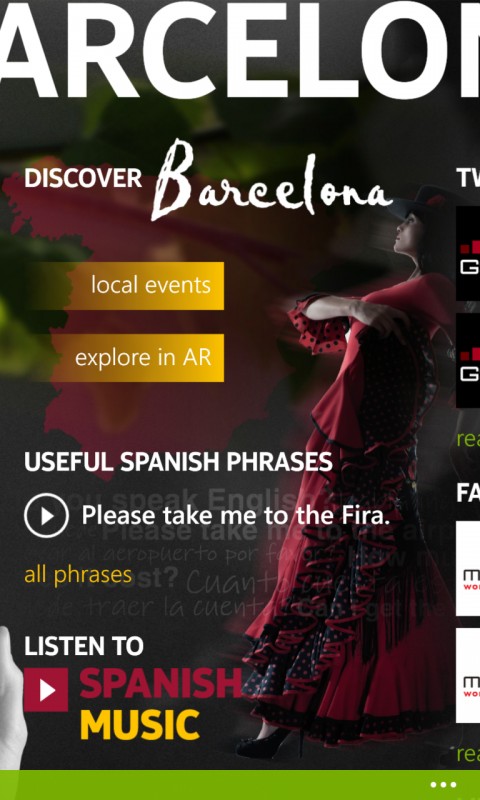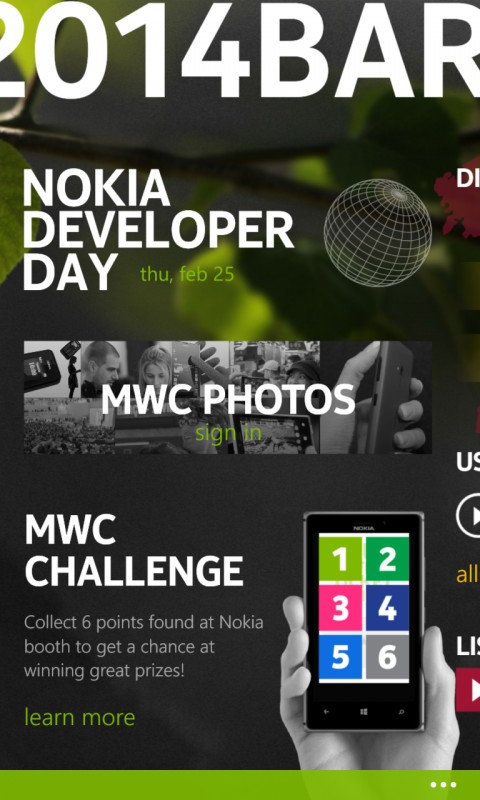 Nokia MWC 20014 app Windows Phone Store description:
Official Nokia MWC app, exclusively for Lumia, this companion app is your guide to Mobile World Congress 2014 in Barcelona, Spain

MWC 2014 is a free download from the Windows Phone Store