Here's the full list of new items, courtesy of developer.nokia.com:
Partial JPEG decoding
Using RAJPEG technology, access image data without decoding a whole JPEG image for blazingly fast previews, application of effects, rotation, and cropping of high resolution images.
Compatible with Imaging SDK 1.0
The SDK update builds on the stable 1.0 release by maintaining API compatibility and enabling a seamless upgrade path for developers using the earlier version. The API is available from both managed (C# and VB) and native (C++) code, is really simple to use, and comes with a range of intuitive classes and methods.
Windows 8.1 support
Illustrating the potential of Windows platform convergence, the library is now available on Windows 8.1 (x86 and ARM) as a single codebase with no API breaks, making it possible for you to reuse a lot of your code when porting across Windows and Windows Phone.
Over 50 filters, effects, and enhancements
The library comes packed with effects, filters, and enhancements for you to use; from the simple, such as auto-enhance, frame, and brightness to those with advanced capabilities such as chromakay, adjusting RGB levels, hue, and saturation. The Nokia Imaging SDK 1.1 release also includes Interactive Foreground segmentation, Lens Blur (Bokeh) and single image HDR effect.
Roll your own
It is also possible to create entirely custom filters for your own unique effects.
Crop, resize, rotate, and undo
Cropping, rotating, and resizing is supported; you can crop and rotate in one step with the Reframing API. What's more you can take advantage of the built-in unlimited undo functionality to encourage users try out different filters and combinations without fear of losing anything.
Use the camera as a source
Use the Camera Helper API for easier access to camera functionality.
Even more powerful than before
The latest release has been further enhanced with performance and memory optimizations, making it possible to create beautiful imaging experiences even on low spec devices.
Compatibility
Windows 8.1 (x86 and ARM binaries), Windows Phone 8.0.
There are a couple of items above of direct impact/benefit. The partial JPEG decoding, as it sounds, will enable faster manipulation of high resolution images, while the inclusion of the 'Reframing API' will enable third parties to execute the same trick as Nokia's own supplied (Pro) Camera application in preserving most of the output quality even when cropping into big images.
I doubt there will be as much benefit in having common code APIs with Windows 8.1 - or is tablet photography a thing now? Still, the more common code the better, I guess - maybe some of this can be used on Windows 8.1 tablets with front cameras as well?
Interestingly, on the Imaging SDK page, there are also a number of demo applications, currently hosted in the Windows Phone Store: Filter Effects, Filter Explorer, Real time filter demo, Real time blend demo, and Chroma key demo. They don't 'do' much, but they're nice camera API demos....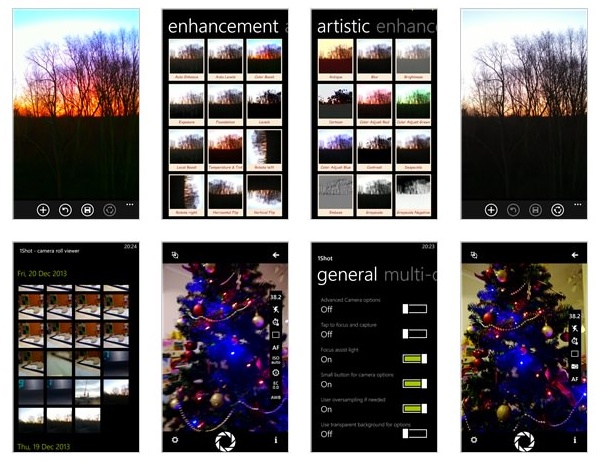 (example screens from 1Shot, which uses the Imaging SDK heavily)