The feature was first shown in a pair of screenshot posted to Weibo by cotaku39, which was picked up and discussed in more detail in a post by Windows Blog Italy, followed by many other blogs and other online media. The background image feature is in addition to, but does not replace, the existing accent (solid) colour Live Tile system currently used by Windows Phone.
The feature depends on the Live Tiles being semi-transparent, a property that is set for all built-in apps, but not all third party apps (i.e. some third party app Live Tiles will not show the background image because they are not transparent). An example of this can be seen in the top right-hand-side Love Tile in each of the two screenshots below.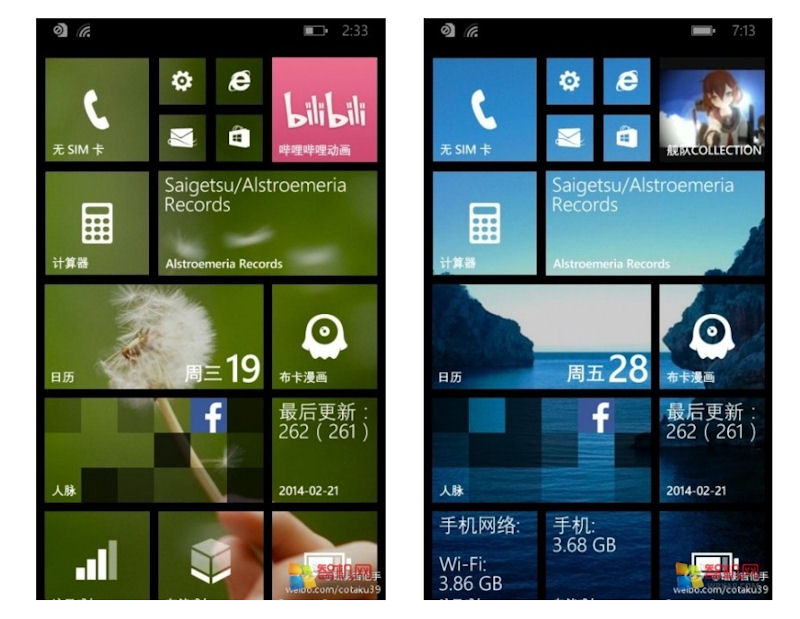 Image credit: cotaku39
The background image is set from the start+theme Settings app module (an updated version of the current theme module). Any photo stored on the device can be set as a Start background, but some care will be needed to maintain the readability of information on Live Tiles (e.g. photos using one predominant colour as shown in the above screenshots).
On some devices the same Settings app module will also get a toggle setting, "Show more Tiles", that allows a user to customise the number of Live Tile columns shown on the Start screen. This will give the user a choice between a Start screen with two column of medium size Live Tile (e.g. Lumia 520, 920, 1020) or three columns of medium size Live Tiles (e.g. Lumia Icon, 1520, and 1320).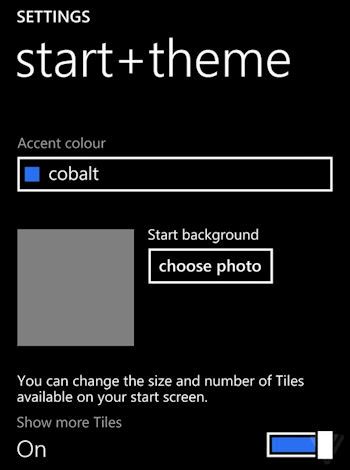 Image credit: @tomwarren
While not yet confirmed, this second setting is likely to only be available on devices with a physical screen size of 4.5 inches or bigger and a screen resolution of 720p or greater. Some devices (5+ inch screen size) will have the setting turned on by default, while others (4.9 inch screen size or less) will have it turned off by default. The minimum screen size at which the setting is available is set by the size at which the smallest Live Tile size remain usable.
Our own sources confirm that the Start screen background and show more Tiles features have been available in select preview version of Windows Phone 8.1, but we have not been able to confirm whether the feature will be available in the initial consumer release.