The official changelog for Podcast Lounge 2.0(.0.1) is extensive, here's a summary:
Added playlists support to Podcast Lounge
Changed the UVC (Universal Volume Control) to be more in keeping with the core system apps – press and hold on UVC now works
Added support for content:encoded RSS elements
Added HTML capable podcast information page and on settings
Added ability to sort favourites by new count or downloads count
Added Smart Playlist templates
Added new Rowi menu for favourites on the main panorama page (providing pin, remove and settings options)
Added ability to play video podcasts using the backgroundaudio agent (thus avoiding the screen killing the video feed)
Added additional controls to jump through the podcast in 1m and 5m steps as well as restarting and finishing early
Added description page accessible from ROWI menu and player page
Added support for sharing a podcast detail over email
Ability to scrub playback position for both audio and videos
Corrupted video files now warn the user when playback fails
Revamped options, help and tools menus from the main UI
Added ability to get to playlist from the play screen (tap title)
App now recognises when the RI agent has run whilst app was still open and updates history, favourites and warns user (not handled well previously)
Added ability to only sync podcast feeds without downloading under RI task
Added support for default playlists and ability to reset
Added option to autoplay playlists when generated
Added ability to override background downloading of individual favourites via settings menu
Added ability to backup/restore in debug mode
Added ability to reset tips
Adjusted tips to be a per-session rule only
Added user option to revert back to 30s stepping increments on playback controls
Adjusted the useragent attribute which caused some users to get accused of tethering
Added ability to reorder playlist entries via the menu
Added ability to select all episodes, and ability to mark block as un-played
Added appending of downloaded episodes that no longer appear in the server feed's RSS
Added better support for remote file playback issues
Rebranded SkyDrive to OneDrive
Added a new tutorial feature
DL summary now shows collection sizes by programme
In addition to the items above, a multitude of bugs and minor issues have been fixed, apparently. Unlike many other podcatchers, Podcast Lounge goes through a formal beta test programme for every release, so version 2.0 is expected to be very stable.
Of the major new features, Playlists is probably the biggest:
The flagship feature within version 2.0, playlists give the user the ability to compile a list of podcast programming that will play automatically through to the end once started. We don't confine the playlist to audio or video playlists, but permit mixed content playlists. We believe this is a first for Windows Phone. Depending on what the user is doing, Podcast Lounge will make a decision to either play the video as audio-only (when the phone screen is off, or Podcast Lounge's playback screen isn't open) or fire up the video player.

We support the concept of "Smart Playlists" which auto-compile a playlist based on some pre-set user criteria from a user's favourites list. The Smart Playlists can be configured to work with a pre-selected group of favourites, to only include downloaded, new or partially listened to podcasts. The playlist can be restricted to podcasts published within a certain time period, ordered in ascending/descending order or grouped by programme. We supply 3 pre-set Smart Playlists to show how the concept works – the user can edit these to better learn how they work.

We believe that the majority of podcast material is time dependent and we've shunned the concept of creating and saving permanent playlists (something you'd expect if the user was accessing their music catalogue where material is enjoyed more than once). There is only one active "current playlist" and we give users the option to recover the last overwritten playlist (via a menu in the playlist section).

Users have 3 different ways to create a playlist:

Use of a Smart Playlist to auto-generate a playlist with their specific criteria. There is no limit to the number that can be created.

Manually adding individual episodes from the episodes list by programme

Tapping play on an episode where newer episodes exist. In this instance, Podcast Lounge will queue up all subsequent episodes in date-ascending order. (this behaviour be turned off in settings)
Secondly, being able to properly 'scrub' through a podcast to a particular position is something that many people have been asking for (for example to skip forward to a specific section or time code).
Podcasts can be skipped forward and back using the UVC (Universal Volume Control panel) triggered by tapping the volume key. Tracks can also be skipped and further manipulated within the player page (more on that in a following section).

Whilst the player screen should look very familiar to frequent users, it hides some significant extra functionality below its surface:

Scrubbing support: Users can now adjust play position by dragging their finger along the slider bar.

Playlist navigation support: Tap the podcast programme title to quickly show the current playlist. Swipe left and right on the podcast graphic to step forward and back within the playlist (just like the Music + Video experience). Tap the track forward and back keys for similar effect.

Pressing and holding now consistently works on the track forward/back buttons on both the player and UVC controls.

Sharing support enhanced to offer users the ability to email their friends as well as using popular social networks.

Hotlink at the bottom of the episode description to open up a show-notes page which is fully HTML link enabled.

Pro-user playback controls accessible by tapping the podcast graphic. This provides incremental playback position adjustment forward and back in 1 and 5 minute increments. Users can also restart a podcast or end the podcast early (we'll mark it as played in full if this happens)

Note: Some users may prefer using the track forward and back keys to step through a podcast. This traditional functionality can be re-enabled from within the playback page of settings. In this mode, the playlist can still be navigated from gestures or manual selection.
Thirdly, there's an entire new Backup/Restore system, essentially making it easier to transfer all Podcast Lounge settings and status between Windows Phones.
We've chosen to implement our own backup/restore functionality baked right into the app.
The function can be found in the Tools section and gives the user the ability to backup and restore their settings to Microsoft OneDrive. At this stage we only backup play position, favourites, settings etc. We do not backup the podcasts themselves due to the bandwidth challenges. (We may change this in a future update.)

The main user benefit here is when they are transferring Podcast Lounge between devices. Our beta testers love this feature.

For some users, there is an awkward OS bug that means podcasts are "double-cached" on the phone. Once in Isolated Storage (where we have control) and the second time in a separate app storage bin that only the OS has access to. It would appear that this doesn't get purged very often and in a small case of users, caused their phone to run out of storage space. The current work-around is to uninstall and re-install the app. For those users, this feature will be invaluable. (Note this issue impacts other 3rd party apps too).

Note that this feature will remain free today particularly for the user-case mentioned above, but we're reserve the right to charge a token amount at some point in the future (it will be after Microsoft fix the OS issue explained above).
We're glad to see acknowledgement of the storage issue - we haven't seen this on our devices, but it's a Windows Phone thing that has affected a number of readers.
Of special note is that there's a brand new 'Tutorial', shown after the update and on request via the 'Help' section:
With the major new functionality added, we felt it necessary to give new users a special helping hand with "on-boarding them" on the new app. The tutorial was designed to give users a "taster" of the depth of functionality on offer (and in many cases user-"discovered" through exploration). This simple 6-panel slideshow is available on update/start up and also via the Help & Feedback section.

We've also included a comprehensive help system using an HTML-like mark-up which supports hyperlinks etc. At this stage it requires an internet connection (it's something we plan to make available offline in a future build).
Of the various bugs fixed, here are a few which had affected us:
The podcast episode menu now reliably loads up above the episode selected. The vertical position was very sporadic in previous versions.

Automatic background sync of podcasts had issues if the app was still running when the user put the phone on charge. The end result was that Podcast Lounge wouldn't correctly recognise the new downloads, nor inform the user of the new content. This is now fixed.

Robustness of the RSS parser has been significantly improved. We can now handle feeds which deviate from the standard better than we could before.

Users can now force Podcast Lounge to play all video as audio (handy for those running with Podcast Lounge as video playback used to require the screen to be on all the time)
Here's version 2.0 of Podcast Lounge in action: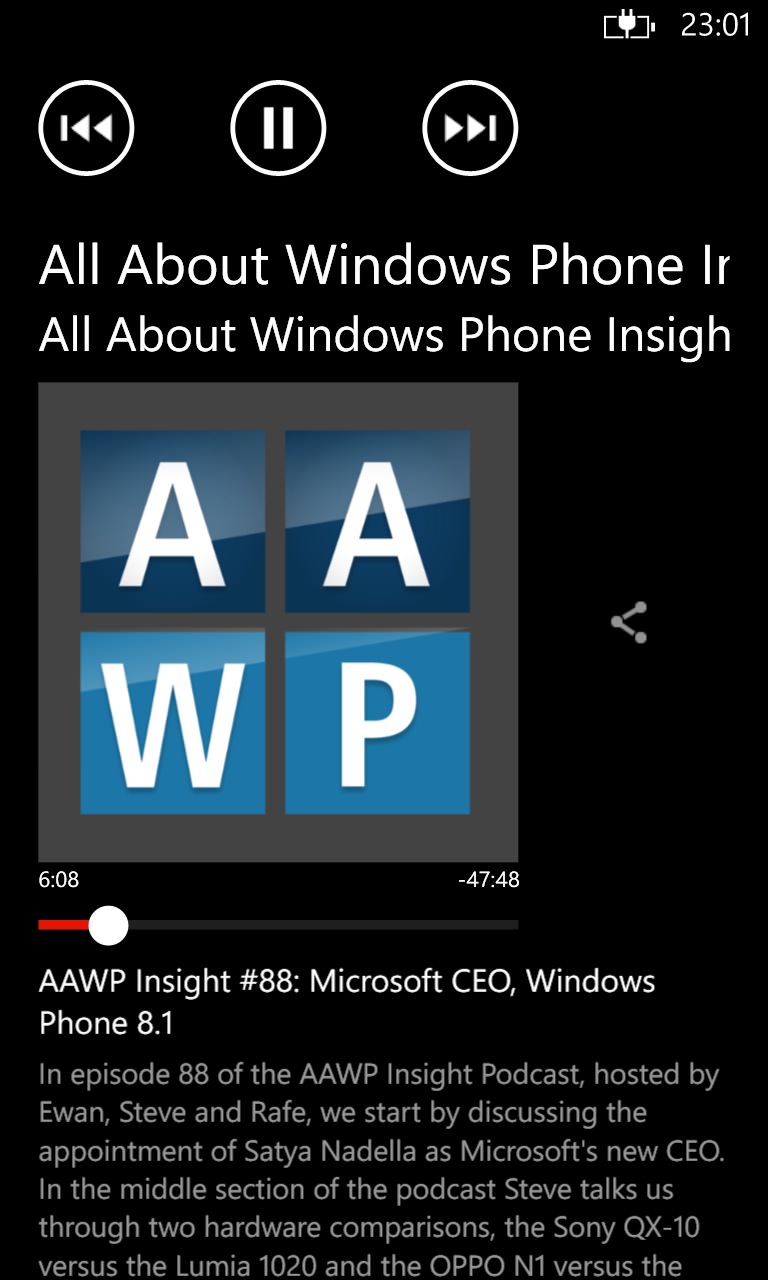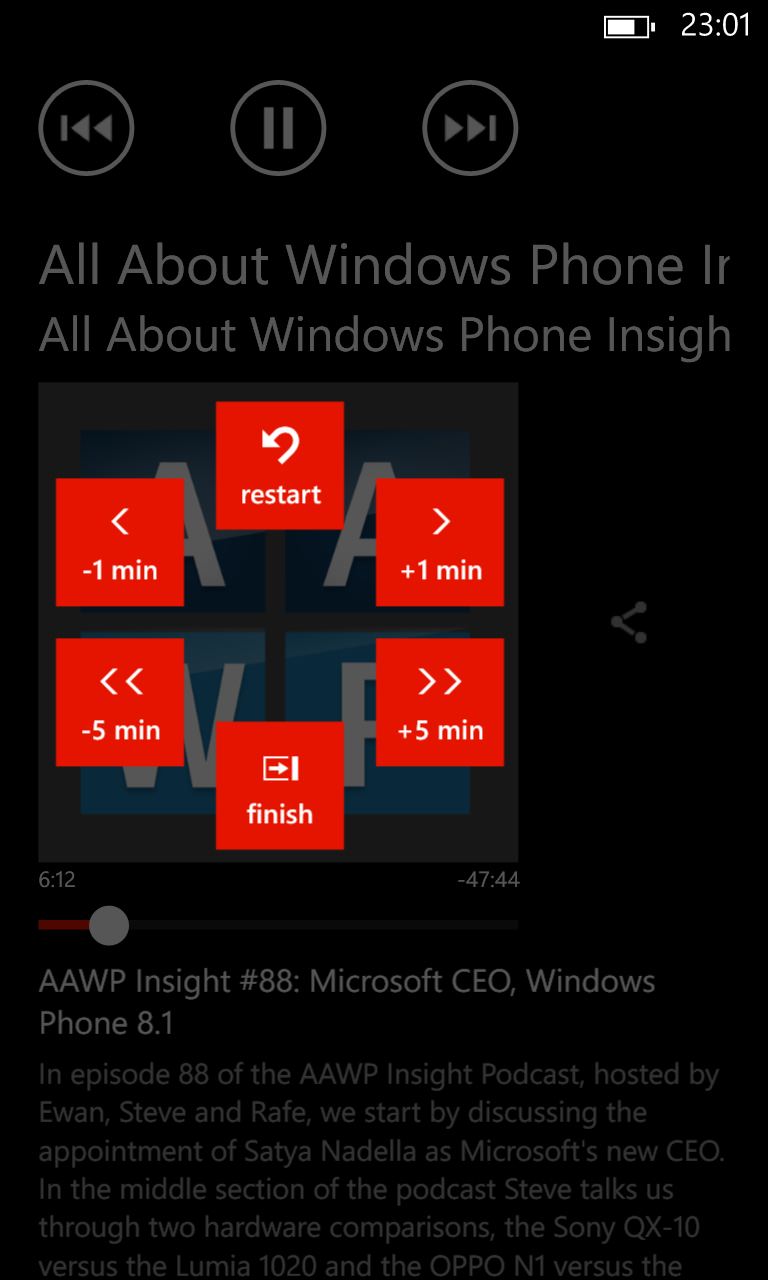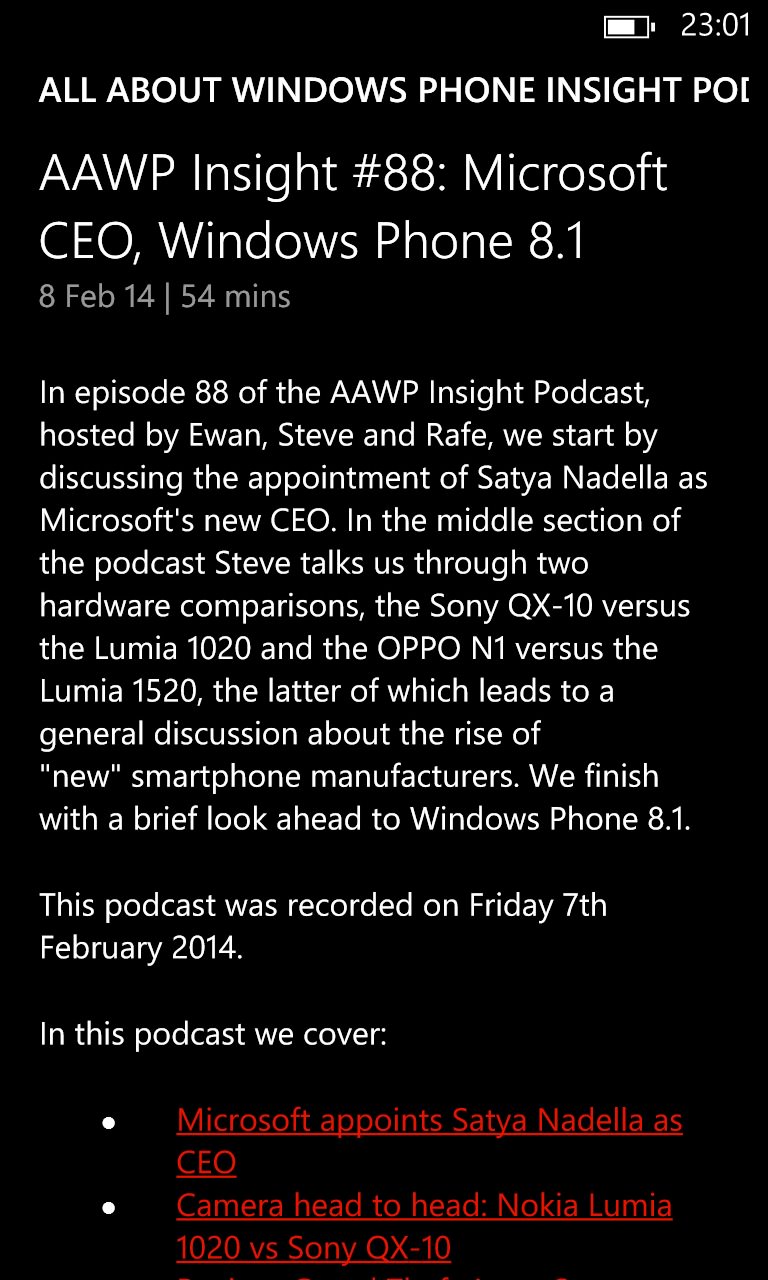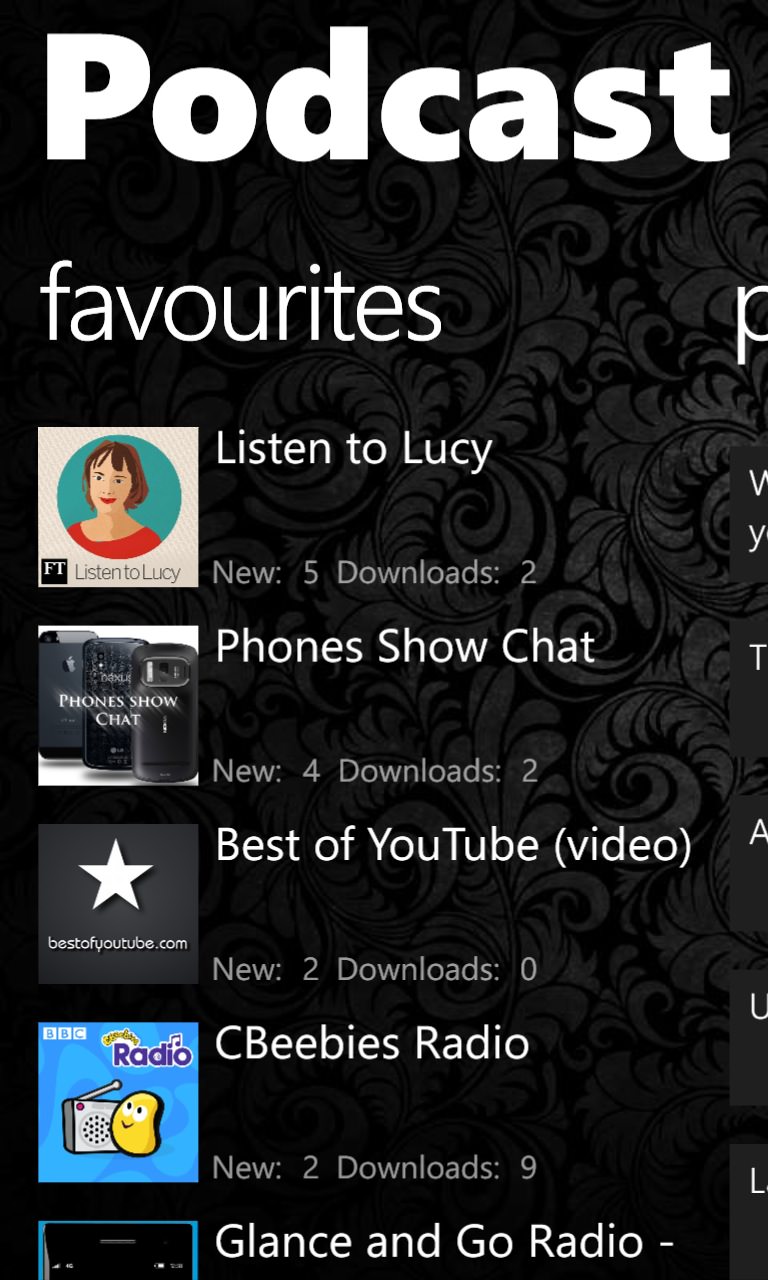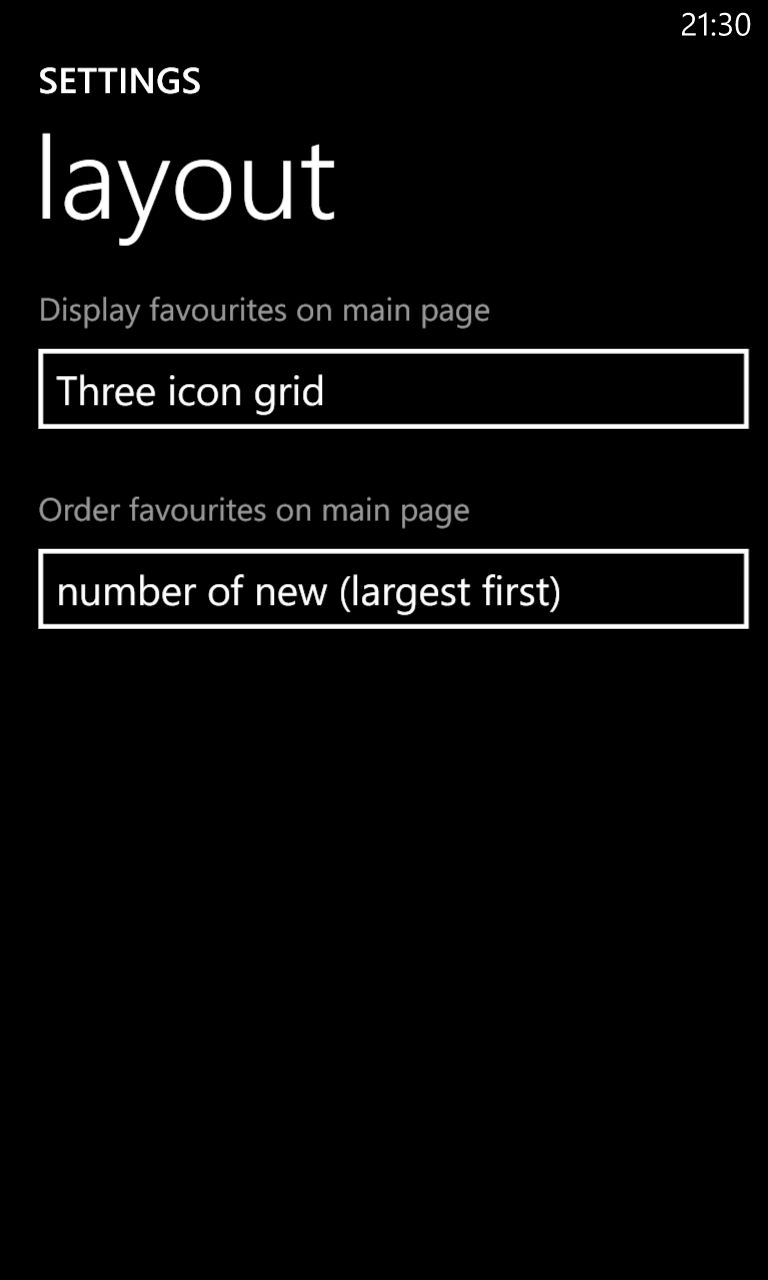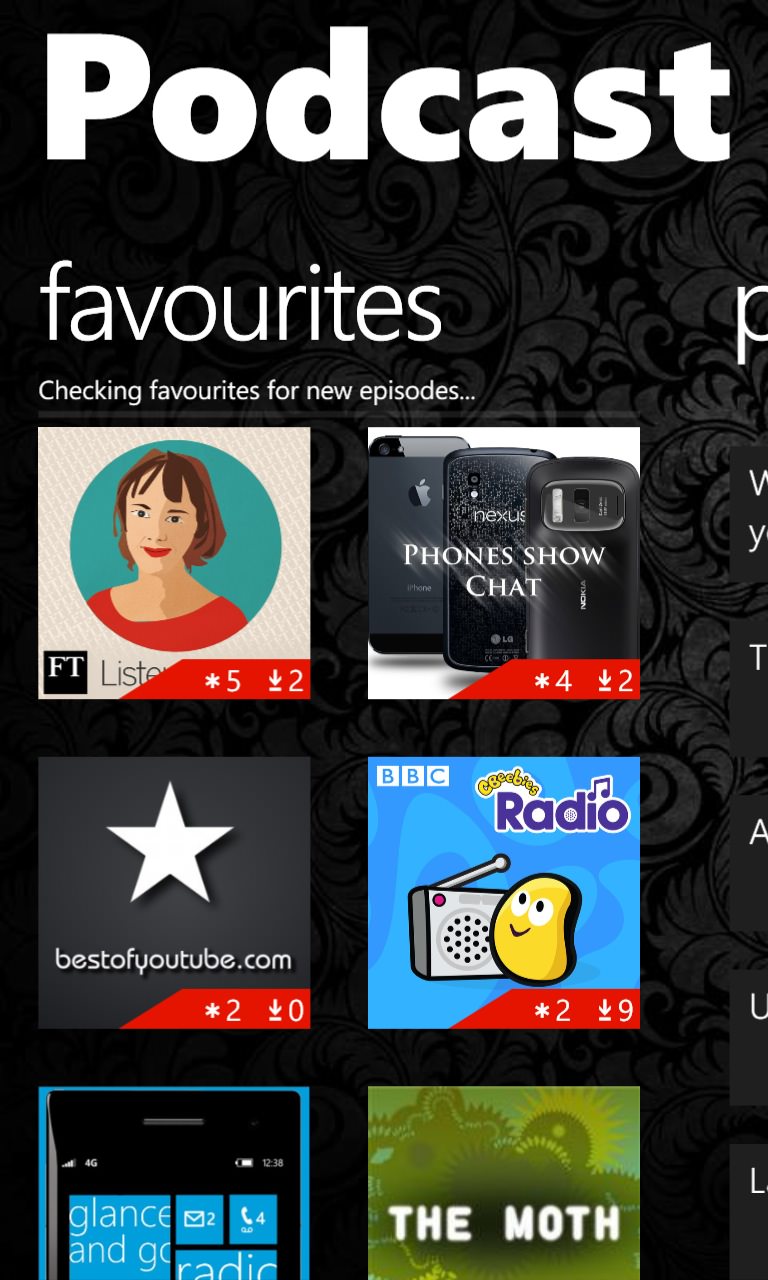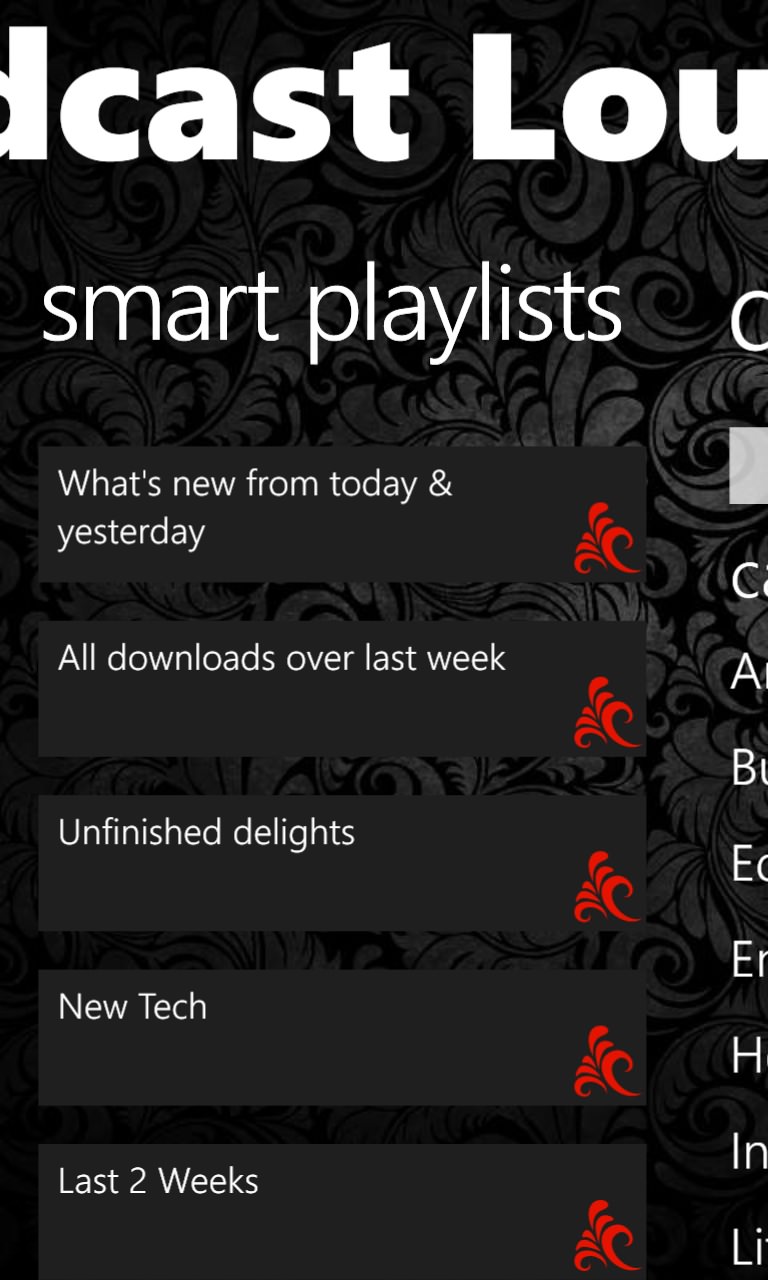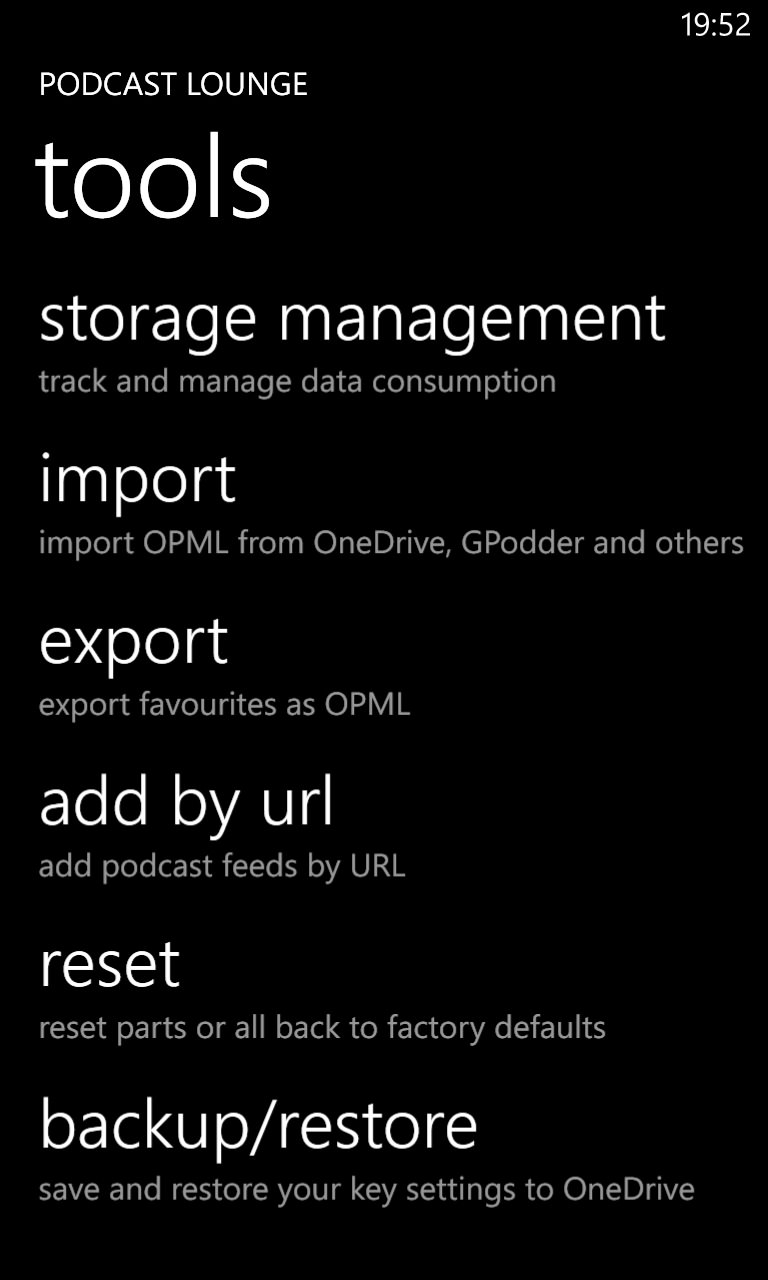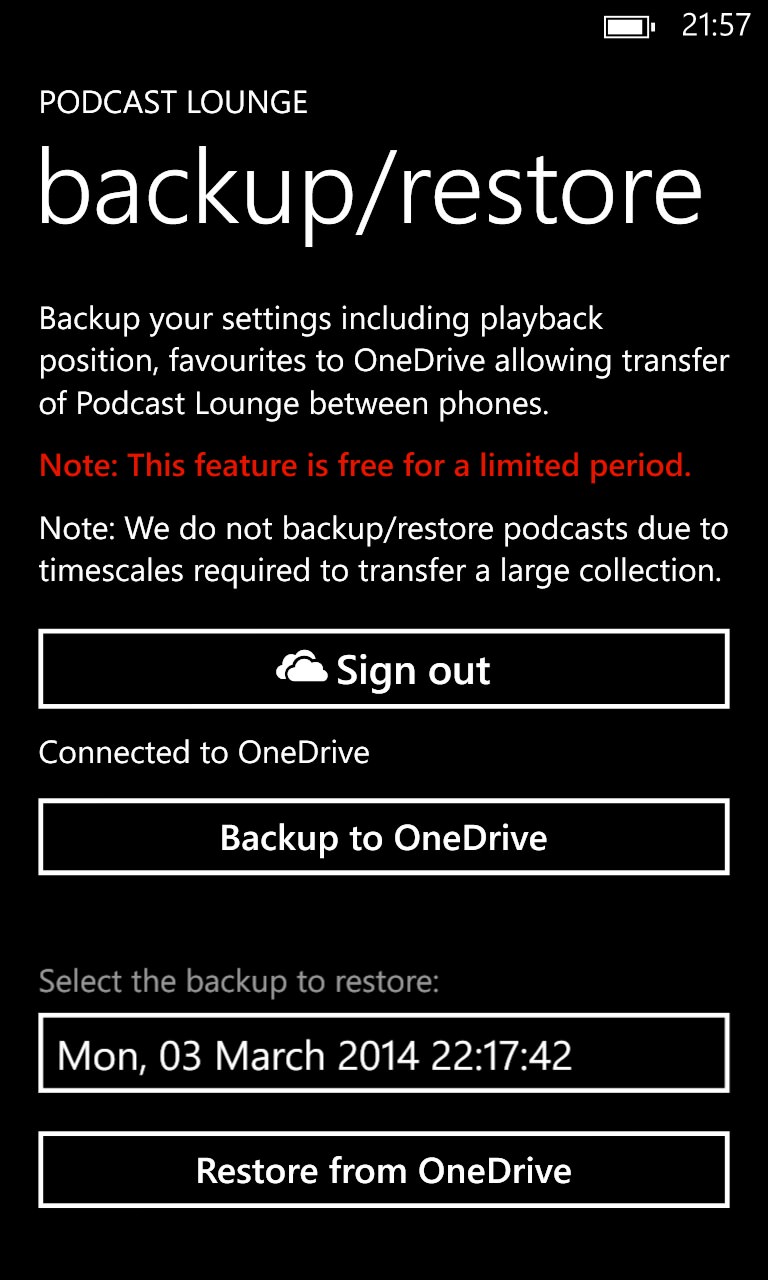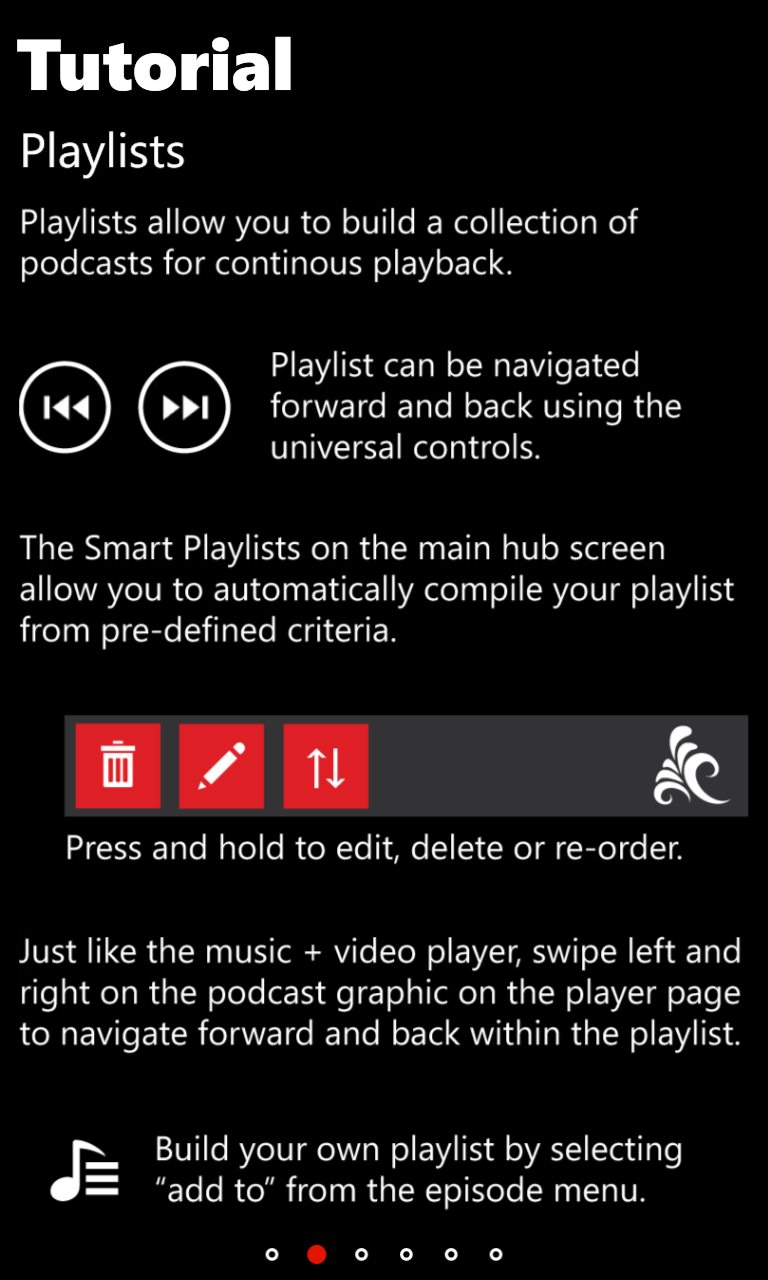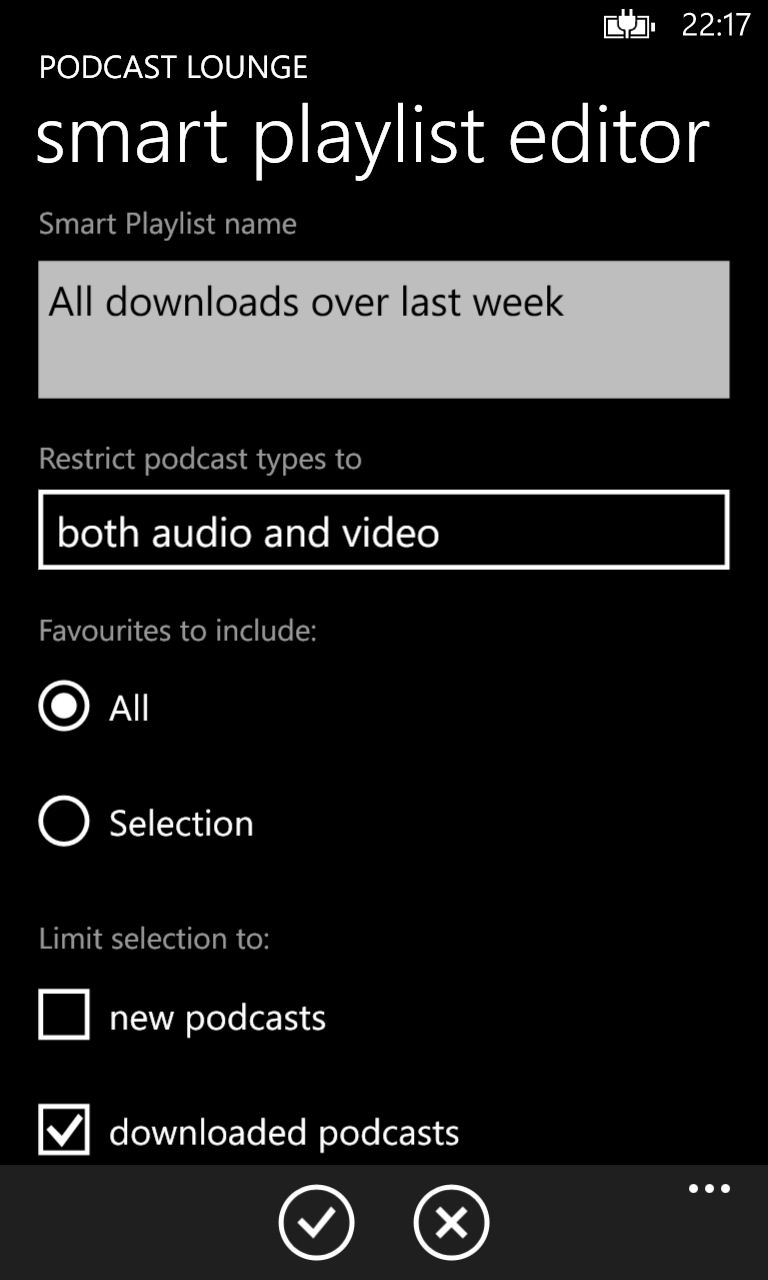 It goes without saying that the new version 2.0 will be part of the upcoming update to my podcatcher roundup feature on Windows Phone, at which point I'll have used it for a few weeks and will be able to assess it properly.
In the meantime, you can grab Podcast Lounge from the Windows Phone Store here. Version 2.0.0.1 is now live and available.