From the official changelog:
Get ready for the after shock! That's right, Bomb Bird is back with his devastating Shock Wave power in 15 electrifying NEW levels. This brings the grand total to 45 levels for the Short Fuse episode!

Angry Birds now has power-ups! Boost your birds' abilities and three-star levels to unlock secret content! Angry Birds now has the following amazing power-ups:

Sling Scope for laser targeting
King Sling for maximum flinging power
Super Seeds to supersize your birds
Birdquake to shake pigs' defenses to the ground!

Need an extra bird? Use an extra black bird with shockwave to demolish the level!

Here's the new version in action: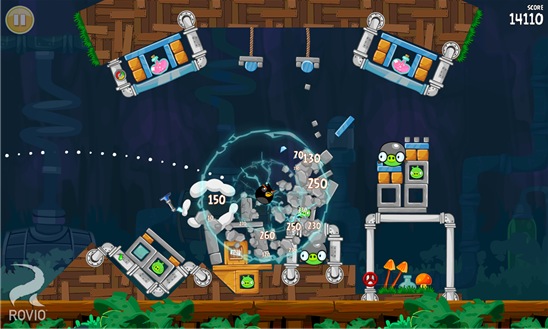 You can try or buy Angry Birds here in the Windows Phone Store. You don't, surely, need more comment here by now? I have to confess to getting stuck somewhere in the middle of Angry Birds several times and thus never likely to even see the new levels. Not enough imagination from me? Dexterity or eyesight not up to scratch?
Classic gaming, anyway - how far have you got in the original?