From the feature, interviewing a chap we know quite well, Brendan Arndt (and yes, he does have a beard now - you'll have seen him without one in a great number of Three promo videos online):
Three is to focus on growing the popularity of Windows Phone-run handsets this year – but the future of BlackBerry handsets looks bleak.

Speaking to Mobile News in Barcelona, Three's head of devices Brendan Arndt (pictured) said it plans to increase dedicated space in store for WP devices in 2014, and with its first tablet running on the OS in the coming months. Three will offer dedicated support.

It will also create more interactive content for customers, such as video tutorials on how to set up WP devices – to encourage take up of the OS – and is also considering store-in-stores for WP vendors.

Arndt said the decision to ramp-up support for the OS was influenced by the popularity of Nokia Lumia phones in the mid and low-range.

"Windows Phone will take time to compete in the high-end as well as lower price points, but it is here to stay," he said.

"Currently there is not a lot of space in store for Windows Phone but this year this will change, and we will stock a WP tablet, probably an eight-inch one."

Similar paths

The decision to focus more on Windows however could spell the end for BlackBerry – after Three admitted it may follow similar paths to that of Phones 4u and T-Mobile US in ditching the brand from its stores.
The space given to devices and platforms can be critical, of course. Geeks reading sites like AAWP may well buy online most of the time, but the majority of phone sales are still via the High Street, which is where phone shops come in. Networks can make or break a platform, as (hopefully the former) Windows Phone is about to find out at the hands of Three UK.
In addition to having one of the best value sets of plans for high-data users (and thus a good geek reputation), Three also has very strong partners across the globe, so I'm sure some of this Windows Phone positivity will spread.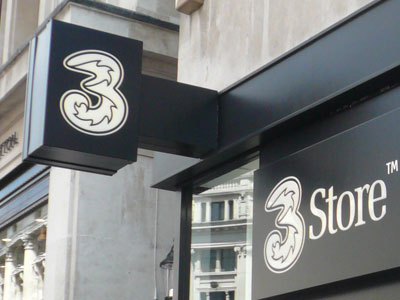 Certainly in the phone shops I've visited, Windows Phones seem quite visible, with a good spread across the price bands, though a lot also depends on the amount of 'push' the salesmen give the platform. I wonder how far we are away from "Oh, you're new to smartphones, you might want to stay away from Android - what about this Lumia - it's cheaper, faster, more robust and simpler to use?"