For consumers the most obvious part of the update is the fresh look, with new branding and reworked user interface found throughout the app. The key change is the introduction of two modes in the post capture usage scenario, one for selecting and saving the best single photo (still mode) and one for creating, editing, and sharing animations (blink mode), something that makes the app more intuitive and easier to use, especially for first time users.
Improved ease of use is also a theme of other parts of the update. A "My Blinks" gallery view makes it easier to find, view, and share previously captured blinks (photos / animations), while Blink's reworked Live Tile now shows dynamic thumbnail content in a similar way to Windows Phone's built in Photos+video app. In a similar vein the new tutorial, shown when you start the app for the first time and available for repeat viewing via the main app menu, is also a very welcome addition, explaining the basic concept and controls of Blink.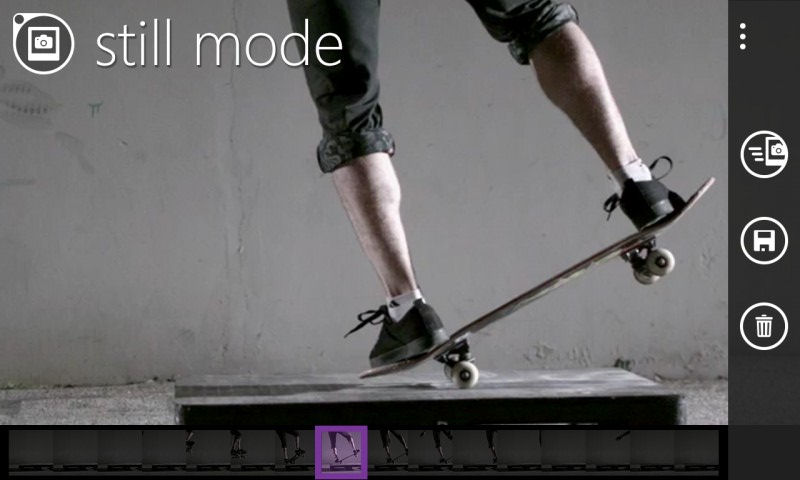 From a technical point of view the most important update is the improvement to Blink's image stabilisation implementation, the technology that automatically aligns the different frames in a burst capture, so that animations play back without any perceptible without any camera shake or jitters. It may sound like a relatively straight forward task, but, frame alignment, like other computational photography techniques, requires complex algorithms and significant processing and memory resources.
Also of note is a new focus lock mode, which is set by tapping a region on the screen before starting the capture process, with a second tap unlocking any previously set focus lock. When the focus lock is set the specified region will remain in focus even across phone movements, making it easier to cpature certain types of photos and animations.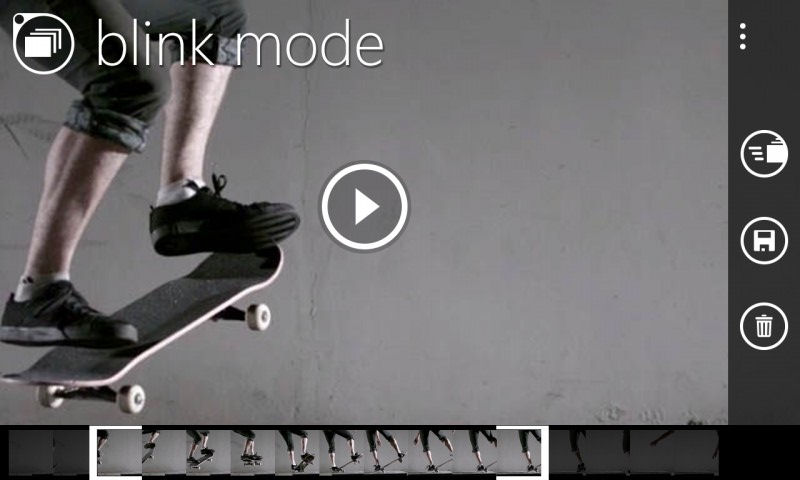 Microsoft Research has published a blog post on the version 2.4 Blink update, which talks about the update in detail and the technology behind it. The same post also notes that the app has been downloaded more than one million times.
Windows Pone Store description:
With Blink for Windows Phone 8, you'll never miss the best shot or the action. Blink captures a burst of images before you even press the shutter, and continues to capture pictures after you've taken your shot. Save and share the shot you like best. And better yet, save a short animated Blink and share it to Facebook, Twitter, OneDrive or Blink.so.cl.

With Blink, a few simple finger swipes lets you find the perfect shot, and create a short animated Blink to share with your friends or the world.

New in Version 2.4

Fresh new look: New branding and refreshed UI elements throughout the app.
Dual Modes: Switch easily between two modes - Blink mode to edit and share your animations, and still mode to save and share the perfect shot.
Focus Lock: Tap on the screen to lock focus in that the region. That region will always remain in focus even across phone movements. Tap again to unlock.
Improved stabilization: Even better video stabilization so that your Blinks play without any camera shake or jitter.
Live Tile: Pin Blink to the start screen and see your perfect shots on the live Tile. (Note: might require a phone reboot or a unpin/re-pin for live tile to start showing.)
My Blinks: A new gallery view in the Blink roll to quickly jump among captured Blinks.
Tutorial: An interactive tutorial is included to quickly get you going.
Orientation lock: Bug fix to orient Blinks correctly on sharing, under orientation lock.
Blink is a free download from the Windows Phone Store.