Carphone Warehouse is offering the Lumia 2520 as a stand alone product (i.e. without an associated SIM card and contract), but in our experience LTE connectivity really does make a difference to the way you use the product. The same is true of the Power Keyboard, changing a standard 10 inch Windows tablet into a near-laptop productivity work machine, with fantastic all-day battery life and anywhere 4G connectivity.
As we've previously commented, we would expect Apple's iPad to remain the high-end tablet of choice for most consumers, but the lower cost Lumia 2520 is worthy of consideration for business users and/or those heavily invested in the Microsoft ecosystem (Office, Lync, Outlook, OneDrive).
The Lumia 2520 is also an excellent tablet companion for Windows Phone users, thanks to both a number of Nokia companion apps and services, and, more broadly, the familiar user experience and services shared between the two Windows platforms.
Carphone Warehouse is expected to start shipping pre-orders in early April. At that time, the Lumia 2520 will also be available in select Carphone Warehouse stores.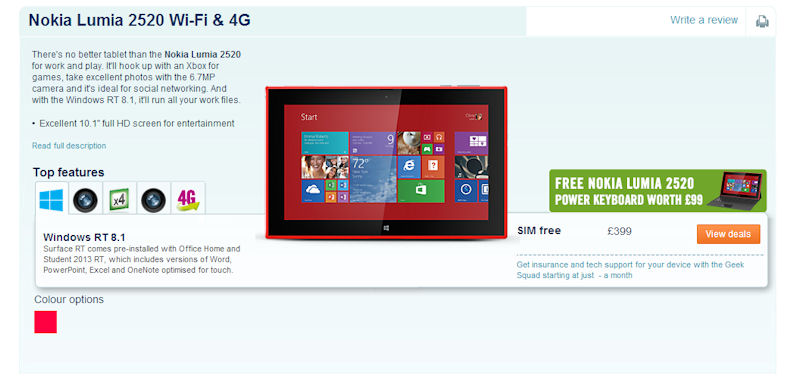 From our video review of the Lumia 2520:
A quick glance at the Lumia 2520 shows that Nokia has brought much of the signature Lumia design to the ten inch tablet product segment. That's true of both the colours available (red, cyan, black, and white) and the shaping of the polycarbonate casing, but also extends to the camera, screen, and connectivity technology that make up the device.

This sense of familiarity extends into the software. Windows 8 RT very deliberately shares the look and feel of many elements of Windows Phone, best exemplified by the Live Tile-based Start screen. Furthermore, Nokia has ported a number of the software gems from the Lumia smartphone range onto the Lumia 2520, with the chief among these being HERE Maps and Nokia Mix Radio.

Read on in the full review here.