Commenting on the milestone Jyrki Rosenberg, VP Entertainment at Nokia said:
"It is very telling that the track that takes us through this significant milestone comes from an artist currently No.1 in the Middle East, with 9 million Facebook likes and over 180 million video views – yet is unknown in large parts of the world. Introducing music lovers around the world to new songs that they will love, is a truly inspiring challenge. Gathering a rich and deep catalogue of music is fundamental to being able to offer Nokia MixRadio listeners the widest choice. More importantly, Nokia MixRadio tailors this huge catalogue of songs to the unique tastes of each of our listeners, making it the world's simplest and most personal music experience."
In terms of catalogue size Nokia MixRadio's nearest competitor is iTunes Radio, which has more than 25 million tracks available, with most other services clustered around a catalogue size of 10 to 15 million tracks.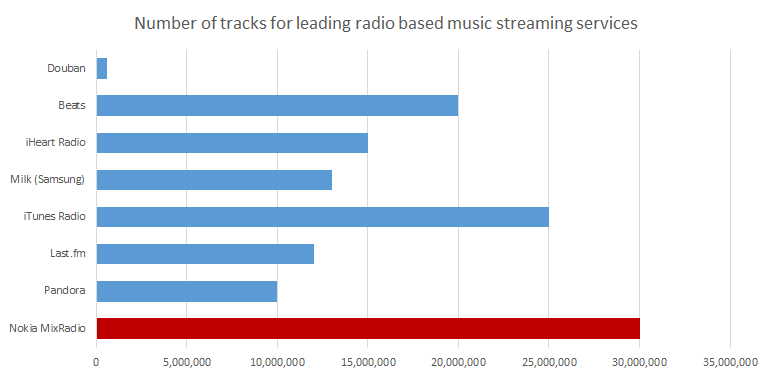 Where possible Nokia licenses music tracks for international usage, but in some circumstances licenses are limited to select countries. While the vast majority of tracks are available across all MixRadio markets, it is fair to say the an individual consumer will only have access to just shy of 30 million tracks. There are also some duplicates (e.g. different recordings of same artist and track) within the catalogue. Even so, listening to the entire catalogue, assuming an average track length of 3 minutes, would take a total of 171 years.
Nokia MixRadio is also available in more markets than competing services. While Nokia's service is available in 31 markets, its nearest competitor, Last.fm, is available in just 8 markets. Apple's iTunes Radio is available in 2 markets, and most other services are available in just a handful of countries.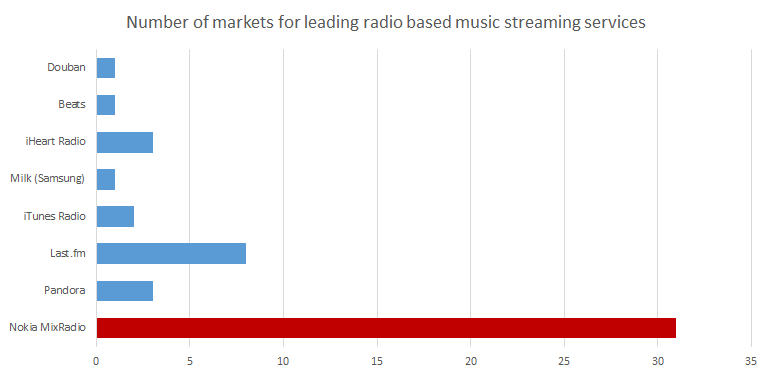 Market availability has an obvious impact on the potential reach of a service. While Nokia MixRadio is available as a web service, compatible with most tablets and smartphones, client app versions are only available for Nokia's own devices, which means Nokia MixRadio's reach is realistically limited to the size of the compatible Nokia device install base. That's still a potentially sizable number, but it's worth noting Nokia has yet to publicly share a monthly active user number for the service.

Nonetheless, Nokia's roll out of MixRadio to multiple markets is a significant achievement and is in sharp contrast with the efforts of other services. It's also notable ahead of the the 15 markets that Microsoft's Xbox Radio streaming service is currently available in.