Nokia 3310 with PureView
The Nokia 3310 with PureView has been announced exclusively through the Nokia Conversations blog. The phone runs a modified version of Windows 8, in order to fit the unique "ClearDiamond" three inch touch screen (WXGA resolution). Other key specifications include a Dual-core 1.5GHz processor, with 2GB RAM, and 32GB internal memory; microSD card slot; a 1450 mAh battery; and a Barometer sensor.
The camera specifications include a 1/1.5 inch sensor size, a main camera aperture of f/2.2 and a focal length of 26mm. The main camera is accompanied by a Xenon flash, with an operating range of 4 metres.
The device itself is the same size (113 x 48 x 22 mm) and weight (133g) as the original Nokia 3310. We would have preferred to see Nokia make the device a little thinner, but that may have resulted in sacrificing the device's legendary durability.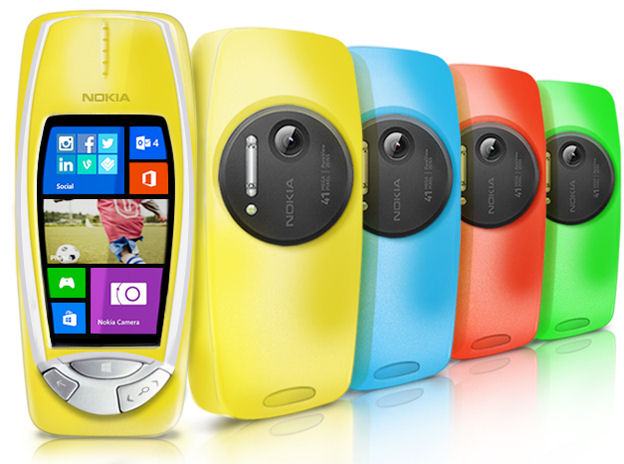 Juha Alakarhu, Nokia head of Imaging Technologies, is understandably excited that Nokia's class leading camera technology has been combined with the Nokia 3310
I'm really excited that we've found a way to marry our innovative PureView technology with such a beloved device. With its durable design and iconic look, we think even more people will enjoy our signature PureView magic .
Combing retro design with cutting edge innovation may be a way for Nokia to improve the sales volumes of it high end devices. The nostalgia element should not be underestimated, especially when there's so little to sacrifice in terms of specifications. However, as if often the case, the first release misses out on an important specification point. In this case it's LTE, since the product will launch with only 3G connectivity. An LTE version will follow later in the tear. Quite how users of the intial product are meant to send 41MP images over a 3G connection is unclear (assuming they can access them at all).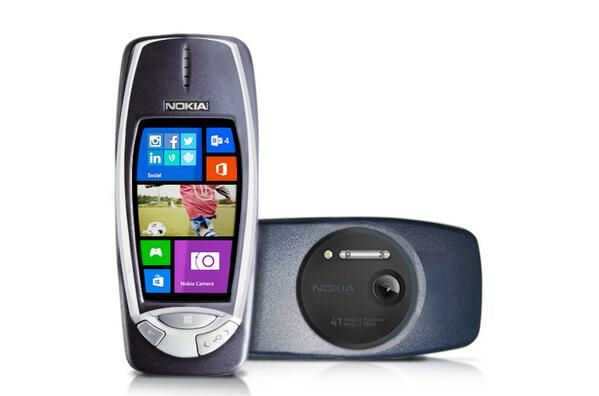 The other obvious question is whether Nokia will now seek to marry other iconic designs, such as the Nokia 7280 and Nokia N-Gage, to other recent innovations. We reached out to Nokia for comment, but a company spokesperson said "we were foolish to expect Nokia to speak on future product announcements".
We don't expect to get a hands-on with the Nokia 3310 with PureView and will not be bringing you more detailed coverage later. You're welcome.

HERE Papyrus
From HERE's 360 blog comes news of an innovative new mapping product, HERE Papyrus, a "physical companion to HERE Maps, HERE Drive and HERE Transit". Printed on "quality, tear-proof polymer paper" HERE Papyrus is, like HERE Maps, available in more than 400 cities, in 97 countries worldwide. The product can be purchased from your local newsagent, gas station or auto dealer. An example map can be downloaded here. (Chicago / Berlin 99MB PDF).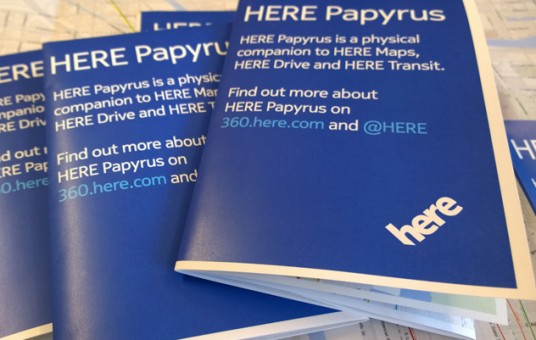 From the 360 blog:
To provide a cost-effective navigation solution that ensures directions even without access to your mobile device, HERE is introducing a new product: HERE Papyrus. HERE Papyrus offers people a physical companion to HERE Maps, HERE Drive and HERE Transit.

HERE Papyrus Design Lead, Pauline Ungelernte said: "We have focused significant attention on the tactile user experience of HERE Papyrus by providing tangible maps that provide a reliable back-up option and let the journey literally unfold in people's hands."
A key advantage of HERE Papyrus is that it does not require battery power and retains full functionality on offline mode. However, there is no built in search functionality and carrying a complete set of worldwide maps requires at least 41 large size suitcases. Furthermore, the map update process kills trees, although HERE has promised all trees murdered in the production of HERE Papyrus are sourced from sustainable sources in line with Nokia's general environmental policies.