Microsoft has already developed a number of automotive solutions over the years, the majority of which have been based in Windows CE (e.g. Sync). These solutions have been based on a stand alone computing / content delivery platform inside the car, essentially as stand alone systems. Google's Android Automotive and BlackBerry's QNX Car Platform take a similar approach (generally known as IVI solutions).
However, with an ever increasing number of people carrying smartphone, it also makes sense to create a solution where the smartphone becomes the primary way of delivering content and apps to the dashboard. This is an approach pioneered by Nokia with it's Terminal Mode technology, which later evolved into MirrorLink. MirrorLink is already available in a number of handsets, most notably select device in the Sony Xperia line. The smartphone centric approach is also being taken by Apple with its Car Play solution.
During the Build session Microsoft's Teixeira suggested that both smartphone mirroring (MirroLink) and IVI (Sync) would compliment each other, noting that, "the IVI knows more about your car than anything. So a brought-in-device like a phone can never usurp the value of the IVI because that's wired into your vehicle". Teixeira added that having both solutions in the same car would be give the "best of both worlds".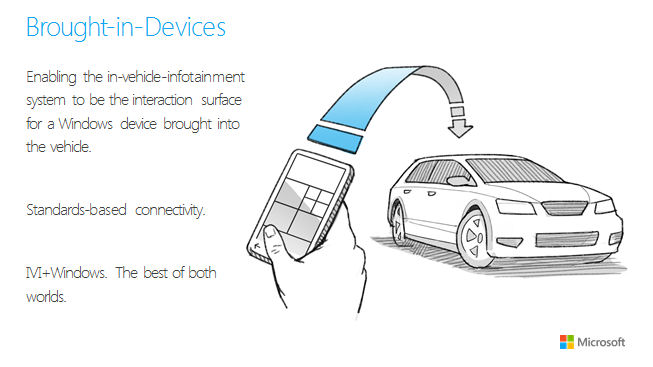 MirrorLink does more than just mirror the screen of a smartphone. It also allows for integration with a car's controls (i.e. dials and next-the-wheel sticks) and, more importantly, allows for app control (i.e. only use certified apps when driving), UI customisation, and more. Moreover, there's support for two way communication, over and above simple screen and control mirroring too, allowing for deeper integration with other systems in the car.
Critically, a MirrorLink system can sit on top of a car manufacturers own IVI system, rather than taking complete control of the dashboard. The most obvious use cases are for maps (navigation), music, and calling, but there are plenty of other opportunities too.
In most cases a MirrorLink implementation on a smartphone platform will include a dedicated app, such as the Nokia Car app for Symbian. This is what was shown during the demo at Build 2014 and was termed "Windows in the car", essentially allowing for a customised (simplified) UI for in-car usage.
For consumers the key appeal of MirrorLink is familiar content and a familiar user interface. In the case of the Microsoft demo key Windows Phone UI concepts like Tiles, "pinning", and pivots were very much in evidence.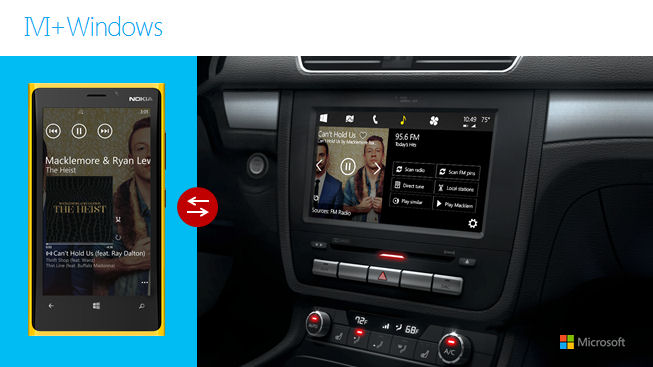 The concept demoed was very much a prototype and it is unclear when it will become available for consumers. From a technical point of view, support for MirrorLink could be added as part of a future over the air software update. It is important to note that MirrorLink is an enabling technology, rather than an end-to-end solution. Adding it to Windows Phone might be seen as the equivalent of adding Bluetooth, NFC, or another connectivity technology to the platform.
Once added to the platform it would enable a Windows Phone device to work with any MirrorLink compatible head unit. MirrorLink head units started shipping in select VW Polos this month and is also expected to start shipping in a range of cars from Ciroen, Honda, and Toyota this year. In terms of automotive industry support it is currently the best supported of the "open" connected car solutions, so it is very much a logical direction for Microsoft and Windows Phone to take, contrasting with the more closed approach of Apple's CarPlay.
The full presentation, titled "Windows and the Internet of Things", can be streamed and/or downloaded through the Channel 9 website and is embedded below. The relevant section is around 28 minutes in: