The McDonald's app opens with a panorama view, with pages for promotions (e.g. the current free fruit Fridays), app functionality ("our menu", "QR scanner", and "My Meal"), and restaurants (list of outlets nearest to your current location).
The Our Menu section provides details on the food available at McDonald's restaurants, with each menu item getting pivot view that has pages for information (name and picture), nutrition (breakdown of food ingredients / content / calorific value, and more), and allergens (list of potential allergens in the food item). The QR scanner is used to access information on the codes printed on leaflets and food packaging, though you can also use Windows Phone's built in Bing Vision tool.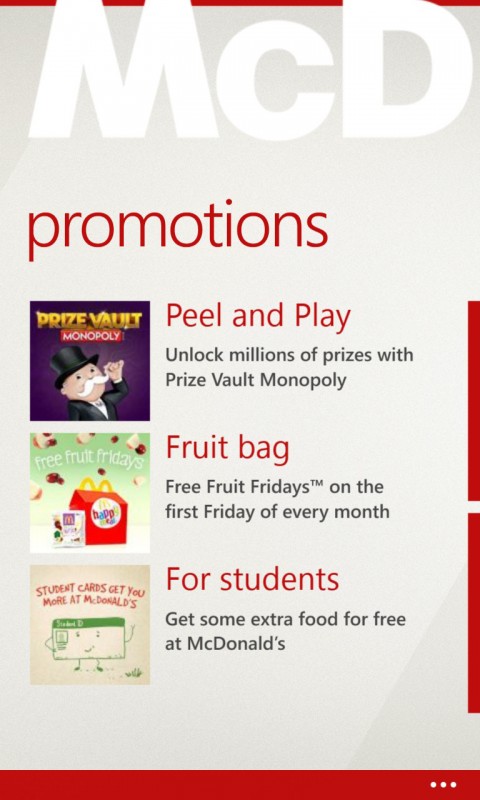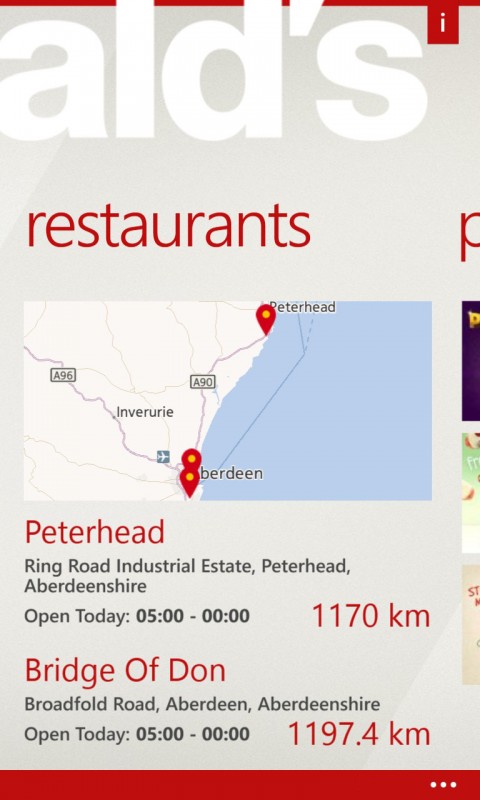 While the features described above are informative, the most useful part of the app for most consumers will be the restaurant finder. This will automatically list the restaurants nearest to your current location, but you can also search for a specific location and/or restaurant name. A favourites list allows you to store a list of preferred restaurants for quick access.
Each restaurant gets its own pivot view, with pages for info (map showing location, whether the restaurant is currently open, and address), open (list of opening hours), and facilities (what features are available). From any of the pages a route button lets you get navigation directions to the restaurant from your current location, a favourites button lets you add the current restaurant to your favourites list, and a pin button lets you add the current restaurant to the Start screen.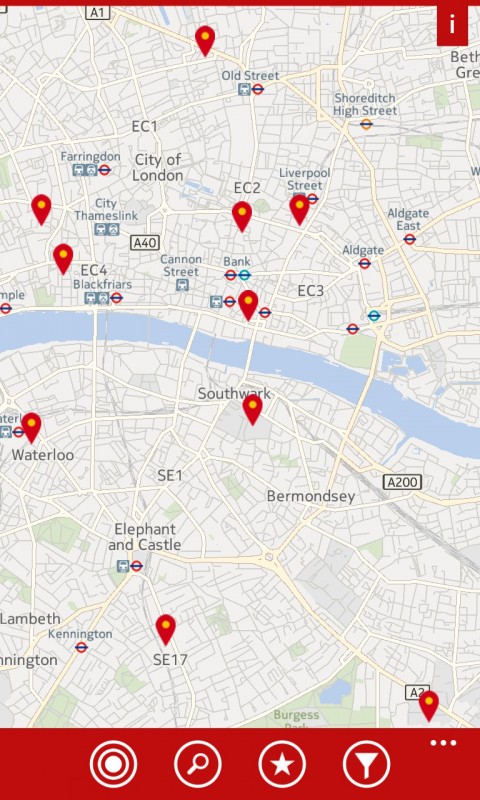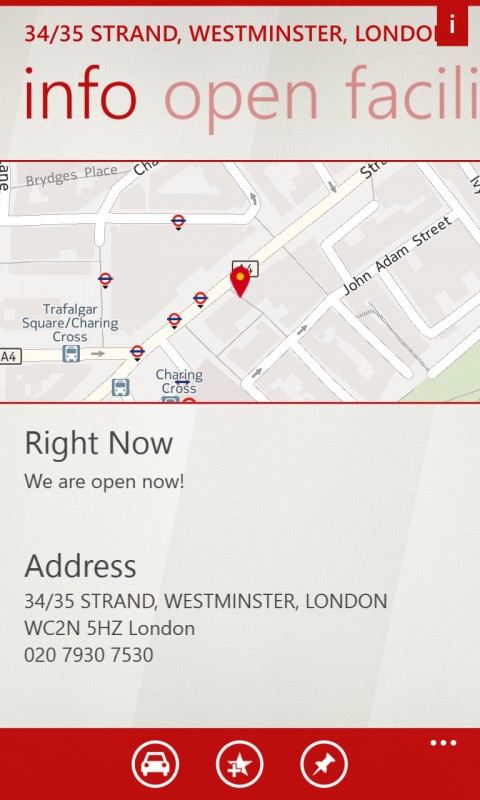 McDonald's UK is a good example of the kind of branded local app that Microsoft needs to add to Windows Phone Store in greater numbers. While many of the global top tier apps are now available, there's still a significant app gap in the local app space in many markets. Everyone will have their own favourite example, so it's not really a question of getting 50 specific apps on to the platform, it's more about creating the environment where the brands concerned feels they need an app in the Windows Phone Store.
Understandably, this is harder to achieve for local apps than it is for global app, but in the simplest terms it still come to volume (active users / devices) more than anything else. The UK is one of Microsoft's stronger markets in this respect, thanks to a current sales share level of 10%, but there's still a long way to go.
Windows Phone Store description:
Welcome to the official McDonald's UK mobile app.

Features include:

Search for your nearest open UK McDonald's either as a text search or map view
View the full McDonald's UK menu
See nutrition in formation on all our products. Learn more about our ingredients. Check our allergies guide
Create your own meal combinations
McDonald's is a free download from the Windows Phone Store