From the Store description:
BADLAND is an atmospheric sidescrolling action adventure platformer taking place in a gorgeous forest full of various inhabitants, trees and flowers. Although the forest looks like it's from some beautiful fairytale, there seems to be something terribly wrong. The player controls one of the forest's inhabitants to discover what's going on. Through his journey he discovers astonishing amount of imaginative traps and obstacles.

...BADLAND also features highly original local multiplayer for up to four players playing with the same device. The multiplayer is all about survival of the fittest with no rules. It's completely okay to push your rivals to spinning circular saws in order to survive. Or, if that's too rough for you, you can also co-operate with your friends by playing the modified single player campaign together with your friends supporting up to four players.


Single-player campaign with 80 truly unique levels, additional level pack with 10 extra challenging levels available as a try-before-buy In-App Purchase
Multiplayer mode for up to four players playing with the same device in 23 levels and more coming in updates
Co-operative mode for up to four players, survive the modified single player campaign together with your friends
Intuitive one-touch controls combined with innovative level design
Highly immersive audio-visual gaming experience
More levels and content coming in updates
There's a generic (cross-platform) trailer, which gives a good idea of the sort of gameplay and action you can expect (hint: there's some flapping involved, in addition to other modes of getting around):
The standard of graphics and lighting effects in BADLAND is impressive, it's clear that production values (and budget) were both very high here - the game now claims over 15 million players worldwide, though it's not at all clear whether this is sales or just downloads, or even including the single-device multiplayer mode in the number!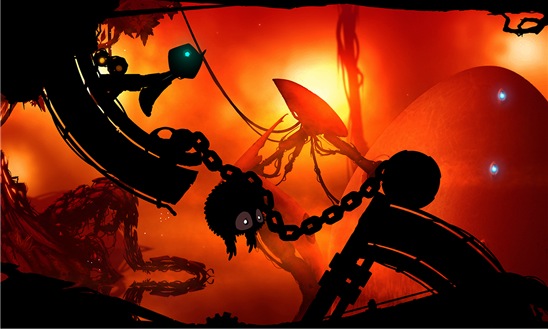 BADLAND was first launched early in 2013 on iOS, so the arrival on Windows Phone is somewhat tardy - we've seen some other game titles arrive within days across all mobile platforms, so don't take the year gap here as exemplary.
You can grab the trial version of buy BADLAND here in the Store.