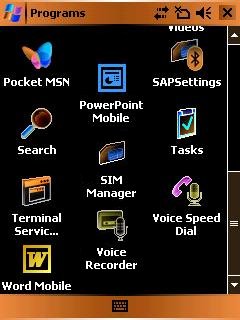 From Leigh's longish article:
This is a special one for me, because – apart from using Windows Phone in a few example videos over the years, I've been a really big Android and iPhone user.

Put it this way, Windows Phone has a big hill to climb with me. It's going to be an even bigger ask for the OS when it's running on this £129 phone.

History

Microsoft have had to make some pretty big decisions with their OS. Back in the days of Windows Mobile 6.1 the OS looked laughably outdated compared to the new iPhone. Microsoft took too long to react and everyone pretty much forgot about the OS. Windows Mobile? What's that? [see right]
Eeek, look at that screenshot - it makes Symbian seem streamlined! Still, this is what we all had to work with in the early part of the 2000 decade.
Leigh then goes through all the pros and cons of the Lumia 630 (reviewed here by me), before concluding:
I'm not quite at the summing-up stage yet, but I wanted to put some of my initial thoughts down as my first experiences were tainted slightly. Yes, I was initially surprised that an incorrect time setting on the phone would reduce the Lumia to a house-brick, however there's much more good news.
Indeed. As a side note, I've noticed this as well. Get the time wrong by as much as a few hours and nothing works properly - everything to do with Microsoft's cloud crashes and burns. Something that Microsoft could make much more failproof, I think....
Microsoft, from what I've seen on Windows Phone 8.1 here, are really going for gold. The progression, the improvements, the tiny tweaks here and there – they really matter. It makes me feel that Microsoft are now progressing just as fast as the other OS's. They really are trading blows at the same level as the other mobile OS's. Sure, there's a few apps missing here and there, but what surprised me most about this Lumia 630 in particular is the sheer fact that this isn't a top-end device. This is, at a push, a mid-range handset, but it operated and felt like a much more advanced machine.

Discount the camera quality for a moment and the fact that there's no face-pointing shooter. Discount the small amount of screen blur due to the resolution and you have a very capable operating system which has advanced faster than I've ever seen it advance before. If Microsoft continue at this rate then Android and iOS really need to start worrying.

This is a well-built handset with lots of features for your money. The addition of Nokia apps such as MixRadio – where a radio station effectively becomes one where you control all the music – are really well done. You can send media to your TV over DLNA, share content to all your favourite social media destinations and create a WiFi hotspot while you have your lunch.

Yes, I've been picky. Yes, I've been slated for mentioning the problems I had when I turned it on for the first time but, really. Let's sit down and talk about this shall we? I've used Android and iOS for years. I have some pretty high standards and I honestly thought that this wouldn't get near them.

But it has.

It has, and then some. Windows Phone has improved immeasurably since I last used it and, when I'm having to pick out fairly small things in a review, you know it's a good device. Yes, there's still some improvements I'd like to see in the personalisation side of things (more background options etc) and I'd like to see a few more apps introduced here and there, but this is a very good phone with a very good OS that'll compete on an equal-footing with Android and iOS devices.

The browser? Good. Worked well, rendered pages as I expected. Camera? Also good, sure it would be better with a flash and a higher resolution. I loved the gallery and how nippy the interface was. Twitter? Facebook? Instagram? Again, no problems and an interface which stayed familiar throughout. The keyboard was fast (thanks to the Swype-style data entry), the notifications and lock screen has improved and I did less unnecessary "fiddling" with the device. It worked for me, it supplied the information I needed when I needed it, and this is a device at a great price-point too.

Overall yes, Windows Phone 8.1 has impressed me. The Lumia 630 has impressed me. This is a well designed, well built, well thought-out phone with an OS that isn't a compromise. This is a well-formed package that you should consider. Go and check one out and see for yourself, honestly.
You can read the whole thing here. To be honest, the 630 as a device has as many disappointments as pleasant surprises, so to find Leigh praising the device so highly speaks well of the OS itself, as of mid 2014.
Leigh, if you're reading this, grab a Lumia 925 once 8.1 has rolled out to it, or even a Lumia 1020 - they'll blow your socks off!