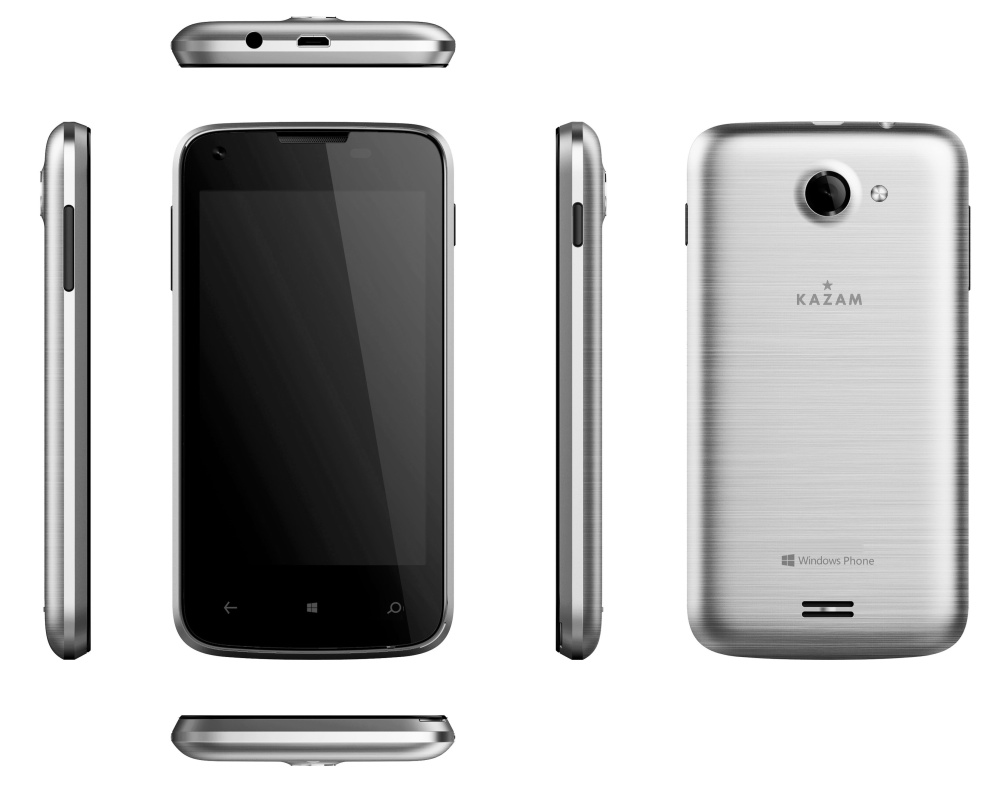 From the launch press release:
London, 4th September 2014 – Today, KAZAM, the European mobile brand, announced it is working with Microsoft to develop a range of devices powered by Windows Phone 8.1.

KAZAM will see the brand develop a range of smartphones on the Windows Phone operating system. The collaboration with Microsoft adds even greater depth to the KAZAM product portfolio, dedicated to providing people with a choice of phones at affordable prices.

The KAZAM Thunder 340W powered by Windows Phone 8.1 boasts:

KAZAM free screen cracked replacement*
Silver metal brush finish
A 4.0" IPS WVGA Touchscreen Display (480 x 800)
5MP Rear Camera / VGA Front Camera, HD (720P) Recording & Playback
1500mAh Battery
Dual SIM capability
4Gb Internal Storage & 512MB RAM
1.2Ghz Quad Core Processor

UK pricing and availability to be announced.

*Screens are covered for a period of 12 months from date of purchase, consumers may claim for one screen replacement during that period.
The images above are obviously computer renders, it's not clear whether there are even prototypes in existence yet, plus the lack of pricing or availability for even such a low end handset is a bit worrying. KAZAM has so far marketed a couple of Android low end handsets and presumably thinks there's room in the market for another budget Windows Phone, but I have to say that this field is becoming increasingly congested.
Right now, what the Windows Phone world needs are some high end handsets that stand out from the crowd. Of course, a startup like KAZAM isn't going to be well placed to produce such a design, meaning that it's in danger of being lost in the crowd.
You can find out more about KAZAM at www.kazam.mobi.