From the Store description:
Swing into a hand-drawn Comic-Verse in a brand-new episodic adventure! Unite the Spider-Verse and recruit an army of Spider-Men to stop the new Sinister Six, who have opened a dimensional portal to summon different versions of themselves! The Sinister Six are moving from dimension to dimension – destroying each one – and ours is next!

FIRST FREE SPIDER-MAN GAME!
• The first Spider-Man web-runner! Swing, run and fight through chaotic Manhattan in over 5 different Marvel environments!
• Go beyond a runner with unique gameplay! Battle dimensional super villains, swing, wall-climb and skydive!
• Play story mode with 5 boss battles and 25 missions per Issue! New daily events with spectacular rewards in Event mode! Or climb up the leaderboards in Unlimited mode!

MOST SPIDER-MEN EVER IN A GAME!
• Summon, collect and play with tons of Spider-Man cards from the Marvel Universe, including Spider-Man Noir, Cosmic Spider-Man, and Scarlet Spider!
• Collect, fuse, and level up your Spider-Men, each with their own unique in-game benefits, and send them on Spidey Ops missions!

Essentially, this is a first person infinite runner - think Temple Run but with swipes and taps to initiate blows against various opponents and swings between skyscrapers. It's fast - very fast, and anyone over 20 will have trouble keeping up with which swipe, dodge and action is needed in each fraction of a second. It's freemium too - not an issue in itself, but I hate to see maximum in-app purchases of the level here, clearly designed to trap the unwary.
Here's Spider-Man Unlimited in action, with my thoughts: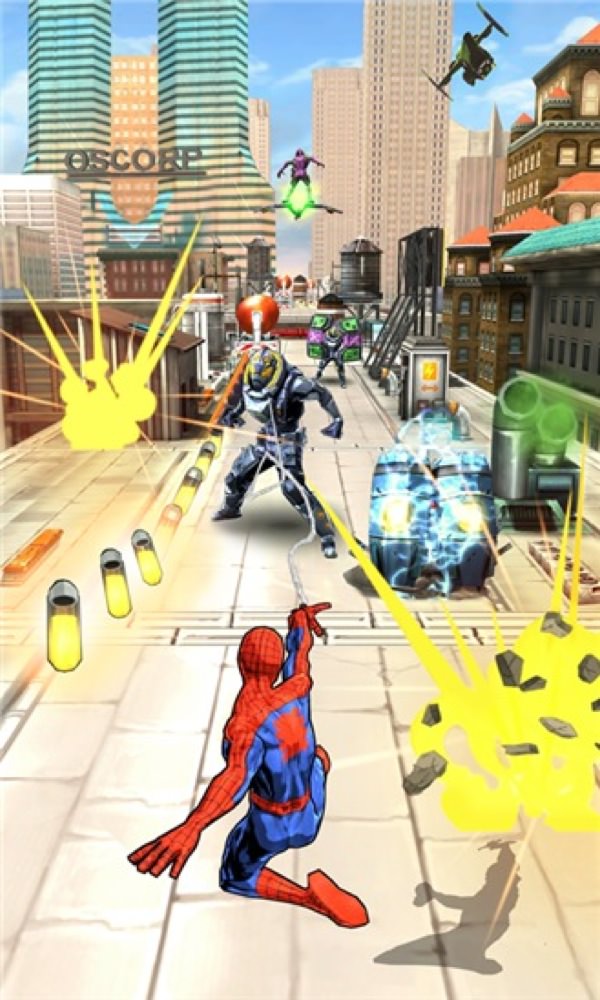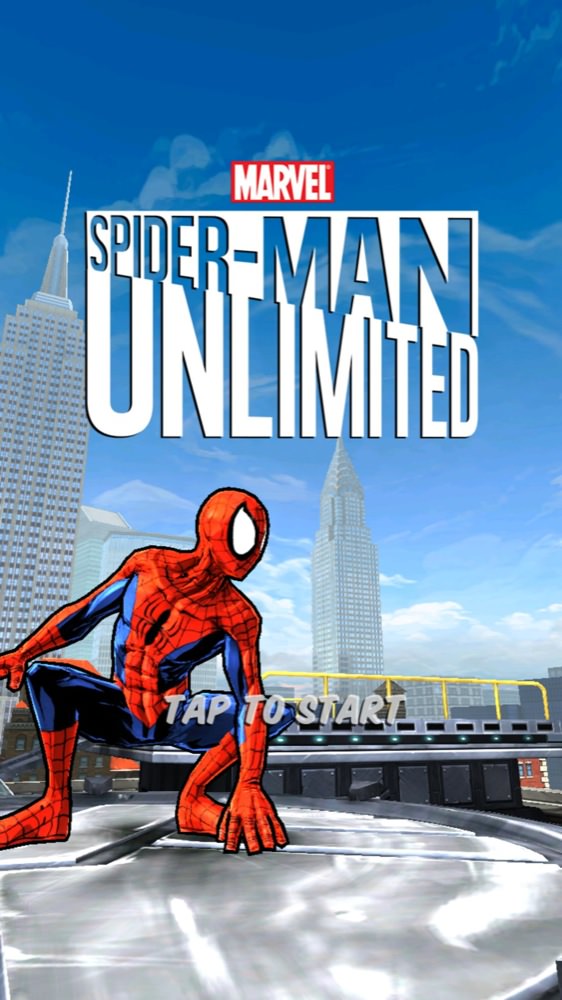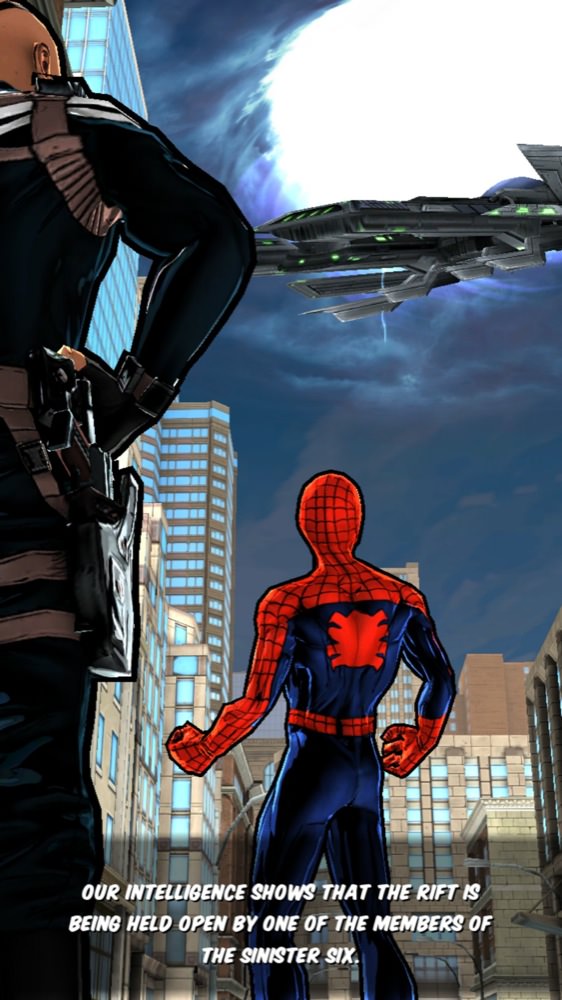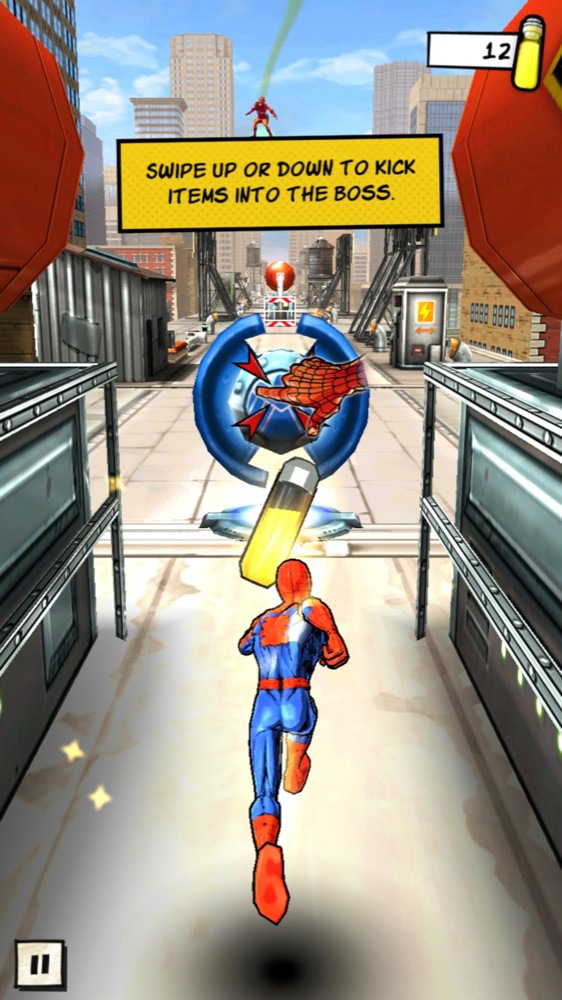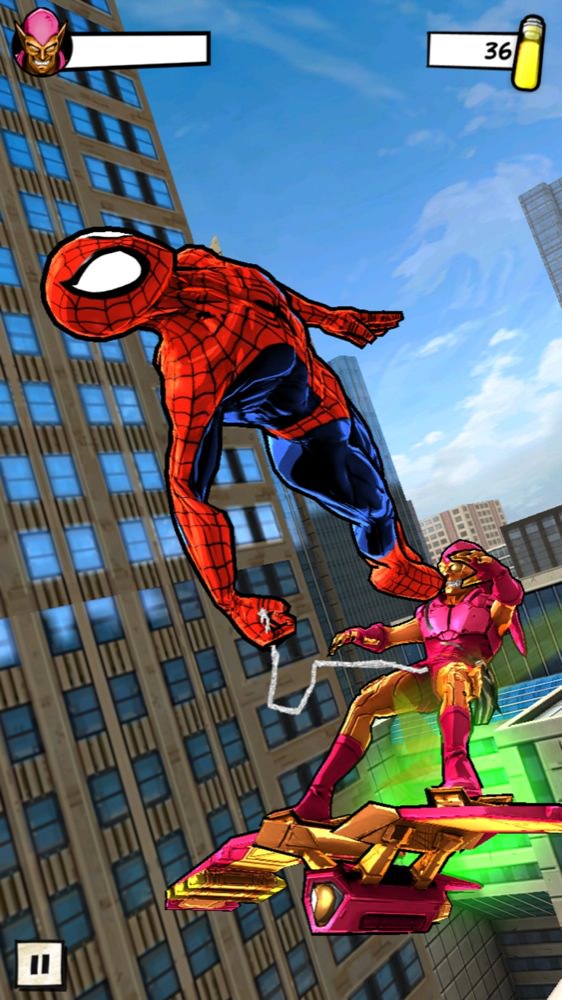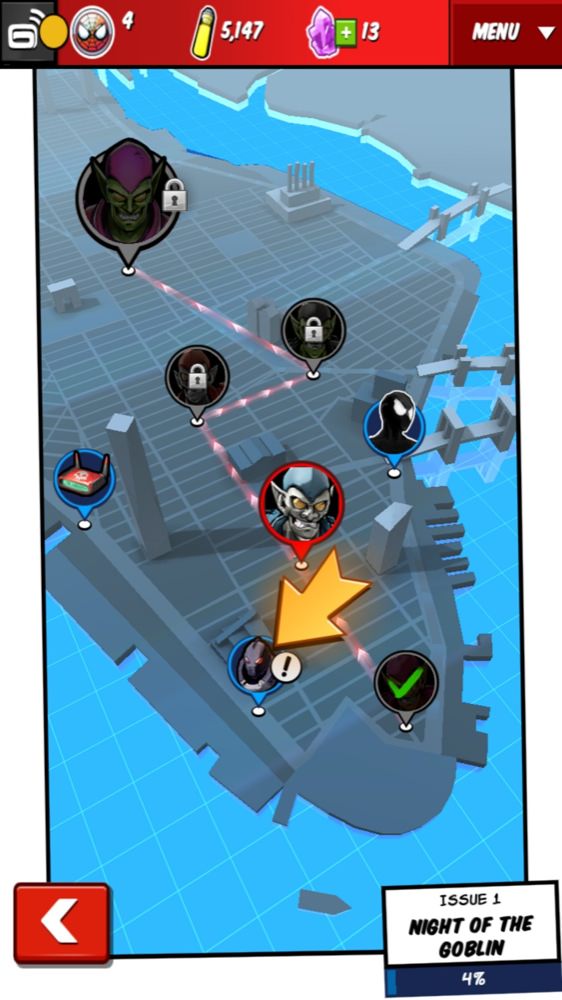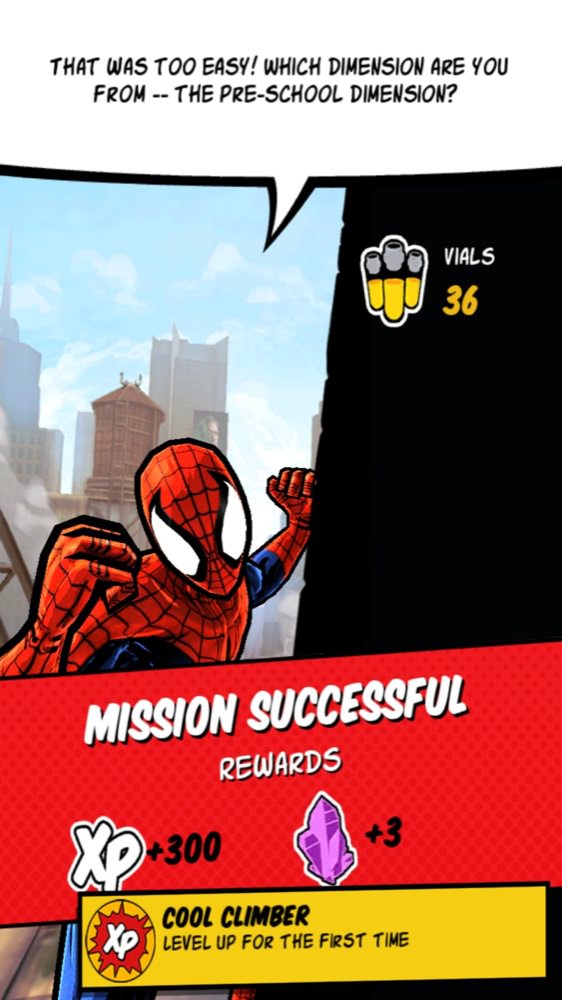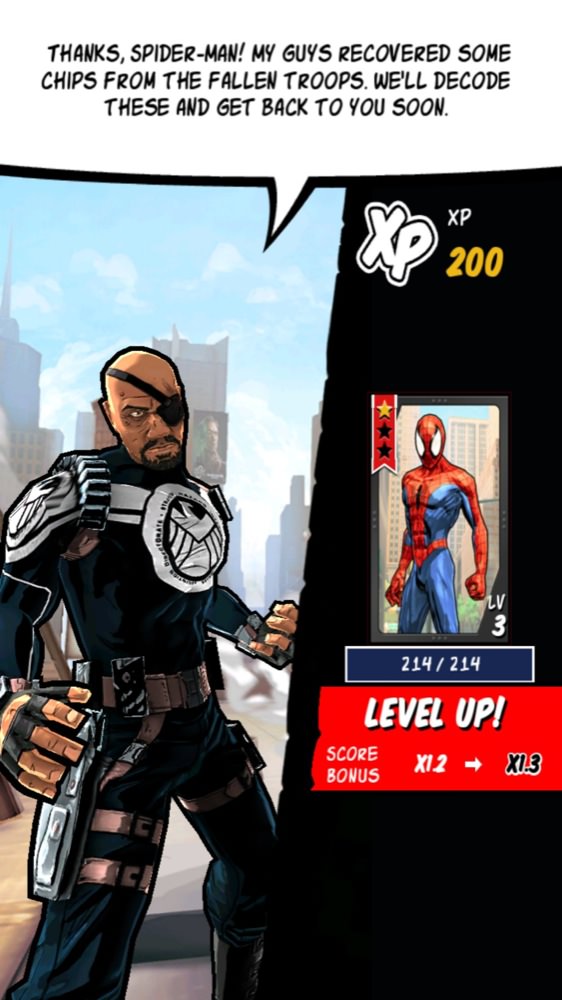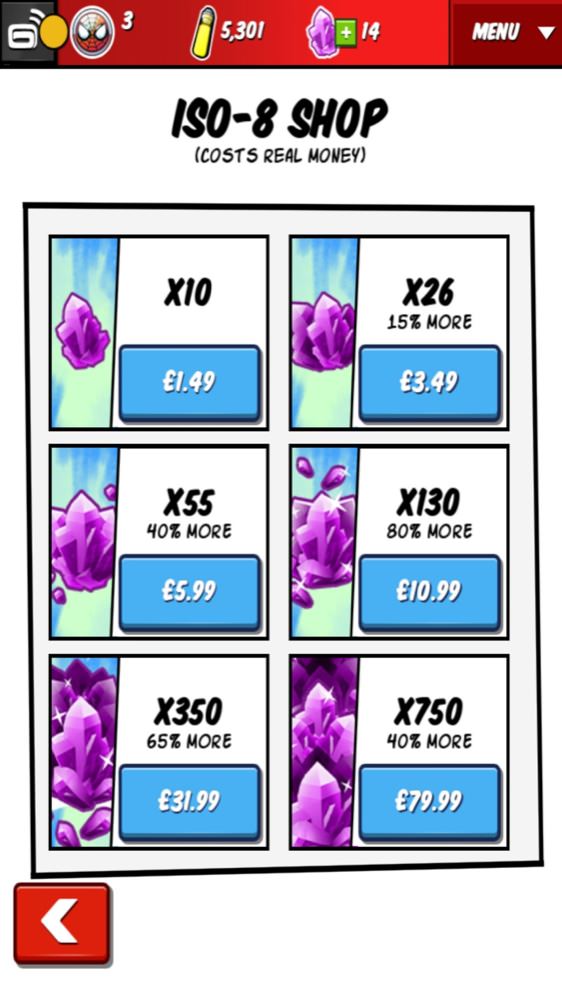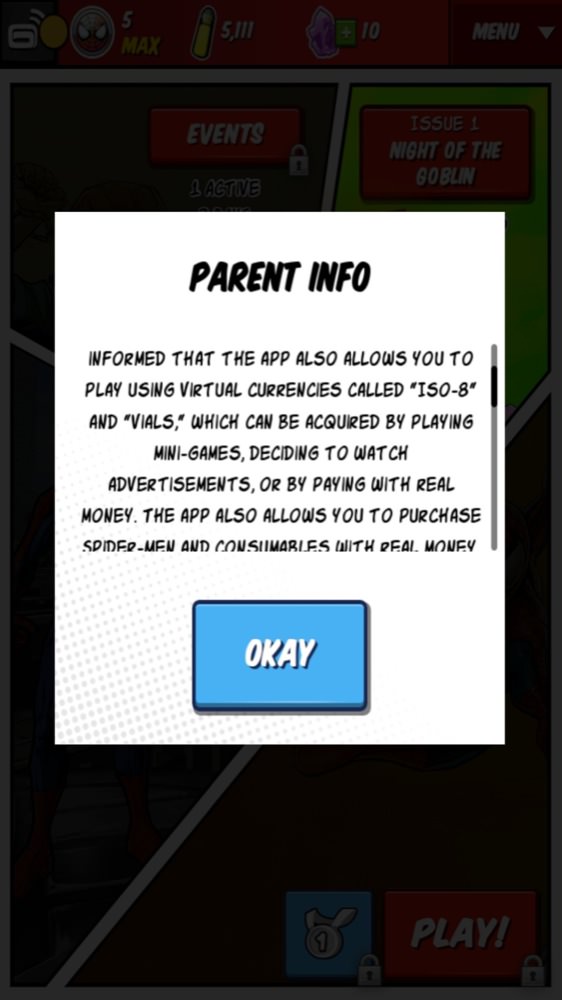 But oh dear - as shown in the last screenshots above, the possible in-app purchases aren't capped. Remembering the teenage market being aimed at, surely there should be a cap at (say) £5.99? Yes, a PIN will probably be needed from you, but as a parent myself, I know that a teenager takes all of 2 seconds to watch and learn a parents password and PINs. Gah. (right) In fairness, there's a lengthy warning text for parents before the game even begins. But still, this is freemium again 'done wrong'. More restraint is required from publishing companies, I feel.

The game notes do say that this version of the game contains two 'issues' (The Green Goblin and The Vulture), with another issue coming soon, though there's still plenty here to enjoy if you're careful and skillful.
Note that the game doesn't work on the HTC 8X or indeed any Windows Phones with only 512MB of RAM, which seems a missed opportunity, given that most of the target market for the game will be on mid range or lower end devices specced like this. Sigh.
Anyway, you can find Spider-Man Unlimited in the Store here.