From the official Microsoft blog post:
Office Lens is a great app for capturing whiteboard notes and paper documents and saving them in OneNote. Today it got even better with the ability to convert pictures of whiteboard notes and paper documents directly into Word documents and PowerPoint presentations—that you can edit, author and edit again.

Converting hardcopy documents into Word files

Take a picture of your hardcopy document using your phone and tap Save. A new Word document is automatically saved to your OneDrive, so you can access it on any device.

Converting pictures from whiteboards into PowerPoint files

If you're in a meeting and your marketing manager jots down a great storyboard idea for the big client you're going to see next week, take a picture of the whiteboard using Office Lens and convert it directly into PowerPoint. Present the PowerPoint as is or edit the slide and embellish it with a few more great ideas.
As the blog post goes on to state, Office Lens doesn't just take a picture and import an image into a Word or PowerPoint file, one of the kludges of the last decade in many other solutions. The content is parsed and the final Word and PowerPoint documents are real Office documents:
For Word, Office Lens recognizes the text and the document layout. All the text, formatting and layout in the Word document is preserved. Images of typed text become fully editable—just like you authored it at your desk.
For PowerPoint, all the handwritten lines and strokes are transformed into PowerPoint drawing objects that can be recolored, resized, repositioned and edited. That great infographic or sketch from one presentation can now be reused in other presentations.
Interestingly, for graphical documents where you're not sure whether to go down the Word or PowerPoint route, you can simply tick both as destinations and have the choice of using whichever is most appropriate later on.
The 'processing' of each captured image into a document takes around 10 to 20 seconds, and note that you can't edit PowerPoint documents in a meaningful way in Office on the phone (yet). If you needed to do the latter, you'd have to work on a desktop/laptop either locally or in the cloud, on a larger screen. Converted/saved Word documents can be edited on the phone, by opening them up from OneDrive in the Windows Phone Office hub in the usual way.
There's a helpful video too:
Somewhat impractically, the post goes on to mention this use case:
For students, if you're on your way to class and you notice a typo in a printed paper you're about to hand in, just take a picture of it using Office Lens and convert it into a new Word file. You can then make the changes on your device and print it again when you get to campus.
I think not. The idea's OK in theory, but in practice, if I'd spent weeks on a paper, there's no way I'd trust a complete rescan and OCR by even such a good tool as Office Lens not to make far more mistakes than the original 'typo' I'd spotted from the original, as you'll see below. The golden rule of any OCR system is not to trust it further than you can throw it! By all means use it to grab information that you couldn't practically get in any other way, but don't rely on everything being 100% accurate.
Some screenshots from my own tests, showing the workflow: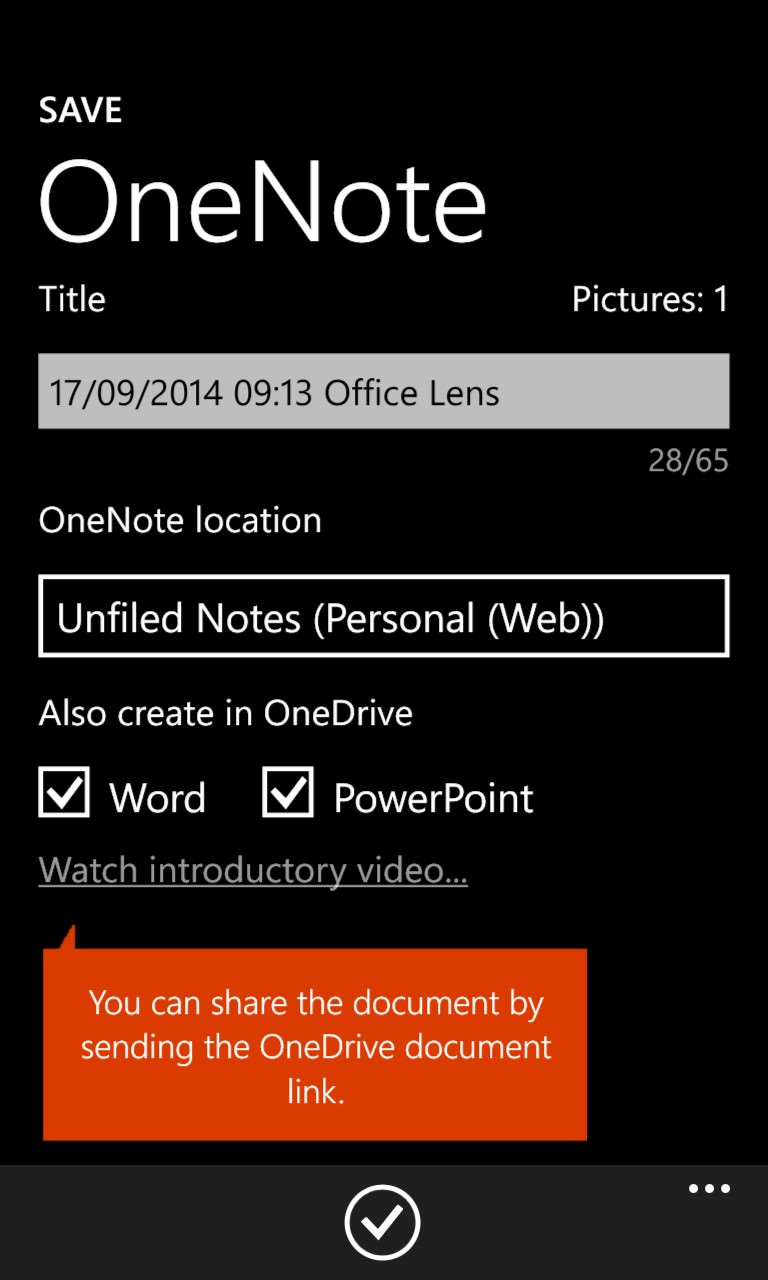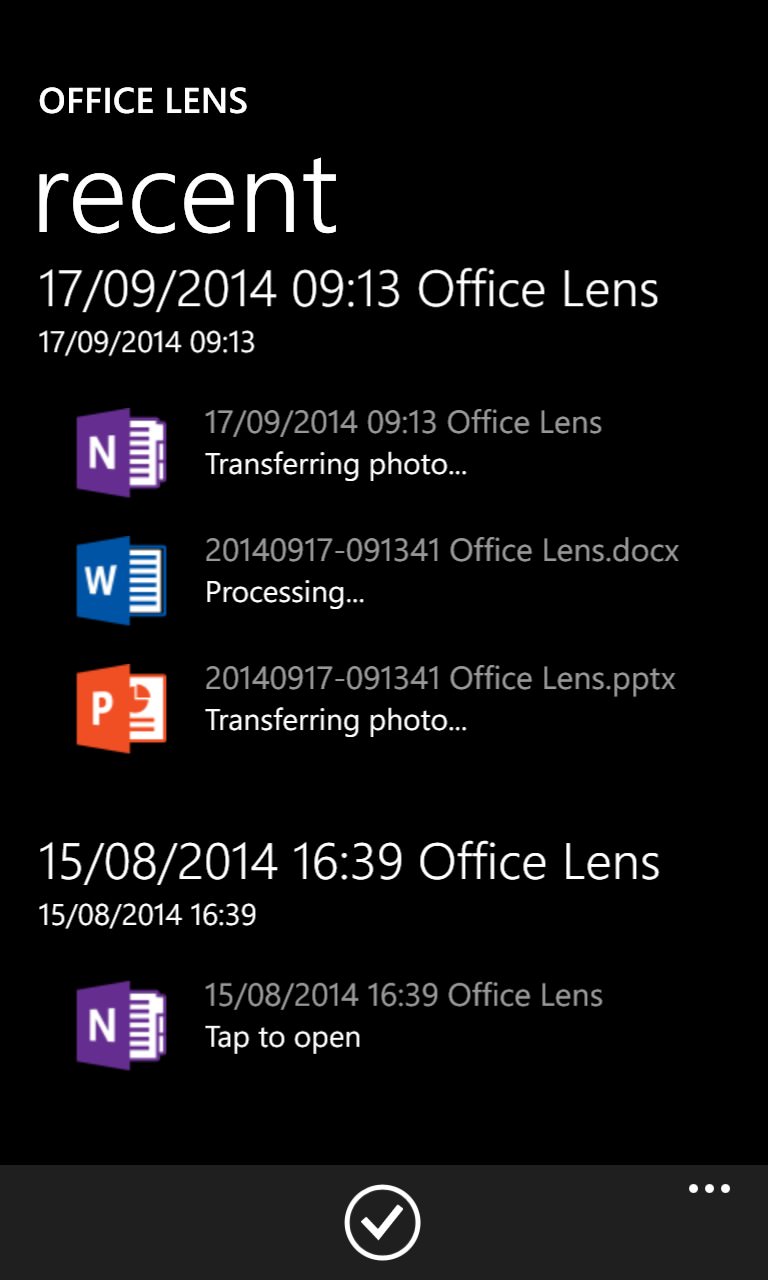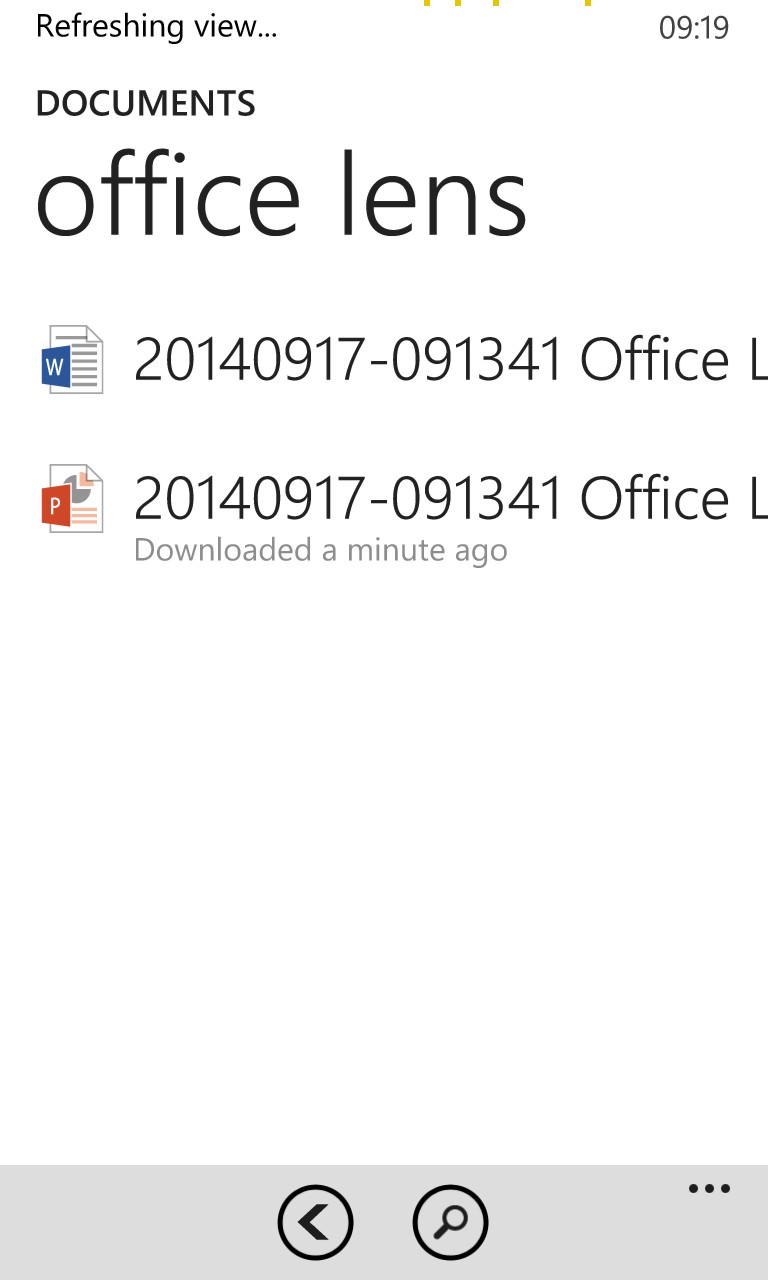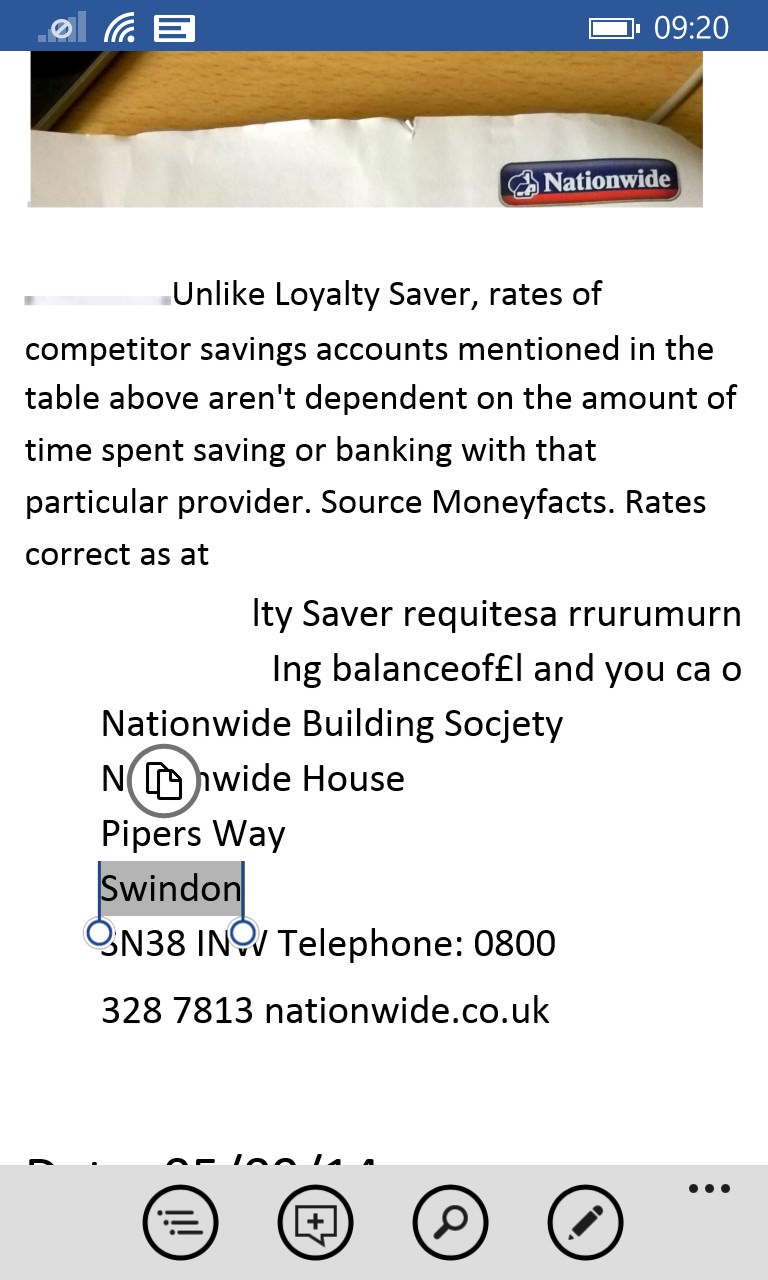 But credit to Microsoft overall, Office Lens is a stunning tool that deserves to sway more businesses and professionals to Windows Phone.