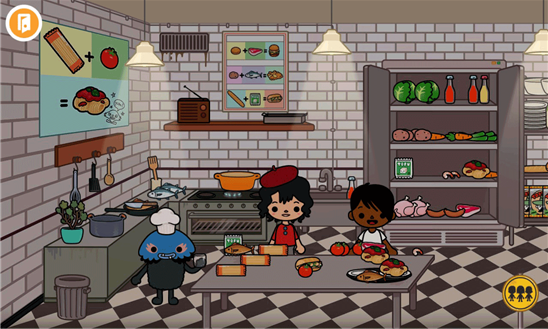 From the Store description:
You rule in Toca Town, a play world where anything and everyone is welcome! With different locations and many classic Toca Boca characters, the everyday adventures in Toca Town are infinite.

EXPLORE
Move around in Toca Town! Visit the store to buy groceries, stop by the restaurant to cook lunch, and head home to watch movies with friends. Run over to the park for a picnic or the police station to meet the officers. Cereal for dinner or maybe a quick pillow fight before bed? In Toca Town you decide!

CREATE
Play cops and robbers today and hide and seek tomorrow, the story is up to you. Use your imagination to create your own world and play together with friends and family.

DISCOVER
There are treasures everywhere in Toca Town. Turn on and off lights, toss garbage in the bins, or wrap up a present in the store to give to friends. Remember there are no rules in Toca Town so don't be afraid to interact with anything, even the toilet!

FEATURES
- 21 Toca Boca characters to play with. Do you recognize any of them?
- 6 locations to explore - park, store, police station, restaurant, house & apartment
- Open game play with no rules or stress
- Kid-friendly interface

So it's a virtual world in which any character and any object can be combined, any scenario set up. You'll get the idea from this first party promo video (albeit produced for the iOS version, released a few months ago):
You can buy Toca Town in the Store, around £2 in the UK. Recommended for anyone with under-5s in the house, especially if you have a Lumia 1520 or 1320, the large screens of which would be absolutely perfect for handing over. Just make sure you hand over your precious Windows Phone in a case, though, eh?