From our review, back in the summer of 2013:
As a game, Doom & Destiny has understandable controls (as in when you know where they are, you act as you would expect), and it presents a solid gaming challenge. Where it excels is if you have any familiarity at all with the genre. Put simply, putting Doom & Destiny next to a Nintendo style role playing game from the Zelda series, is like putting Leslie Nielsen and 'Airplane' next to the big disaster films of the 70s such as 'Airport'.

Doom & Destiny is playing this for laughs, with knowing nudge-nudge wink-winks to the format throughout the game. Characters that wonder why they look identical to the next character because they are using the same graphics, being invited to steal anything from a house with an open door, etc.

The humour never gets in the way of the game, which is a good thing. But the quality of the game is equal to the lampooning of other titles. What you have here is a high quality RPG that not only knows the heritage of the genre, but uses it as an element of the script to enhance the game and drive the RPG forward in a new direction.

Outside of the scripting, Doom & Destiny takes no risks with the style of gameplay. This is very much a standard user interface for an RPG. This does have benefits though, making the player comfortable in the app and allowing the inventiveness in the situations and dialogs to shine through. Everything just works, and while this is a relatively niche gaming title, for those that enjoy playing in the niche, it's an absolute classic.
And now it's all available for free, provided you're ok with tapping away the odd advert - if you're not then just buy the full commercial title, which is still available. In fact, both it and the 'Free' version have been updated, with bug fixes and new button graphics throughout.
I had a quick play too, and Doom & Destiny seems a lot of fun. Almost every exchange is humourous or off-beat and you'll smile as you explore. In the opening scenes, the evil ruler is outlining plans for world domination, but the underlings are chatting about the awesome party they had the night before and how they both 'got laid'! You get the idea - don't worry, it's all in good taste and teenager-friendly.
Here's the official description:
Four nerds, drawn into a fantasy world and mistaken for heroes, have to battle their way through a massive, crazy adventure and defeat a preposterous villian! This great RPG has magic, dungeons, pizza, and jokes galore. If you ever enjoyed "Final Fantasy", "Chrono Trigger", "Secret of Mana", or "Dungeons & Dragons", you're gonna love this game!

More than 10,000 lines of dialog
20 hours of story and 20 hours of extras, adventures, side-quests, and more!
Turn-based, easy-to-learn combat
Change your party order to apply special bonuses
100 levels of experience
More than 200 special powers and spells
More than 300 enemies
More than 500 items between potions, chips, weapons, shirts, and armor
More than 700 locations,
Epic Flying Spaghetti Monster!
Some screens from the 'Free' version: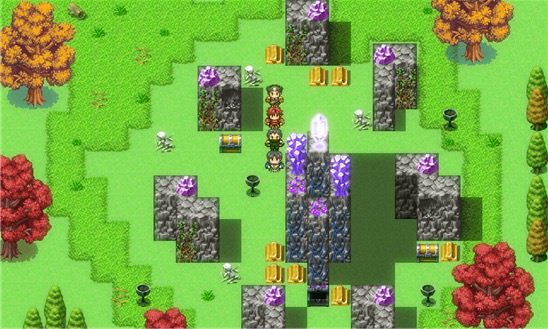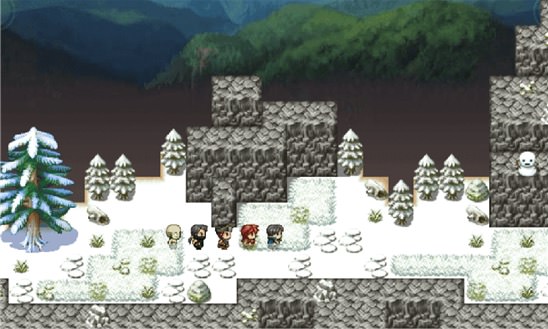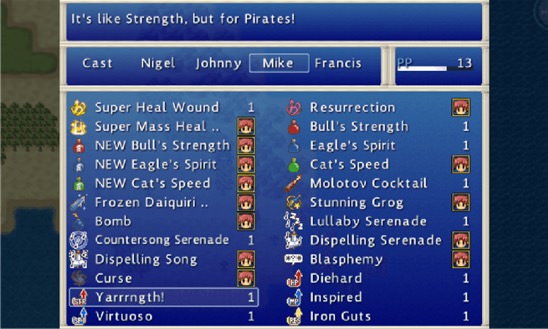 You can download Doom & Destiny Free here, note that it's bigger than you'd think (for such 'retro' graphics), at 400MB when installed (thanks to the size and variety of the worlds, plus the audio samples), so make sure you allow plenty of space. Again, see our original review if you need convincing.