From the official Microsoft announcement post:
Today we're announcing a new platform called Microsoft Health. Within health and fitness, there is rapid innovation occurring around wearable devices with smart sensors that are telling us more about our lives. A vibrant marketplace of devices and services is giving us access to a wealth of data about our nutrition, health and fitness. We see an opportunity to bring these devices and services together to allow you to combine the information they collect and use the power of the cloud to turn that data in to something more valuable.




The Microsoft Health platform includes a cloud service for consumers and the industry to store and combine health and fitness data to create powerful insights. Microsoft Health will be available for consumers from the new Microsoft Health app which launches today on Android, iOS and Windows Phone. Also launching today is the Microsoft Band, a smart band designed for Microsoft Health, for people who want to live healthier and be more productive.

...Microsoft Health is designed to benefit our partners in many ways. For new entrants and startups we have a complete offering that includes our app, and APIs as well as cloud storage for their data. Existing services can upload their data to Microsoft Health and take advantage of our advanced algorithms and the powerful machine learning from our Intelligence Engine to give their customers insights. New devices can license our 10 wrist-worn sensor modules to gather robust data including active heart rate, sleep and GPS.

Today, we are announcing that Microsoft Health will work with UP by Jawbone, MapMyFitness, MyFitnessPal and RunKeeper. Soon, Microsoft Health will also allow you, at your choosing, to connect your Microsoft Health data to HealthVault to share with your medical provider.

We are also excited to launch the Microsoft Band, a smart band designed to be worn 24 hours a day by people who are active both in the gym and on the job. The Microsoft Band has 10 smart sensors for 24-hour heart rate monitoring, calorie burn measurement, advanced sleep quality tracking and more as well as Guided Workouts curated by Gold's Gym, Shape, Men's Fitness and Muscle & Fitness. The Microsoft Band will keep you connected at a glance with helpful, smart notifications including incoming calls, emails, texts and social updates as well as access to Cortana.
Unfortunately for those in the rest of the world, Microsoft Band is only available in the USA (and in limited quantities), though it does look very promising and, especially for Windows Phone owners (due to the tight integration and testing with Microsoft's own mobile platform), looks to be the best smartwatch solution right now. Cortana is, for example, demonstrated being accessed on the Microsoft Band in the video above.
The Microsoft Band has a capacitive 1.4″ TFT full color (320x106 pixel) display, and sensors for heart rate, skin temperature and galvanic response and UV light, plus accelerometer, gyroscope and ambient light. Plus, slightly worryingly, a power-draining GPS - or perhaps this will turn out to simply be GPS support via the connected phone? There's no speaker, though there is a microphone (for Cortana). Battery capacity is 200mAh total and it's estimated that you'll need to charge the Microsoft Band every two days.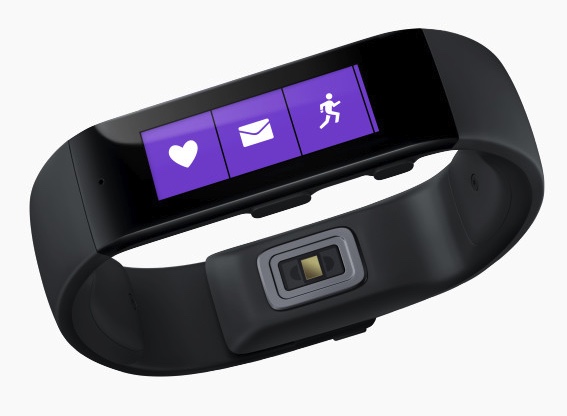 The dedicated Microsoft Health application for Windows Phone is also now available, again only in the USA, here are a couple of typical fitness-related screenshots: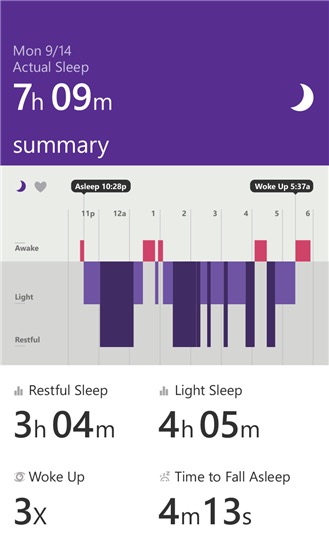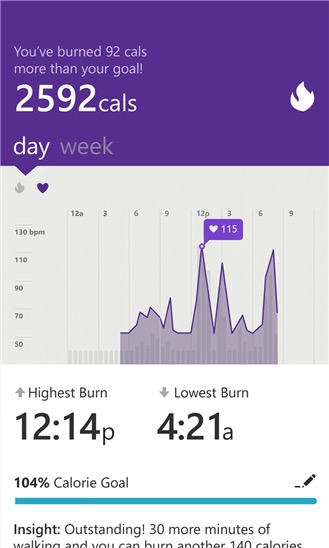 There's lots more online about this. You can read the story behind the new Microsoft Band on Microsoft News Center and explore the Microsoft Health and Microsoft Band mini-sites.