Consider this flow story as something of a placeholder regardless, though, since (like Whatsapp) Telegram Messenger triggers (initially) from a physical phone number and from your device's (phone) address book. So a serial device and SIM-swapper like me will come a cropper, or at the very least confuse Telegram mightily!
But, for completeness, Telegram is a messaging app with a focus on speed and security. After initial registration, you can use Telegram on all your devices at the same time — your messages sync seamlessly across any of your phones, tablets or computers. So akin to Skype, built into Windows Phone of course, in that regard.
As with Skype, you can send messages, photos, videos and files of any type to people who are both in your phone contacts and have Telegram. You can also create groups for up to 200 people or send broadcast messages to up to 100 contacts at a time.
Somewhat uniquely, there are no ads and no fees - Telegram is funded privately and the developers claims to have plenty of money for the present.
From the Store description:
Telegram Messenger is a Telegram client with a focus on speed and security. It's superfast, simple and free.

For those interested in maximum privacy, we've added Secret Chats, featuring end-to-end encryption to ensure that a message can only be read by its intended recipient. When it comes to Secret Chats, nothing is logged on our servers and you can automatically program the messages to self-destruct from both devices so there is never any record of it.

Although still technically in 'beta', I've noted numerous updates in the last month or two, each with a full changelog (always good to see). Here's the latest, for example:
New in version 1.1.3.46:


Determine who can see your Last Seen time – with maximum flexibility
Set a period of inactivity after which your account will self-destruct (from 1 month to 1 year)
New video loader
Added video compression
Windows Phone 8 Live Tile support
Lots of other improvements and fixes for all your favorite bugs
In terms of functionality, look and feel, it's similar to Whatsapp, Skype and other services, with the unique selling point here that there's no intention of making money from you or of spying on what you're up to. In theory, anyway - the 'Secret Chats', in particular, use end to end encryption.
Here's Telegram Messenger in use, with the familiar panes of chats, contacts and the insertion of images and other files.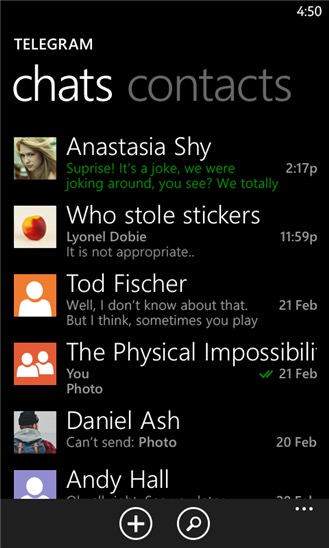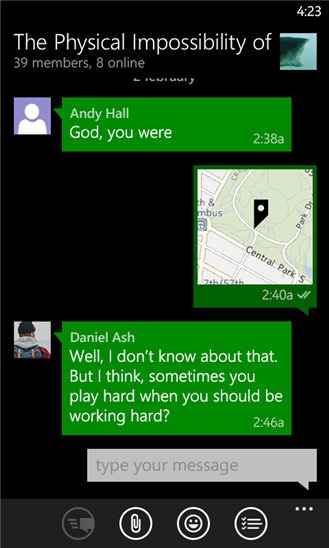 You can download Telegram Messenger (Beta) here in the Windows Phone Store and get going, anyway. Comments welcome if you've tried it or use it. How does it compare to Skype, Whatsapp and others?
PS. See also the official Telegram FAQ here.