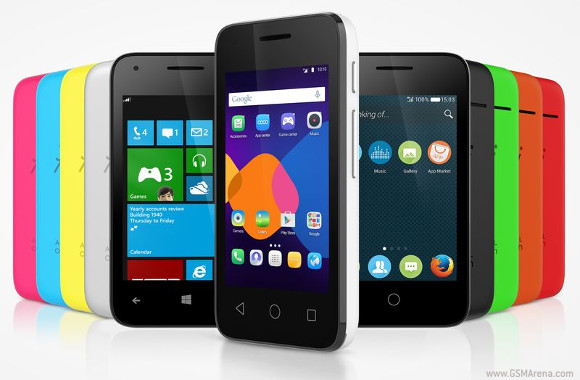 (image via)
From the Alcatel press release:
The brand's new PIXI smartphones make mobile Internet available to everyone, while offering another innovative feature of OS-agnostic. It is available with Firefox, Windows or Android, providing the flexibility to all consumers.

4G LTE at an affordable price

First among ALCATEL ONETOUCH's announcements at CES, the smartphone brand is launching its affordable PIXI 3 series, ranging from a pocket-friendly 3.5-inch display to a larger 5-inch display. Offering both 3G and 4G LTE connectivity for the PIXI 3 (4"), (4.5") and (5") and 3G for the PIXI 3 (3.5"), the PIXI 3 series further features easy customization and the most popular applications pre-loaded.

OS-agnostic - Firefox, Windows or Android

Besides being the first among the PIXIs to offer 4G, the PIXI 3 series is also first to be compatible with three major operating systems: Firefox, Windows and Android.

Cross-device integration, from smartphones through to PCs. PIXI 3 series offers consumers simplicity of use and the reassurance of having the same system at home, at the office and on the go. With its OS-agnostic PIXI 3 series, ALCATEL ONETOUCH presents operating-system choices to its customers. This continues the efforts begun last year, when the brand teamed with Mozilla to launch the Firefox OS on its FIRE series of smartphones.
All of which doesn't really make that much sense. The press release also talked about customers, but they're certainly not talking about Joe Bloggs in the street buying the phone and then being faced with a startup wizard on the phone screen asking which OS he wants to use that day!
One has to assume that phone shop chains and operators around the world will simply pre-order certain numbers of the series with the OS that they think will sell best. You can bet that a) Android will get the overwhelming vote, and b) any resulting Windows Phones will be distinctly unoptimised for the platform and relatively uninspiring.