A few screens and a walk-through: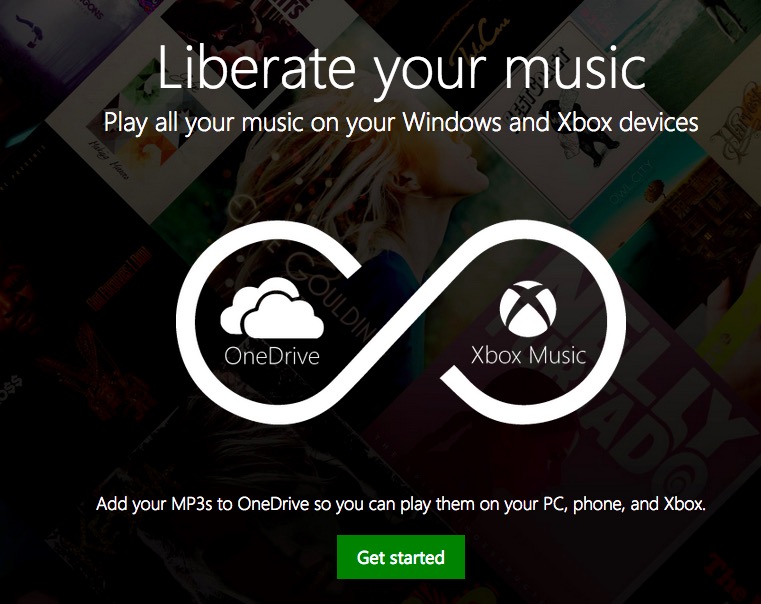 The introductory page here

The banner that appears when you click through, of view your OneDrive in a web browser right now...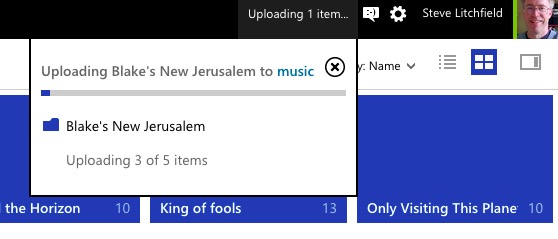 Uploading another album into my OneDrive, it's worth noting that you can upload by folder, so in many cases you can simply select a desktop over-arching music folder and then leave the upload process to complete (space and bandwidth permitting)....
Why bother with all this? The idea is that you'll have access to all your music on any device, as long as you're signed into your Microsoft account, etc. Which might well be useful if you have unlimited bandwidth when mobile and limited storage on your device (e.g. no microSD support).
There are some caveats of note:
The streaming option is only (so far) available in the US, along with Argentina, Australia, Austria, Belgium, Brazil, Canada, Denmark, Finland, France, Germany, Ireland, Italy, Mexico, Netherlands, New Zealand, Norway, Portugal, Spain, Sweden, Switzerland, and the UK.
There is an upper limit of 50,000 songs that can be stored.
Plus the following from the FAQ page:
What file formats are supported?
You can add music files in MP3, M4A (AAC), and WMA formats.
Which devices can I use to playback OneDrive content?
You can play OneDrive music on the following devices:

Windows 8.1 computer or tablet
Windows Phone 8.1 (using the Music app)
Xbox One or Xbox 360 console
Through a web browser on the Xbox Music website
Notes:

This OneDrive functionality is not available on Windows 8. You'll have to upgrade to Windows 8.1 to get the latest version of the Music app from the Store.
iOS and Android devices are not supported. If you have an Xbox Music Pass and use iOS or Android, OneDrive content will not show up. (This won't interfere with playing music through your other devices).
Can I add OneDrive content in playlists?
Yes. OneDrive content can be added to playlists.
Can I download music from OneDrive?
Yes. You can make the music from OneDrive available offline on your Windows 8.1 phone, PC or tablet. You can also download music files directly from your Music folder on OneDrive.
So no playback from rival mobile platforms, though given recent Microsoft launches, this might well be added at a later date.
Being able to re-download music seems a bit odd, but could come in handy if you're mobile and want to 'cache' content for offline playback and hadn't had time to sideload it before you left, etc.
Content that gets indexed in the (Xbox) Music client on Windows Phone can take a few minutes to appear, hence the use of the word 'shortly' above. Partly this is OneDrive itself indexing the new files, partly this is Music on the phone checking the server and re-indexing for itself: