From the Store description:
Halo: Spartan Strike makes you a new Spartan recruit battling evil forces in this touch-based top-down shooter. Be the Spartan and deny your foes the conquest of Earth. Encounter Promethean and Covenant enemies in 30 thrilling missions through jungles and cities as you seek to thwart plans to make Earth their next conquest.

It's time to challenge your enemies. Strike Fast. Be a Spartan!

Some promo screens of the game in action, it certainly looks beautiful, with gorgeous lighting effects: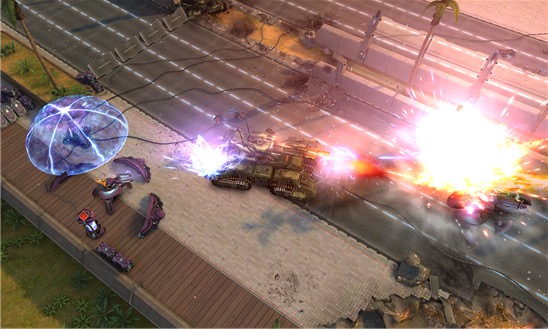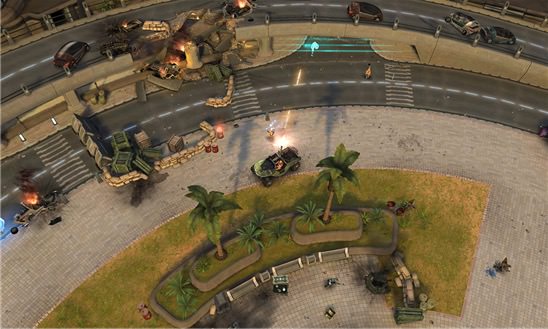 It's part first person shooter, part isometric arcader, part RPG and production values are very high.
According to Microsoft, here's the story context:
Taking on the role of a Spartan supersoldier, you'll lead UNSC troops through 30 pulse-pounding missions to defend Earth against alien Covenant and Promethean enemies. "Halo: Spartan Strike" is a classified ONI simulation that starts during the events of Halo 2. The all-new, single-player story will have you battling through cities and far away jungles in the Halo universe.

While overcoming intense firefights is key to winning each mission, you'll have more than an armory of new weapons (such as the Suppressor, Scatter Shot, Binary Rifle, and Incineration Cannon) at your disposal. Drive the iconic Warthog light reconnaissance vehicle to crush enemies or attack from the air with the all-new Kestrel VTOL aircraft.

"Halo: Spartan Strike" offers cross-platform shared progress through any Windows 8 and 8.1 device, meaning that you can you can finish one level on your tablet and then switch to your Lumia to play the next.
Halo: Spartan Strike is, unusually (and rather welcome), a full commercial release, at £4.59 in the UK Store and works on any device with 512MB RAM and higher. It's also available for iOS, by the way, should a family member own an iPhone. Do let us know if you grab this and if it's any good. A worthy new chapter in the Halo franchise?
PS. There's a trailer too, enjoy: