Of note is a slow, but definite trend, looking at Q1 Lumia sales stats for the last four years:
2012-Q1: roughly 2 million
2013-Q1: 5.6 million
2014-Q1: 7.3 million
2015-Q1: 8.6 million
(thanks to Carl-Johan Eelde). For context, this can be compared to around 50 million Apple iPhones per quarter (depending on time of year) and well over 100 million Android smartphones in the same period. Nokia/Microsoft have sold almost 90 million Lumias since late 2011, it's estimated.
From the Microsoft results, Devices and Consumer revenue grew 8% (up 11% in constant currency) to $9.0 billion, with the following business highlights:
Office 365 Consumer subscribers increased to over 12.4 million, up 35% sequentially
Windows OEM Pro revenue declined 19%, as Pro mix returned to pre-Windows XP end-of-support levels and the business PC market declined
Windows OEM non-Pro revenue declined 26%, primarily due to channel inventory drawdown and ongoing mix shift to opening price point devices
Search advertising revenue grew 21% (up 24% in constant currency), with Bing U.S. market share at 20.1%, up 150 basis points over prior year
Xbox Live usage grew over 30%, driven by increased users and deeper user engagement
Surface revenue of $713 million, up 44% (up 53% in constant currency) driven by Surface Pro 3
Phone Hardware revenue of $1.4 billion, with 8.6 million Lumia units sold
There's a slide show too, here, including: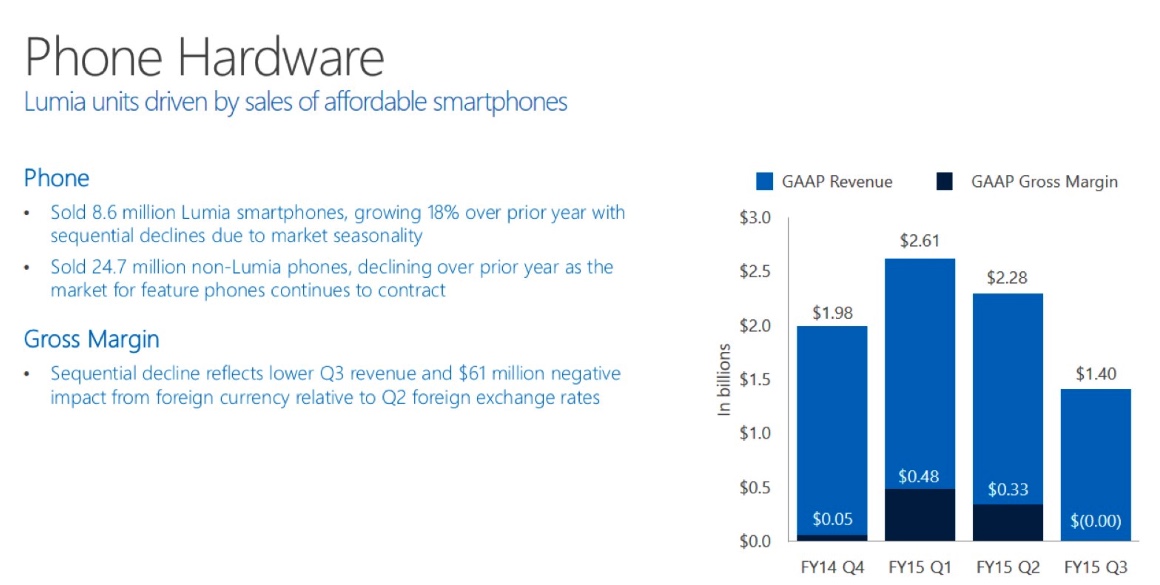 As we've said many times before, the market for Windows 'Phones' is set to improve significantly when Windows 10 hits and Microsoft's cross-form-factor promotion gets into gear. Watch this space.