The two I was taking a quick look at were Tiny Planets PRO, featured left below, and TinyPlanet, featured right below. The former is the 'original', the latter a much newer clone, but both do the job in hand, that of warping a photo in a circular 'projection', so that stuff at the bottom of the frame is massively shrunk and stuff at the top expanded. The effect, with enough blue sky at the top of the original photo, is then of a 'tiny planet', with just your main subject as the sphere's occupant. It's a cute effect and done well, but most of the impact is in your choice of subject and the photo.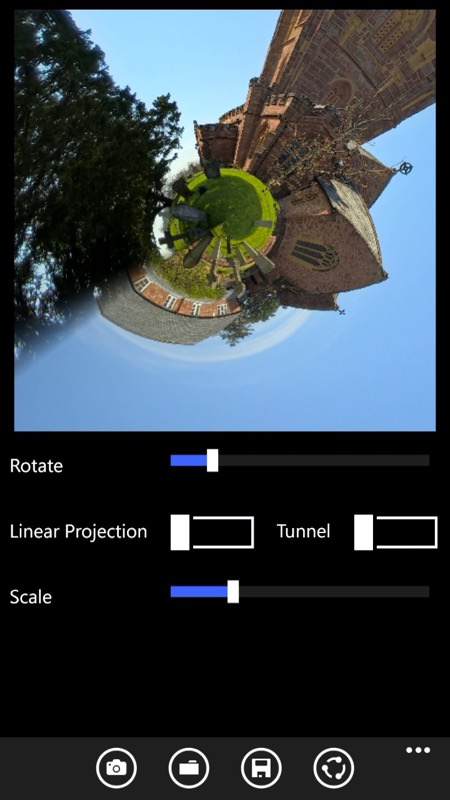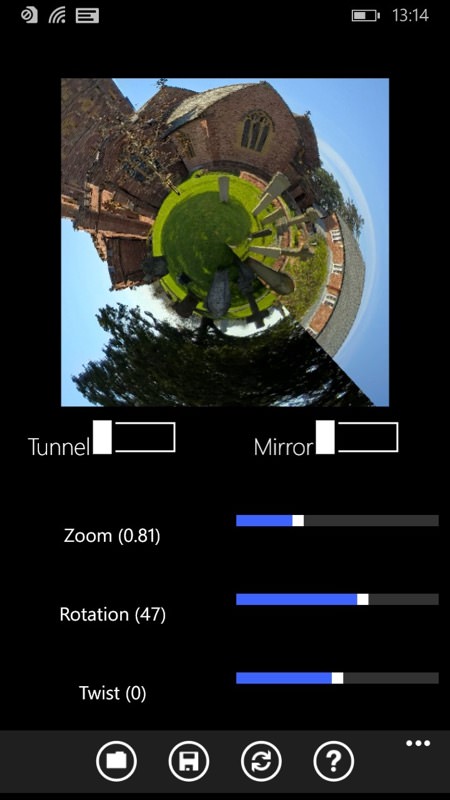 Similar results, and in each case you can 'rotate' the projection to achieve a particular orientation. Both also offer a 'tunnel' option, of which more below. The newer TinyPlanet also adds a 'twist' control, applying a lateral rotation as part of the projection, effectively twisting the photo further, into a quasi-spiral. In each case, the sliders control the depth of the effect and both applications worked well.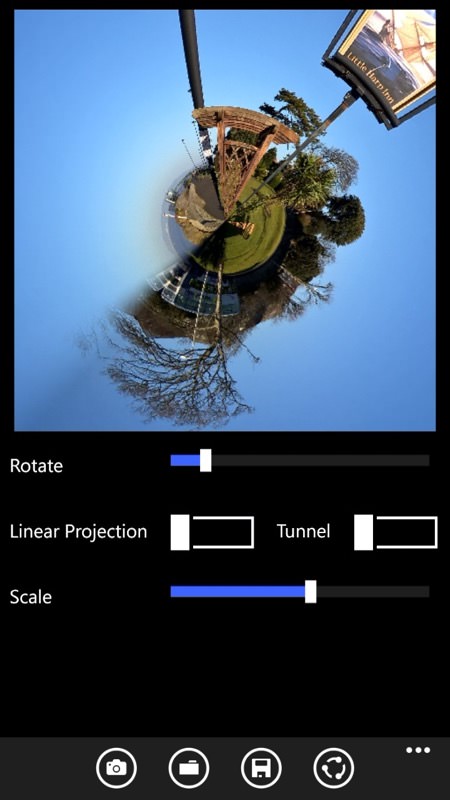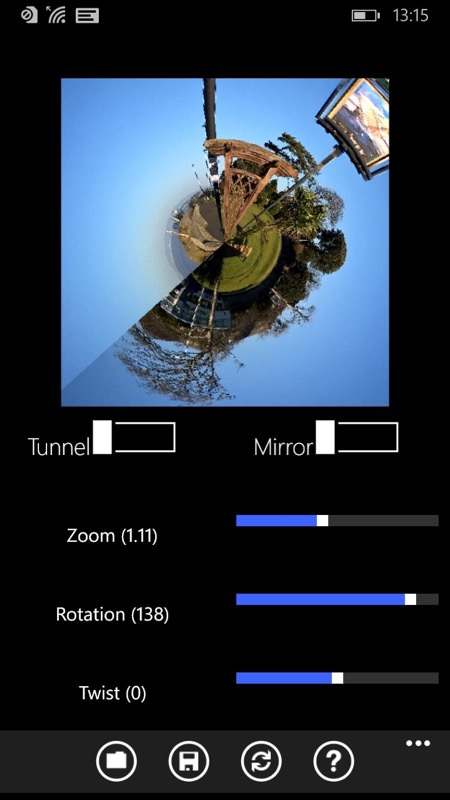 Another factor as to whether wrapping a photo to a 'planet' is, of course, how well the left and right original edges of the photo match up in terms of horizon. The example above could have worked really well, but the tree and empty horizon are too much of a disconnect. Both utilities do the wrapping job very well on the whole and to the same resolution and quality. Which is to be expected, the maths behind the operation really isn't that complicated.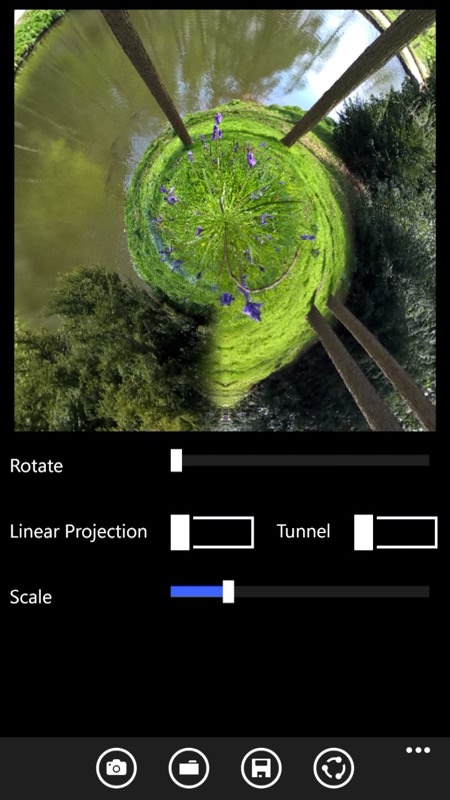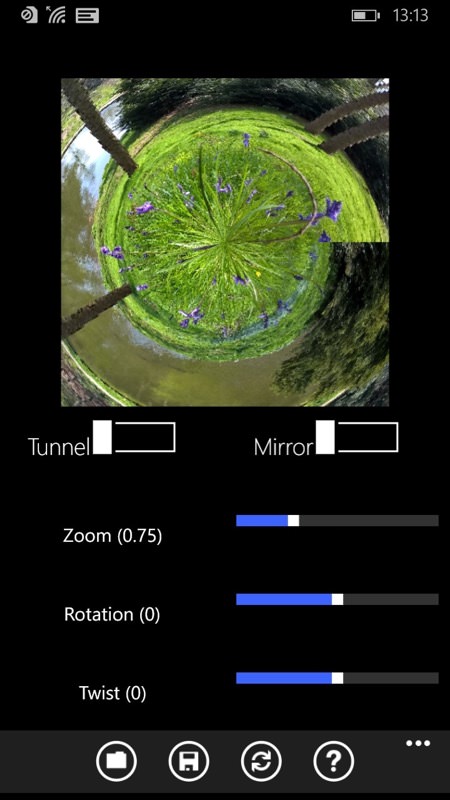 Even if you haven't got blue skies and a clear horizon, as long as you've got an interesting original photo then you can get interesting and arty effects with the apps here. The 'Zoom'/'Scale' sliders let you 'pull back' and 'zoom in' from the centre of the projections until you're happy with the results.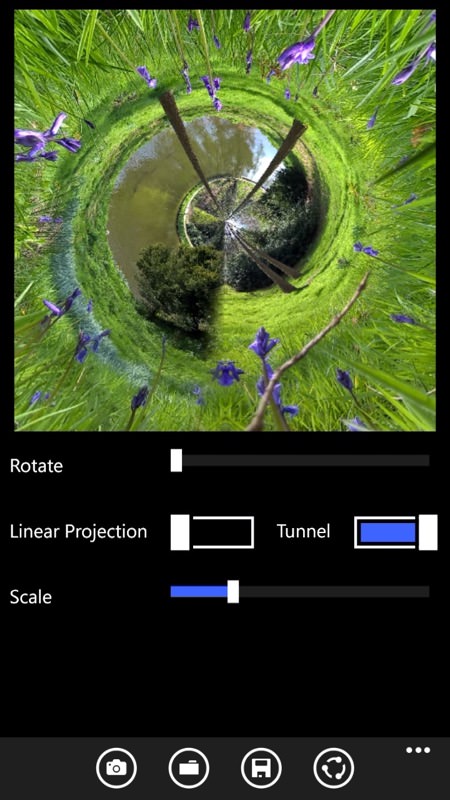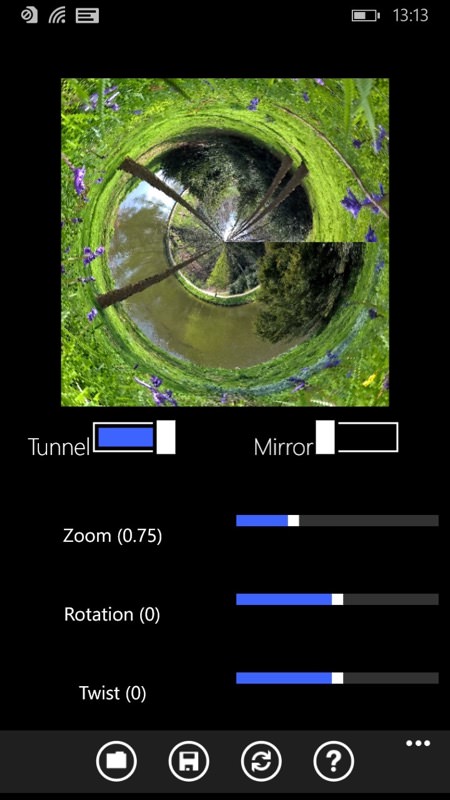 The aforementioned 'Tunnel' is effectively the reverse of the planetising process - this time shrinking anything at top of frame and still wrapping everything in circular fashion. This is perhaps more for special effects, but it's nice to have the option.
It's hard to pick between Tiny Planets PRO and TinyPlanet, not least because their costs are similar (just over £1 in the UK), but I'll give the nod to the original (the former) because it got 'there' first and because it's very slightly more polished at each stage. In both cases, you can save the images directly and/or share them out via the usual Windows Phone sharing methods.