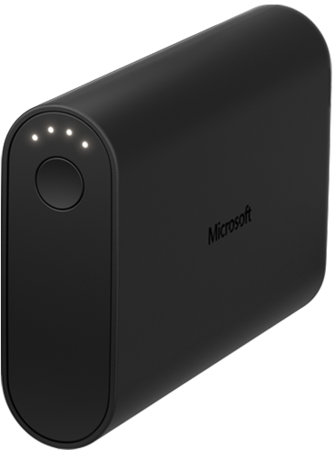 From the blog post announcing them:
The Microsoft Portable Dual Chargers come in three capacity sizes 5200 mAh, 9000 mAh, and 12000 mAh, allowing you to do so much more with your Lumia smartphone or Surface tablet without the need to worry about battery life.

The Microsoft Portable Dual Charger (DC-32) has a 5200 mAh capacity and weighs 141g. The Microsoft Portable Dual Charger (DC-33) a 9000 mAh and weighs 215g, while the largest is the Microsoft Portable Dual Charger (DC-34) with 12000 mAh capacity and 275g overall weight.

Each battery pack measures 100mm in width and 25mm in thickness, but due to the different capacities they each have a different height, the DC-32 is 50mm, the DC-33 is 68.5mm, and the DC-34 measures in at 87mm...

...If you like to keep tabs on how much juice is left in your charge pack that's easy to achieve, thanks to the easy-to-read LED power indicators, which makes checking your charging levels quick and convenient...

...If both your Lumia and portable charger need charging, then you can make use of the 'daisy-chain' effect, allowing you to connect your Lumia and charger to a mains socket for simultaneous charging.

The new Microsoft Portable Dual Chargers will be available globally in select markets in the coming weeks, with an estimated retail price of USD 35, 45, and 55. As soon as we have UK pricing and availability we'll let you know.
The full specifications of the three chargers can be found here, by the way.
Tha 'daisy chain' system is important - not all third party chargers support this. It's very, very handy, to just leave your portable charger 'in your charging chain' on your desk, and then just grab it when you head out, knowing that both phone AND charger are fully topped up.
We'll certainly get at least one of these in for review when they're available. Watch this space.
PS. My most recent review of a third party pack was of the Omaker 15600mAh design. Spolier: It's phenomenal, do have a read.