Interestingly, the exact same hardware is also being used for a parallel model running Android, as you'll see in the text.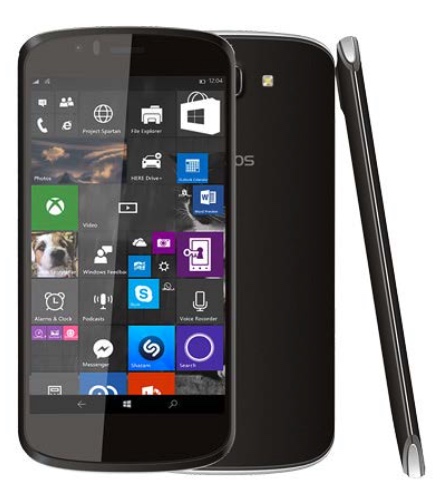 From the ARCHOS press release (ahead of IFA 2015 next week):
The French brand ARCHOS is excited to release two 5" smartphones both featuring great specs and an even better price: £99 each! The ARCHOS 50 Cesium runs Windows 10 right out of the box, and the ARCHOS 50e Helium runs Android 5.1 Lollipop; with a choice of operating system, these models can suit any need.

The ARCHOS 50 Cesium and 50e Helium smartphones feature 5" HD IPS screens for top-notch viewing quality. The display renders bright, realistic colors and allows wide viewing angles. Both feature Qualcomm Quad-Core processors which run at 1.1 GHz. Both devices feature 4G/LTE connectivity for the fastest possible download speeds and lightning-fast internet, email, and messaging. This internal power is complemented by a sleek outer design with rounded edges and a metal frame.

"As the ARCHOS 50 Cesium runs Windows 10, and the ARCHOS 50e Helium runs Android 5.1 Lollipop, customers can choose the operating system they love the most without needing to worry about other technical nuances that differentiate smartphones. Since ARCHOS is offering a great base product, having only to choose between two operating systems is liberating and simple."

The ARCHOS 50 Cesium and ARCHOS 50e Helium will be available in November 2015 for the incredible price of £99. For more information about ARCHOS products, please visit our website: www.archos.com.
Here's the full specification of the 50 Cesium:
147x72.5x8.5 mm

Snapdragon 210 chipset

1GB RAM
5" 720p display
8GB storage plus microSD
Dual SIM
GSM/3G/LTE
Bluetooth 4.0
8MP rear camera, 2MP front camera
2100mAh battery
I'm sure we'll see other Windows 10 Mobile offerings, but it's good to seeing ARCHOS weighing in - the lowish spec here is perhaps tempered by the promise of a metal frame - this shouldn't feel cheap in the hand. The bezels do look a bit chunky, but then we're used to this sub-£100, while the use of virtual controls is the key to ARCHOS being able to offer both Android and Windows 10 Mobile versions.