From the Store entry:
World of Tanks Blitz is a free-to-play mobile MMO action game brought to you by Wargaming, the award-winning online game developer and publisher of World of Tanks, the smash hit PC game now with over 110 million players worldwide! Drawing inspiration from the hugely popular World of Tanks, World of Tanks Blitz introduces crossplatform tank combat for a variety of devices including Windows 10 PCs, tablets and phones. With an impressive roster of over 200 massive tanks, stunning graphics, intuitive touch-screen controls for tablets and phones, as well as keyboard and mouse support for the PC version, World of Tanks Blitz makes it easy to jump into short, action-packed 7vs7 tank battles no matter where you are!

A truly free-to-play game. No timers, energy bars, or fuel—play as much as you want, whenever you want.
Over 200 iconic vehicles from Germany, Great Britain, the United States, the USSR and Japan
4 different vehicles classes including light tanks, medium tanks, heavy tanks, and tank destroyers
Strategic 7v7 online multiplayer gameplay
18 unique battle arenas
In -game chat functionality
Innovative crew upgrade system
Constant graphical enhancements and updates, as well as optimization for various devices
Real-life physics to create authentic tank movement and damage mechanics
Detailed tutorials
Ability to invite your friends to play online
In-game achievements
Free to play with equal access to in-game elements for paying and non-paying players
Battle Missions that open up fresh, personalized challenges of varying difficulties and enable players to earn bonuses and achievements
Clan functionality allowing players to unite in their pursuit of victory
Pretty impressive in ambition. Here's the video promo:
A few screens from the Store entry: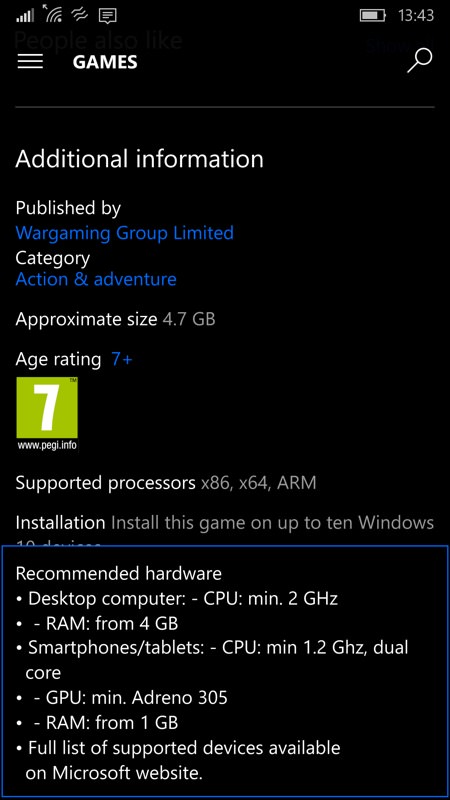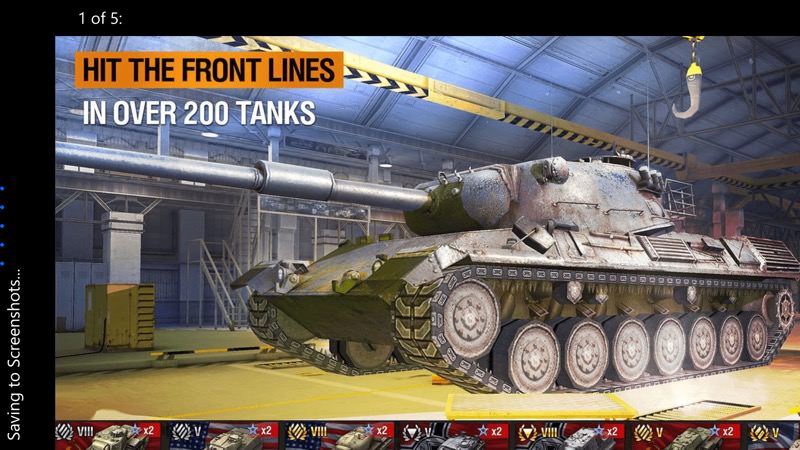 You can grab this freemium epic (over wi-fi, hopefully!) here in the Store. If you try this, any comments on install/loading times and gameplay? It says that it runs on devices with 1GB of RAM, but it'll get thrown out of memory every time you do anything else, so.... I'd suggest this is perhaps for the Lumia 930 upwards.