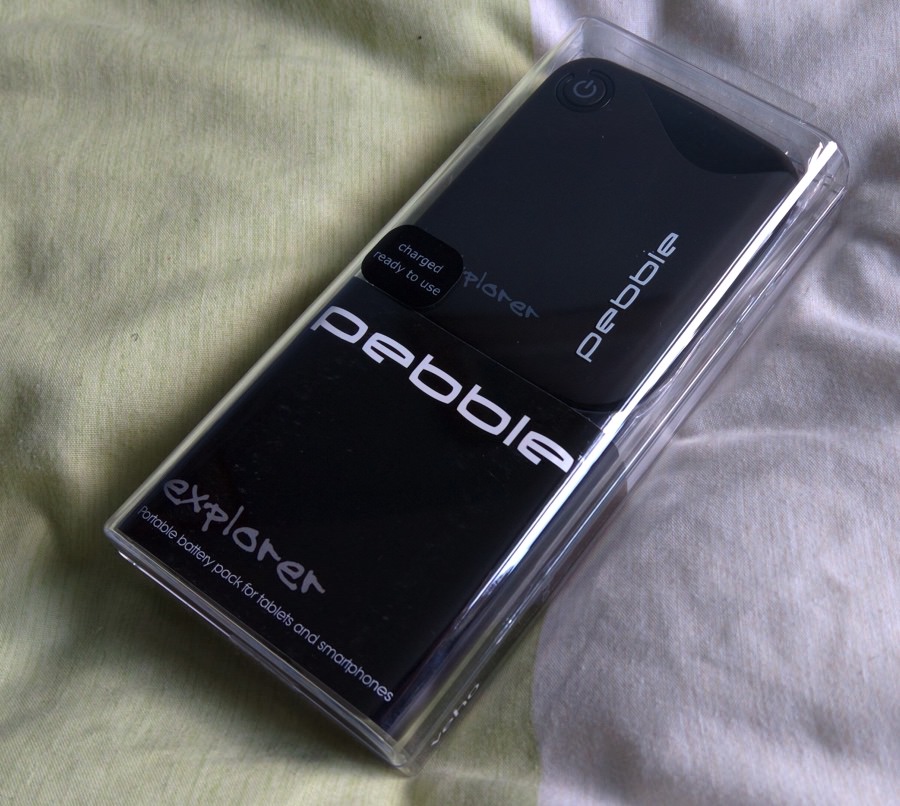 As you'd expect at the price (£80 typically discounted to £50 by suppliers), the Pebble Explorer arrives in deluxe packaging. The charger itself is compact though, only 10cm across its diagonal and 2cm thick, and with beautifully rounded, ergonomic corners in all dimensions. The top surface is matt, with the 'pebble' logo embossed, then there's a shiny plastic rim and then most of the sides and back have a grippy, slightly rubberised finish. Four small 'nubs' ensure that the gadget stays put on any shiny surface.
Included with the Pebble Explorer are multi-language instructions, a stub USB cable with microUSB, miniUSB and Apple 30-pin adapters, plus the obligatory velvet carrying bag. The use of stub plus 'old' adapters marks the kit out as old-school in a way, though most users will be using their own USB cables anyway - for example, USB-A to Type C or Apple Lightning. Still, in 2016, you'd have thought that these latter two 'modern' connectors would come out of the box?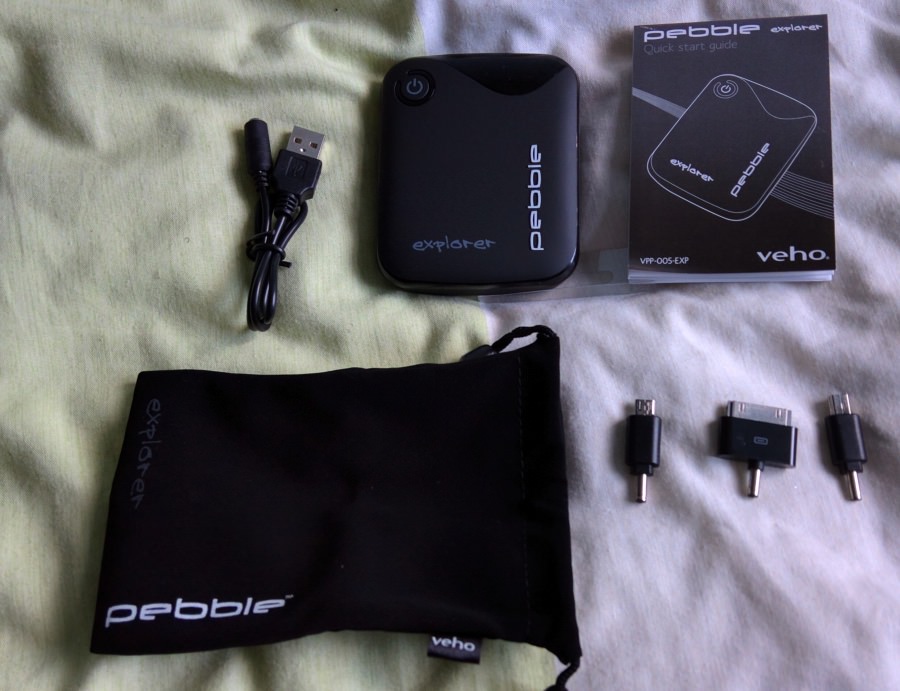 The top edge of the Pebble is the action end, with microUSB input and twin USB outputs. Slightly disappointingly, these max out at 2.1A for the two, i.e. you can charge a hungry device on its own, but plug in two tablets or high current smartphones and each only gets just over 1A.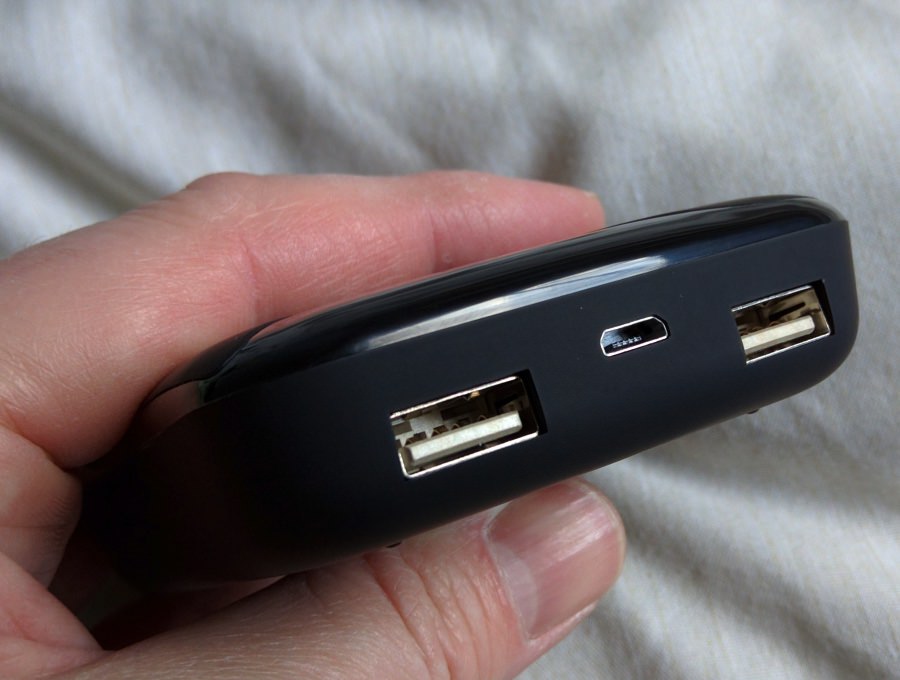 The best feature of the Pebble Explorer is one that's so obvious you have to wonder why the competition makes do with four weedy single LEDs instead, to indicate the status of the internal battery. Here you get a digital readout as a percentage in rather tasteful blue: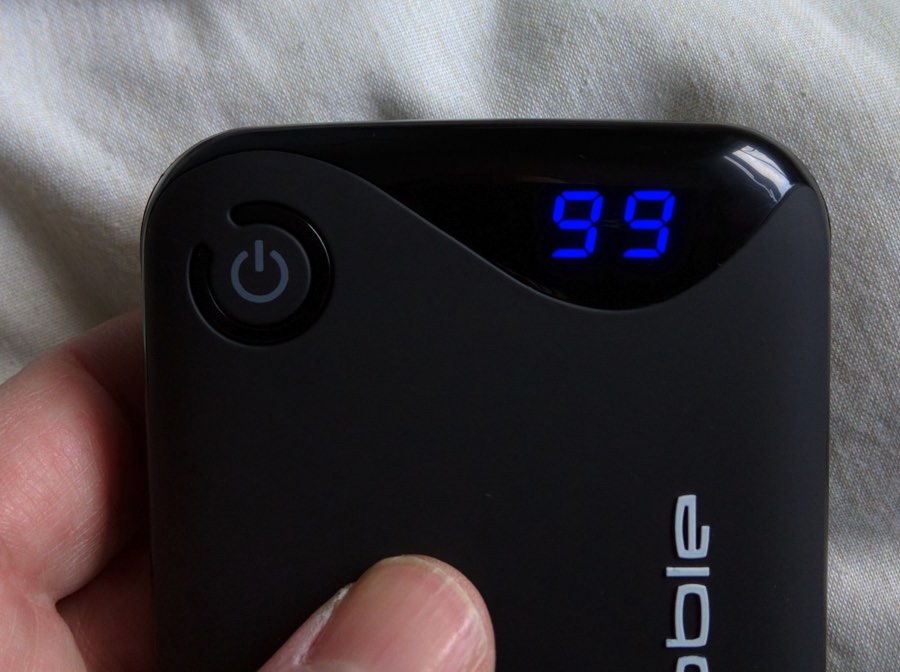 The battery itself is rated at 8400mAh at 3.7V, which works out to around 6500mAh at 5V, i.e. delivered to a smartphone over USB, but this is still more than enough to fully charge any current smartphone at least twice from scratch - or perhaps three times for a mid-range device. Or, in a typical multi-person, family environment, to top-up half a dozen phones and gadgets through a busy 'day out'.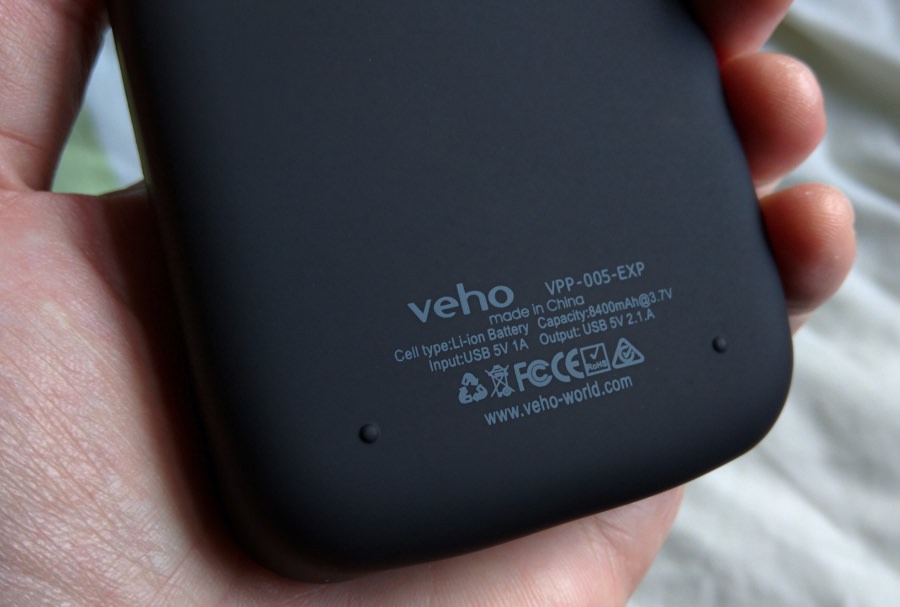 Input is at 1A maximum, meaning that you're looking at about 6 hours to charge it right up - but in most use cases this will be overnight, so not a problem.
Despite my love of the form factor and digital readout - and its perfect functionality for most of my 2014/2015 gadgets, there's a twinge of disappointment that the vision here is dated. By now, I'd be expecting twin/triple inputs - microUSB and/or USB Type C/Lightning, at least one Type C output and support for 2.1A output on at least one port while supplying 1A on another. As such, the Veho Pebble Explorer could have been more ambitious.
Having said that, this is terrifically compact and portable for the quantity of charge contained and you can't fault the readout and build quality. Well worth considering, even in 2016.
No Qualcomm Quick Charge 2.0, no Type C output or input