From the Store entry:
Foxit Mobile PDF is a small, lightning fast PDF viewer which allows you to open, view, and annotate any PDF file, as well as easy to use collaboration features, such as the ability to add annotations to PDF. It delivers industry leading capabilities to utilize PDF documents on the go. Foxit MobilePDF is based on the same technology as Foxit Reader. Now, with Foxit MobilePDF, you can start to enjoy your comfortable reading trip on PDF documents anytime, anywhere.

The quoted features and changelog, according to WMPU are:
Easily read PDF files
Search text in file
Directly jump to certain page using bookmark
Easily zoom page using fingers
Support highlight, underline, and strike out text
Easily adjust comment colors and opacity
Show or hide comments
Record recently opened files
Open webpage by clicking links in document
Easily clear your recent documents list

The latest update adds a new user interface for ease of use and support for English, Simplified Chinese, Traditional Chinese, Japanese and Korean.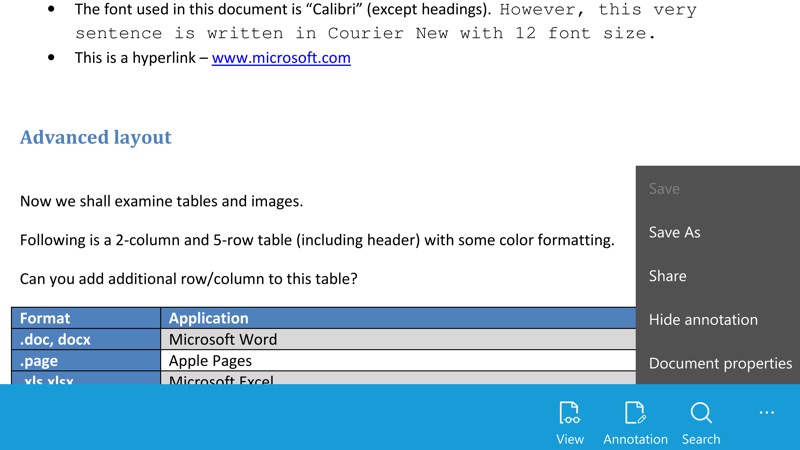 I was impressed by the range of sources that Foxit Mobile PDF could access, including Dropbox - very welcome, since that's my default place to drop 'interesting stuff' into...(!)
The security issues with all of Adobe's software over the last decade have forced just about every other software vendor to implement its own PDF-reading solutions. In this case, there's also Microsoft's built in PDF Reader, but complex PDF files sometimes need another viewing option and Foxit MobilePDF is a good tool to have up your sleeve!