I'm always a little sceptical by travel bags like this, but The T-2 Hybrid absolutely lives up to its name - you can use it as a conventional shoulder bag for laptop/gadgets/whatever, or you can pull out the stowable padded shoulder straps and it converts into a lightweight rucksack. So it helps get your stuff from A to B on train or plane and then, when you get to your destination, converts to a backpack in two seconds flat, so that you can set off on a hike or bike ride or whatever you're into...
This dual personality is what lifts it from the standard accessory fare - I've lost count of the number of times I've struggled trying to fit my briefcase or laptop bag on the back of my bicycle, using bungee cords and the like. The T-2 solves this problem in an instant.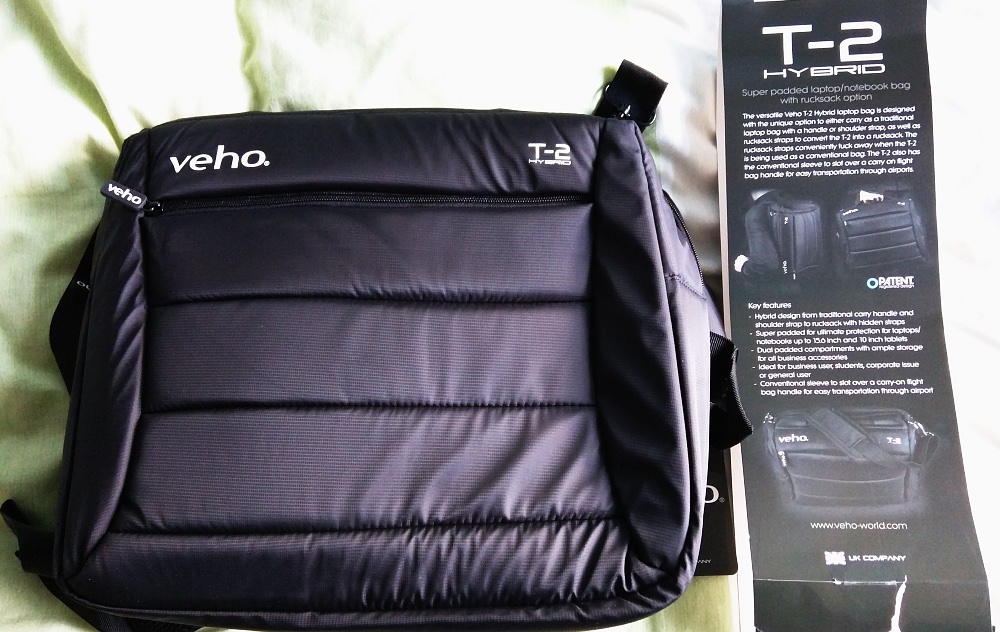 The number one thing to note, aside from the hybrid nature, is the padding. Everything is padded, every panel, even on the sides, and well padded at that. It's perhaps not enough to save a laptop if dropped awkwardly onto concrete, but it'll do for casual impacts and knocks. And, as mentioned above, even with stuff inside it makes a good pillow, with enough padding to support your head, perhaps lying down across seats in a waiting lounge.
The main compartment is split into three: a general purpose full width space, a laptop-sized space, partitioned off (to keep the tech in place) and a smaller compartment, perhaps for passports or cables/adapters: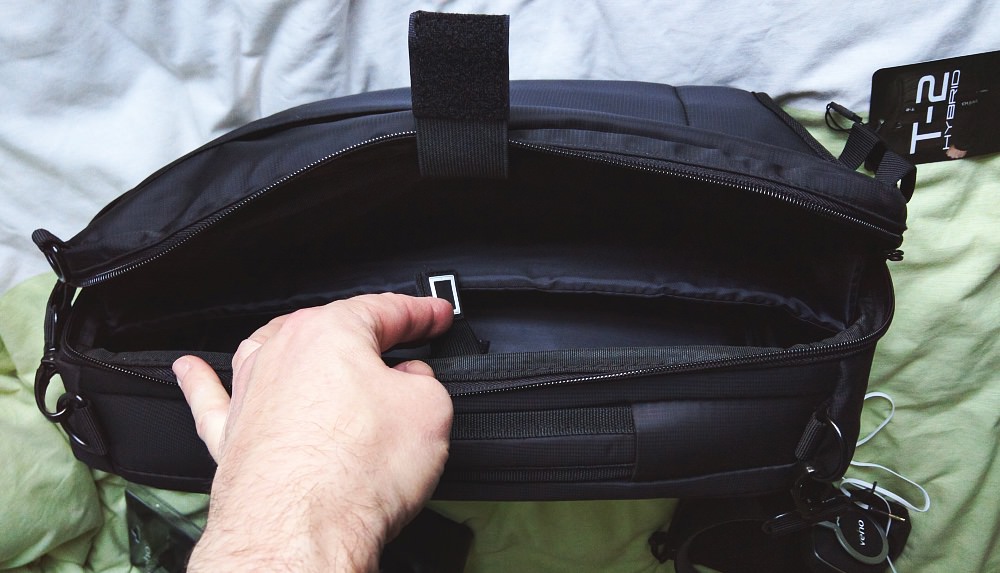 On the front is an extra zipped compartment, with extra internal spaces for cards, pens, coins, adapters, headphones, or whatever: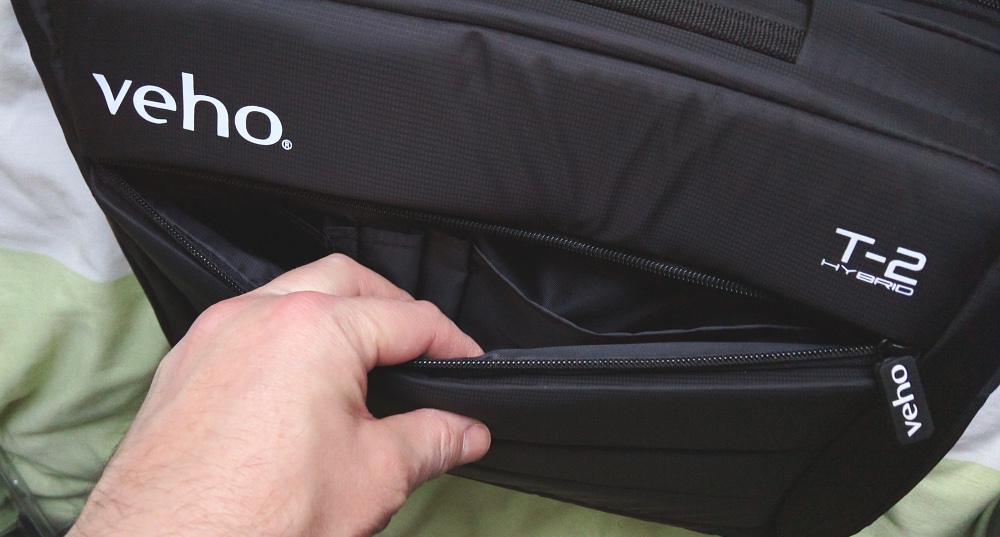 So plenty of storage space then, and I've battle proven this several times in the last month. Not used yet, since it's winter in the UK, is the hybrid feature - on the back of the T-2 is a standard 'suitcase' panel (i.e. designed to slide over suitcase pull-handles), but tucked inside this are two padded shoulder straps - I've pulled one out in the photo below and left the other folded in, so that you can see how it works: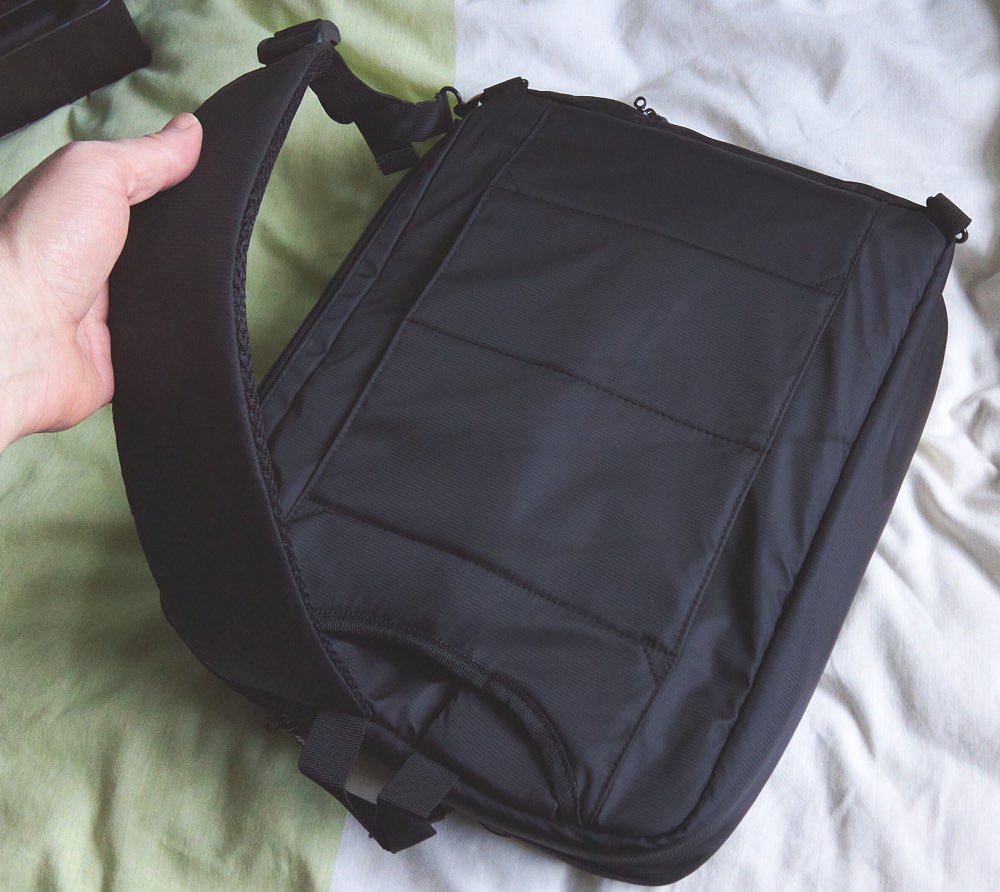 I've owned my fair share of gadget bags, rucksacks and so on over the last 30 years, but the Veho T-2 has to sit near the top of the heap. The flaps, straps and padding can be viewed as adding bulk, but when the bulk is protective and offers the possibility of a complete transformation in the use case, the design is more than acceptable.
Highly recommended, currently on offer at £30 on Amazon UK. So if you're planning a gadget-filled Spring or Summer trip right now, then you know what to do...(!)