The headline features then:
'Rich HDR' (the new name for 'Rich Capture') can now be 'Off', 'Auto' or 'On', on compatible devices (the 950 and 950 XL), though the new Forced 'On' didn't work on my editorial Redstone Lumia 950 XL. Data points welcomed!
Video capture can now be paused and resumed - very handy when trying to shoot an event and not wanting to do loads of editing and video merging later on.
In addition to the two 'new' features, work has clearly been done on the audio side of video capture too:
Audio tracks captured on the Lumia 950 and 950 XL are now free of noise cancellation and other digital glitches, I've not mentioned these too much because I knew that they'd soon be fixed - and now they have!
Stereo audio capture finally now works properly on the older Lumias, e.g. the 930 - proper stereo separation is back. OK, so there's still no Dolby licensing or control of the quad-mike set-ups on the relevant phones, but at least the phones are useable at gigs once again.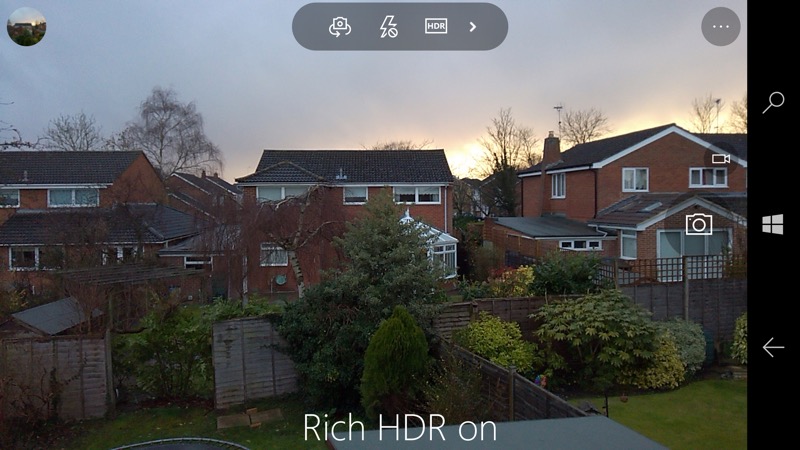 More testing is needed on all of the above, of course. Which means that at least one Windows 10 Camera feature or tutorial is headed your way on AAWP fairly soon...!
At the moment the new Camera application seems to be available for smartphones running both Windows 10 Mobile Redstone and Threshold, though patchily, so presumably there are device and regional factors determining exactly when the Store starts showing the update? (PS. Confused by all the codenames?)
[Update: the Camera v2016.325.61 now seems much more widely available across Windows 10 Mobile. So check the Store if you've been waiting for it.]