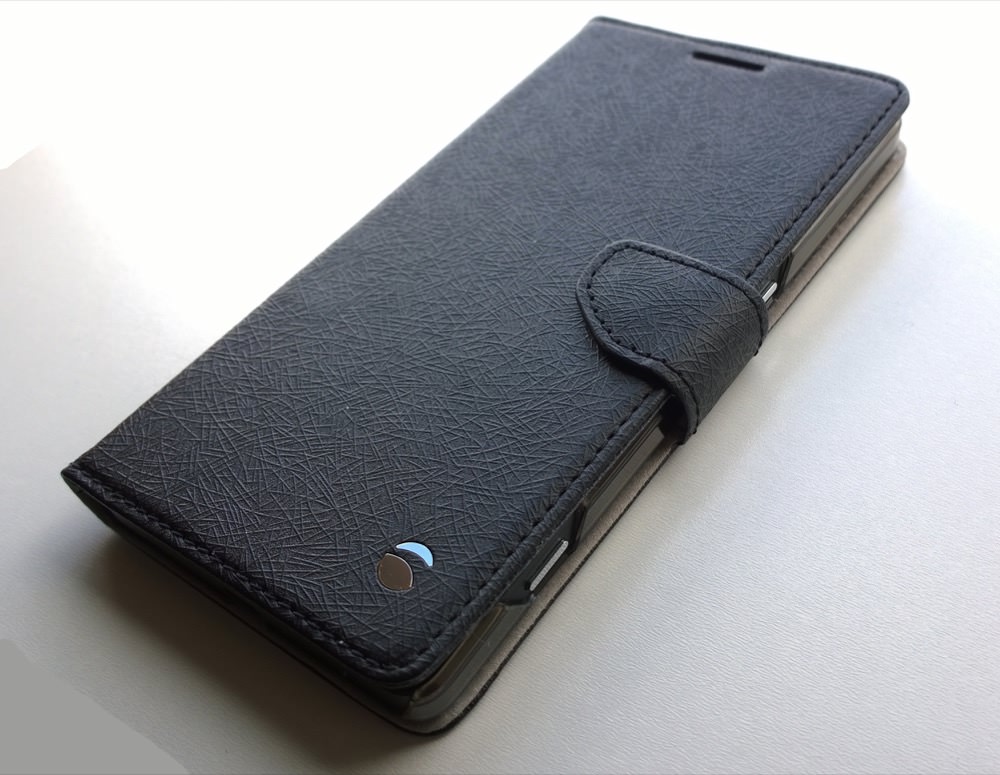 The wrap around leather is really innovatively textured - it feels great in the hand and it grippy, to ensure against drops. In-situ, the cased phone is then (at least) 17mm thick, but you're gaining a lot in protection and convenience, not least because this thing can probably replace your wallet too...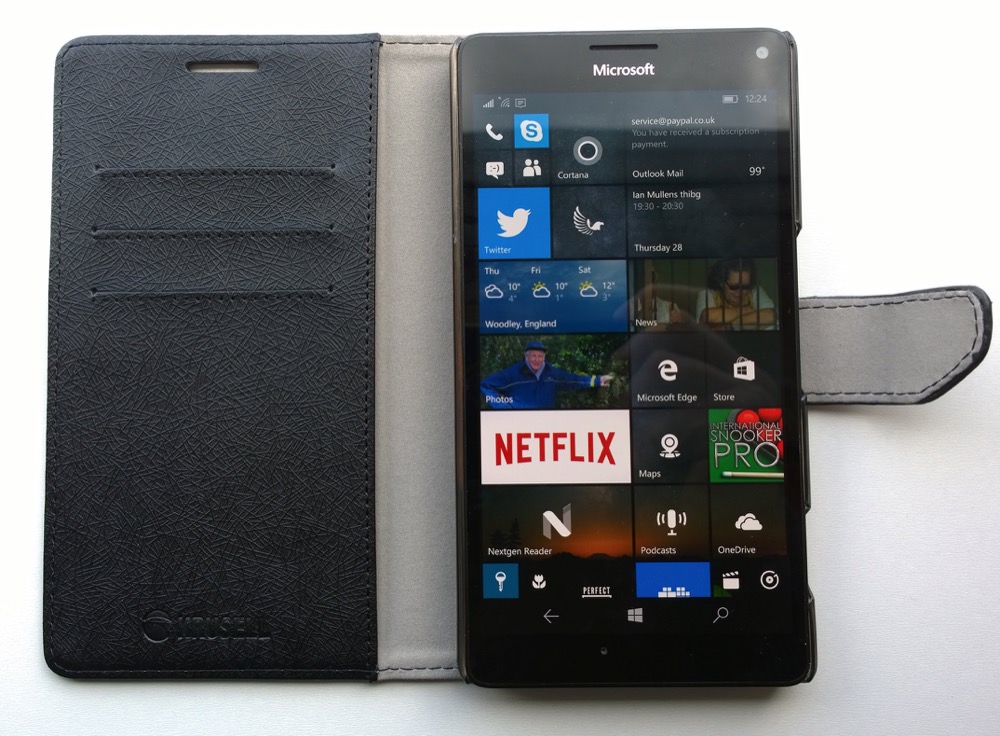 On the folio's inside front flap are three card slots, plus there's a larger pocket underneath, for a document or bank note or two. While not breaking any new ground, it's really nicely designed and implemented. The 950 XL itself fits in snugly, with a click (though is quite easy to prise out when needed), and the closure is magnetic, with just enough force to stay closed in daily life.
The right hand control buttons have enough of a cut-out around them that operating volume up/down and power is no issue at all (other similar case designs have fallen down here).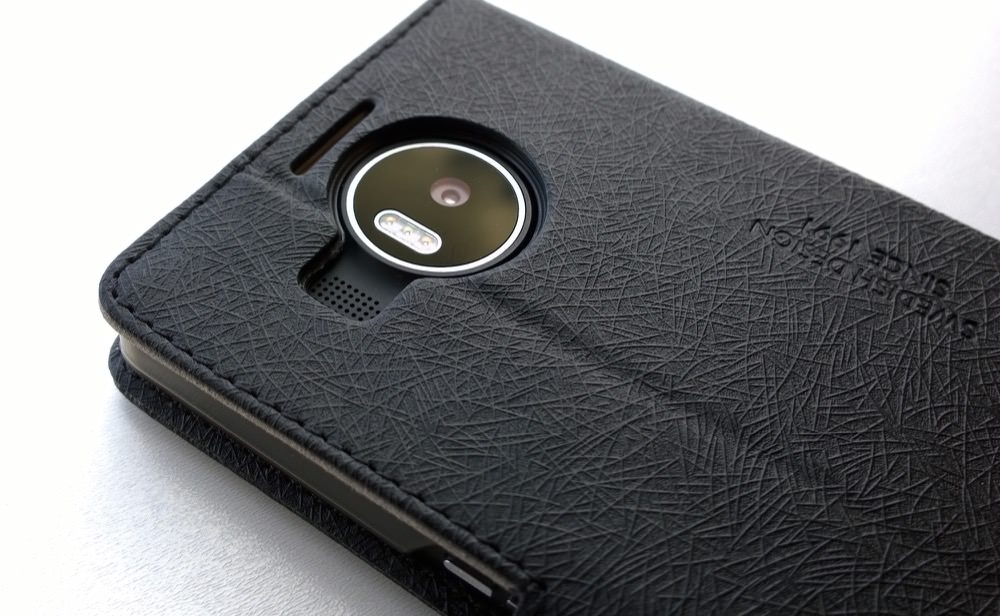 You can judge the thickness of the 'tray' that hold the phone in place, together with the back leather, in this shot showing the recessing around the speaker and camera island. Folio cases are necessarily bulky, but you do gain a lot in functionality. For example when it comes to needing to use the phone hands-free in landscape mode. Either working with Bluetooth mouse and keyboard or, here, when watching media.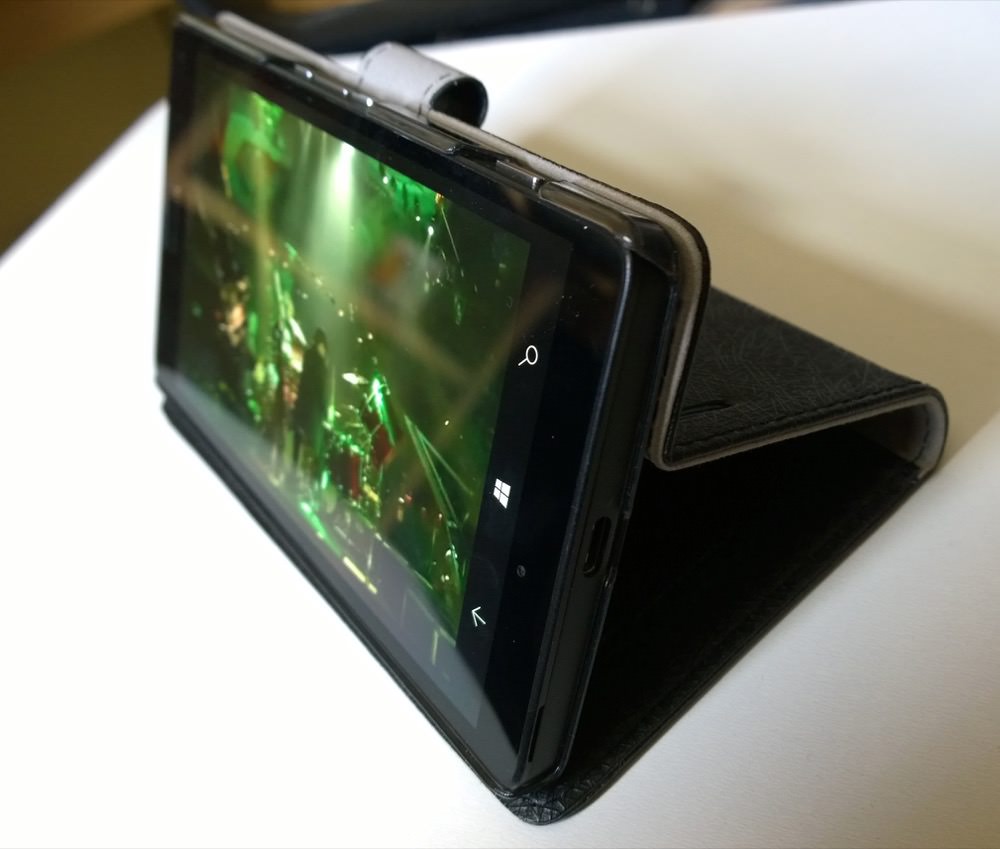 Although there's no detent on the front flap to keep the body of the Boras Folio, with phone installed, in position, in practice the leather/plastic 'hinge' is strong enough that you can set the phone at any angle you want and it stays in place nicely.
Folio cases are a 'love it or hate it' phenomenon - the two big objections are when taking photos or phone calls. In the former case, the front flap will be hanging down, though it doesn't get in the way from a functional point of view. In the latter case, you can wrap the folio flap back around the phone and secure it with the magnetic flap bent back too - this works really well and I had no issues taking a phone call.
One of Krusell's best cases in years and something of a must-buy if you have a Lumia 950 XL and need both protection and a desk stand - and don't mind a little more leather!
Thanks to Mobile Fun, you can buy this Lumia 950 XL accessory here.